1. What is this place?
2. I love this place.
3. My human has the best place.
4. Can I fit under this couch?
5. I can.
6. This is where my sock collection will be.
7. Or maybe a bunch of nickels.
8. A BAG IS ATTACKING THE HOUSE!
9. BEGONE!
10. I SHALL DEFEND MY NEW HOME.
11. That'll teach it.
12. Oh, hey. A window.
13. And a bird!!!
14. I've never seen this bird before.
15. I want that bird in my mouth!!!
16. AH-HA!! It flew away.
17. Time for a victory lap.
18. What's on top of the fridge?
19. Oh, this is my new favorite spot.
20. My human looks so tiny from up here.
21. What? No! This is no time for hugs.
22. Let me go. You're nice, but I was in the middle—
23. Oh heyyyyyy there.
24. Prrrrrrrrrrr.
25. OK, we're done.
26. This laundry pile now belongs to me.
27. So many socks, so many ideas.
28. This is my personal cat cave.
29. So! Much! Fluffy!!!
30. OK, wait, I'm trapped now.
31. Guess I'm stuck here.
32. Just gonna close my eyes for… a… little…
33. Gosh, I needed that. What. A. Day.
34. Where is the food?
35. Do I have to catch it? Are there any mice?
36. There's just a bowl of it?!
37. ...nom nom nom…
38. But what happens if I eat it all?
39. You just refill the bowl?!
40. I must be an amazing cat to get such good food.
41. So excited I could meow for hours.
42. Everyone loves my voice.
43. I miss that fridge.
44. Can I jump as high with a full belly?
45. I like being up here.
46. RED DOT!
47. ATTACK! GET IT! PROTECT! MINE!
48. ...where did it go?
49. I must defend my human from the dot.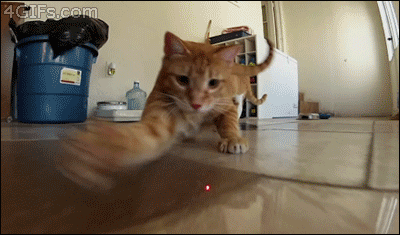 50 My human keeps staring at this glowing box.
51. She is not worried about the red dot!!!
52. She needs my face against her face.
53. OK, we're hugging again.
54. HUMANS ARE SO STRONG.
55. What's this feather?
56. It's not food, but it makes me happy.
57. I'm just going to bite it until it goes away.
58. All right, we're done here.
59. Wait, where is my human going?
60. I made a mistake! Come back!
61. Love me again!
62. NOOOO! I want another hug.
63. Yay, I won.
64. Everything is perfect.