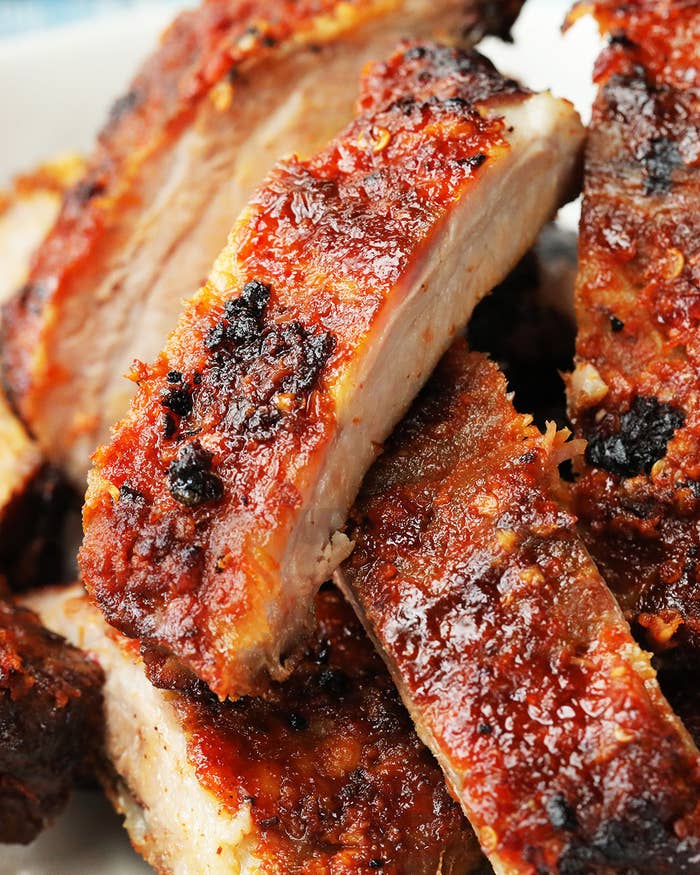 SERVINGS: 6-8
INGREDIENTS
1 rack pork ribs (about 4 pounds)
⅓ cup peeled garlic cloves (about 10–12 cloves) chopped
1½ tablespoons seasoned salt
1½ tablespoons cayenne
½ cup garlic chili sauce
⅓ cup honey
1 lime, juiced
PREPARATION
1. Preheat oven to 275°F.
2. Combine garlic, seasoned salt, and cayenne pepper.
3. Remove membrane from ribs and pat dry.
4. Rub ribs with garlic/spice mixture, covering both sides.
5. Place ribs on large piece of heavy-duty aluminum foil and wrap completely, making sure to seal tightly.
6. Cook ribs for 2–2.5 hours or until tender.
7. Raise oven temperature to 450°F.
8. Combine chili sauce, honey, and lime juice.
9. Baste ribs with chili sauce and continue to bake until nicely caramelized (about 10–12 minutes).
10. Allow to rest 6–8 minutes before slicing.
11. Enjoy!