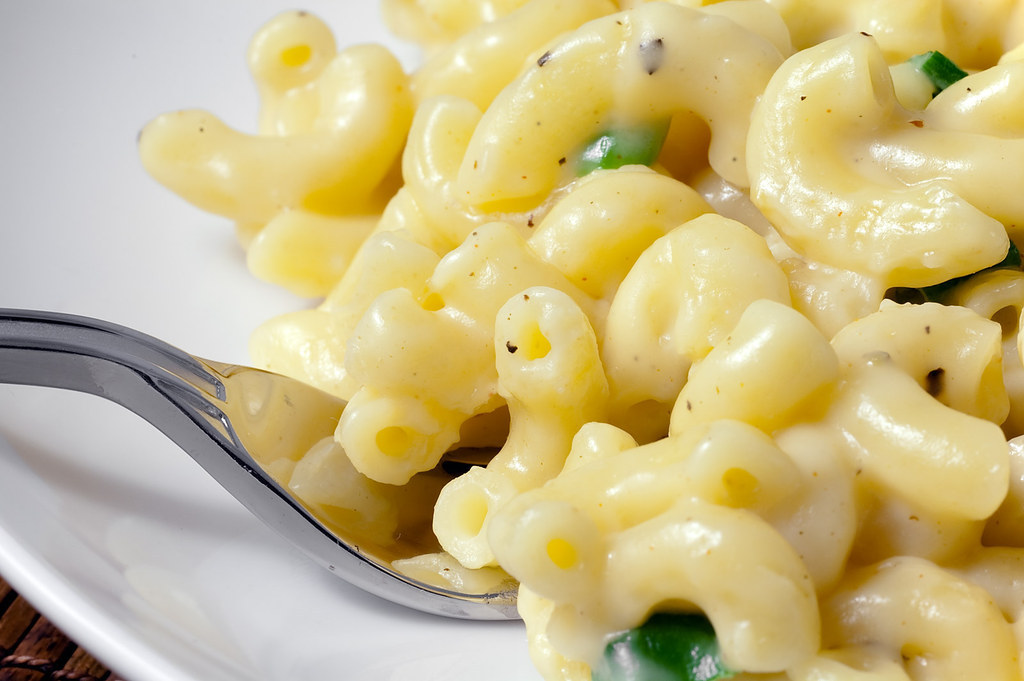 NUMBER 5: Scholars
http://scholarsbostonbistro.com/
Scholars, a large bar/restaurant/lounge in the heart of Boston, boasts brunch, lunch, and dinner, mac and cheese included on all menus. The mac and cheese is made with shell noodles, cream, sharp cheddar, ham, peas, and stewed tomatoes. Sounded great, ordered. The mac and cheese came out with three very large cherry tomatoes, a rather liquidy consistency of cheese sauce, and was an overall okay dish. Located very close to Silvertone, take your mac and cheese needs elsewhere (especially as Silvertone is on this list).
NUMBER 4: Church
http://www.churchofboston.com/
Church, a hidden gem off the beaten path near Fenway Park, welcomes you with a comfortable couch and water immediately upon your arrival as you wait for your table. Clever drink names such as Sin, Greed, and Lust fill the drink menu and taste as good as their descriptions sound. In terms of mac and cheese, Church offers three types: fontina and truffle, pepperjack and Andouille, or broccoli and Vermont cheddar. Lover of all things truffle, I tried the fontina and truffle. Church sits at number four because their Ritz cracker topping could have been far better, but the truffle flavor permeated the mac and cheese deliciously. Their truffle fries were to die for.
NUMBER 3: The Publick House
http://www.thepublickhousebeerbar.com/
Publick House, located in Brookline, is well worth a trek out on the C line. Tons of beers on tap, friendly bartenders, and some of the best mac and cheese I've ever tasted make this restaurant/bar a local favorite. Perusing the menu, I stumbled across the mac and cheese description: orrechetti (shell) pasta, five cheese sauce… and a choice of 22 add-ins, ranging from truffle cream to fresh Maine lobster to prosciutto to fried egg. Presented with so many options, I chose to have prosciutto and truffle cream. Mouthwateringly incredible, large portion, cast-iron skillet: Publick House's atmosphere and mac and cheese were hard to beat, especially given the number of combinations of add-ins. I'll be back there to try another one soon.
NUMBER 2: Hops n Scotch
http://www.hopsnscotchbar.com/
Walk into Hops n Scotch, located in Coolidge Corner, on a Friday night and you are greeted by a bustling, lively atmosphere, but will still likely get a table within ten minutes. With an abundance of drinks, including some innovative cocktails (such as La Fleur: Bombay Gin, Chartreuse, Elderflower, Grapefruit, and Prosecco), Hops n Scotch also has a great menu with some small plates as well as full dinner options. Their mac n cheese small plate comes with spiral cavatappi pasta, one of the creamiest béchamel sauces I've ever tasted, and the option of adding ham or chorizo. Presented in an adorable mini square cast-iron skillet, what appears to be a small quantity of food filled me up perfectly: this mac and cheese ranks number 2 in my list.
NUMBER 1: Silvertone
http://silvertonedowntown.com/
Despite every restaurant I've gone to with the intention of one-upping Silvertone's mac and cheese, I have found this to be an impossible task. Silvertone's small space, dark lighting, and abundance of booths adds to its appealing atmosphere, and its location right next to Park Street makes it easy to get to. Constantly packed, Silvertone unfortunately does not take reservations, but is well worth the attempt to get in. A smaller selection of drinks and food makes choosing easy, and, as every option is delicious (like their $6 grilled cheese and fries), you really can't go wrong. Silvertone's mac and cheese comes out baked in a large circular ceramic dish, topped with toasted, buttered breadcrumbs, with the option of adding peas, bacon, grilled steak, honey chile chicken, or, if you ask nicely, even though it's not on the menu: ham. It even comes with a side of greens (or fries, if you want some extra carbs). Each bite steams and the pull of your fork creates strings of cheese from the dish to your mouth. Best mac and cheese I've ever had, hands down. Try it.
Places I've heard are good that I would like to try include The Regal Beagle in Coolidge Corner and Stephanie's on Newbury Street. Please list other suggestions in the comments!
This post was created by a member of BuzzFeed Community, where anyone can post awesome lists and creations.
Learn more
or
post your buzz!