ANTHONY ANDERSON'S OVEN BBQ RIBS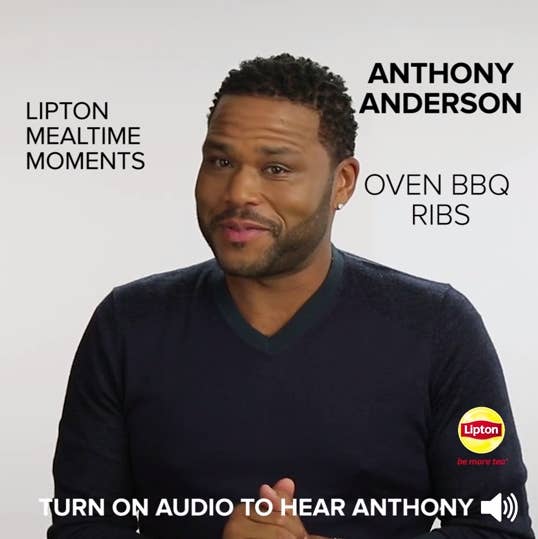 INGREDIENTS
2 racks pork ribs, St. Louis style or baby back
4 tablespoons liquid smoke
3 cups barbecue sauce
Spice Rub
½ cup kosher or sea salt
½ cup light brown sugar
1 tablespoon garlic powder
1 tablespoon cumin
1 tablespoon paprika
1 tablespoon mustard powder
1 tablespoon onion powder
½ tablespoon ground black pepper
1 teaspoon cayenne pepper
Lipton® Mango flavored Iced Tea
PREPARATION
1. Preheat oven to 250°F/120°C.
2. Rub one tablespoon of liquid smoke onto each side of each rack of ribs. Liberally coat both racks with spice rub. Securely wrap each rack in aluminum foil and place on a baking sheet in the oven for 3 hours.
3. After 3 hours, remove the foil and continue to bake for 2 more hours.
4. Remove ribs from oven and let cool 30 minutes.
5. Baste with 3 cups of barbecue sauce. Increase oven temperature to 500°F/260°C. Return ribs to oven for 20-30 minutes, until exterior is browned.
6. Let meat rest before cutting. Serve with remaining barbecue sauce.
7. Best served with a Lipton® Mango flavored Iced Tea
8. Enjoy!