"Mamba Out": Kobe Bryant Ends Career With Record-Breaking Game
Bryant scored an incredible 60 points during the game, earning the Lakers a narrow win over the Utah Jazz. The NBA legend was both loved and hated by fans — usually depending on which team those fans were rooting for.
by
,
After 20 seasons in the NBA, Kobe Bryant has played his final game.
The Black Mamba, one of the most legendary players in a league that boasted Wilt Chamberlain and Michael Jordan, took the court for the last time Wednesday to a sold out home crowd at the Staples Center in Los Angeles.
The Lakers were neck and neck all night against the Utah Jazz, but Bryant nevertheless dominated the court, scoring an incredible 60 points during the game. The Lakers ultimately won, scoring a total 101 points to the Jazz's 96.
Bryant also made 50 attempts Wednesday night, beating Michael Jordan's record of 49 from 1993.
After the game, Bryant delivered a speech thanking his fans and professing his love for the Lakers, where he spent his entire 20-season career.
"God I love you guys," he said to cheers. "I love you guys."
He went on to thank his family, and said he was proud of "the down years" because "we did it the right way."
"Mamba out," Bryant said before setting the microphone on the court.
The Lakers are finishing off a dismal 16-66 season and are out of playoff contention — so the pre- and post-game pageantry of sending the team's legendary shooting guard into retirement dominated the evening.
Ahead of the game, the Lakers showed a moving video of former teammates and other NBA stars wishing Kobe well as he heads into retirement.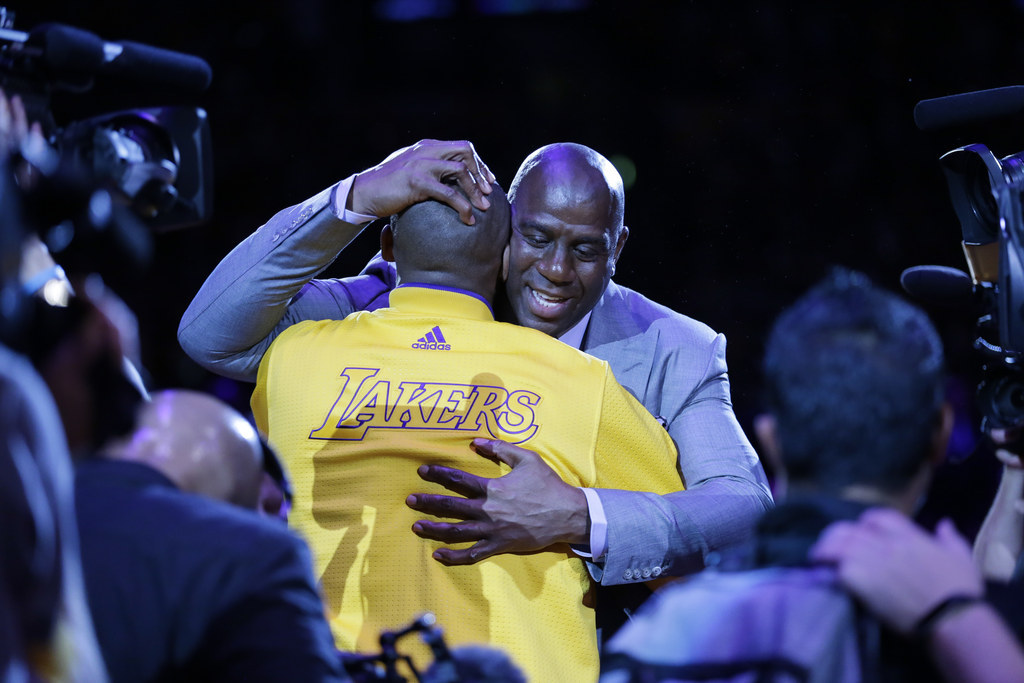 Wednesday's game was a star-studded event, with numerous celebrities watching court side and paying homage to Bryant.
Bryant was either loved or reviled by fans — usually depending on which team they were rooting for. He was explosive on the court, seemingly able to score from virtually anywhere.
His father, Joe Bryant, played eight seasons in the NBA while Kobe was a child.
By Bryant's second season, he was named an NBA All-Star, and by his third, he was the team's starting shooting guard. In twenty seasons with the Lakers, Bryant was named an All-Star in every one except his first and the 1998-99 season, when the game was cancelled due to the lockout.
With Kobe, the Lakers won three NBA finals in a row from 2000 to 2002. Bryant and the Lakers went back-to-back again in 2009 and 2010 — he was named the finals MVP both years.
It was during that time that Bryant had a public feud with teammate Shaquille O'Neill — the two mega-stars bumped heads for years over team leadership. In one bizarre moment, Shaq was caught on video at a public party rapping about Kobe, saying the younger star wouldn't win a championship "without me."
Bryant lead the league in points per season in 2002-2003, 2005-2008, and will retire with the third-most in league history.
In 2006, Bryant dropped 81 points in a January game against the Toronto Raptors, the second most in a single game in NBA history following Chamberlain's 100-point game.
In 2003, when Bryant was 25, he was accused of sexually assaulting a 19-year-old woman in Aspen, Colorado. The case became a tabloid sensation, and was ready to move to trial in 2004. But charges against Bryant were dropped when the woman told prosecutors she would not testify. Bryant and the woman settled a civil lawsuit out of court later.
The last few years of Bryant's career were marred by injuries, including a torn achilles tendon in 2013. Bryant's 2014-2015 season came to an early end in January when he underwent surgery for a torn rotator cuff in his right shoulder.
Bryant announced the 2015-2016 season would his last in a poem called "Dear Basketball" published on Derek Jeter's website, The Players' Tribune.
He is considered a lock for a first-ballot entry into the Basketball Hall of Fame.