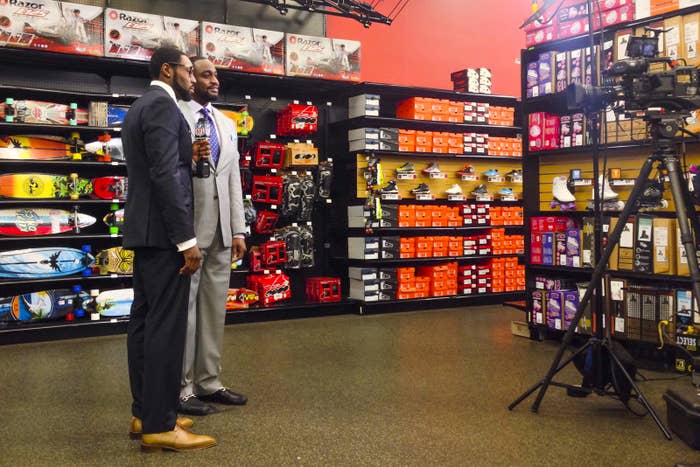 Antonio Cromartie looked out of place. The New York Jets cornerback was dressed more for a social event or fashion shoot — in a sharply tailored navy suit, diamond cuff links, and a shirt with his initials embroidered on the small strip of sleeve his jacket left exposed — but instead, he was standing among bike seats, skateboards, and kayaks in the rear corner of a Sports Authority in Mount Laurel, New Jersey, a sleepy Philly suburb.

"You're talking way too fast and saying too much," Annie Goodrich gently admonished the 6-foot-2-inch, four-time Pro Bowl pick credited with the league's longest touchdown run.

Goodrich and her husband, Bob, run a media and broadcast training company for professional athletes. It's all part of the NFL's Broadcast Bootcamp, in its ninth year, which trains players for possible future careers in radio, television, and game-calling. After the three-day annual course, players leave with a short reel and an understanding of the broadcast industry. Network talent managers have also started using the program as a scouting resource, and NFL's Player Engagement Manager Samantha Kleinman described it to BuzzFeed News it as "the Combine, but for broadcasting."

On Wednesday morning, Cromartie interviewed his teammate Leger Douzable, a defensive end, about his prediction for this year's biggest fantasy football player. Unable to settle on one, Cromartie named Aaron Rodgers for his consistency and Adrian Peterson because "he's had a year off"; after facing child abuse charges, "he's ready to play." They were were given the option to ask five different questions for the exercise — they read the script from a Teleprompter — and were allowed to write their own if they felt none of the questions allowed for them to think quickly while on camera.

While waiting for their turn to rehearse, Douzable and Cromartie freely and casually conversed about the game and the revamped Buffalo Bills, their division rivals. Cromartie had no shortage of carefully considered opinions on fellow cornerback Richard Sherman, who he'd taken to task the day prior while on a Sirius radio program. It was that easy banter that Goodrich tried to capture for the exercises, where each person spent three 90-second segments as interviewer and interviewee.

Show "more energy and personality," Goodrich told the duo after their first run-through.

"You wandered off your spot," she told Cromartie after another. He agreed, and looked at the duct tape indicators on the floor knowingly.

"So much feedback," Cromartie told BuzzFeed News, wide-eyed.

Cromartie said he enjoys the constructive criticism. As a veteran interviewee after games, he is polished and provides concise, straightforward answers. That will, eventually, translate easily to an interviewer or analyst role.

But he's not there yet. This is where the football-driven work ethics of Douzable and Cromartie came in handy: After each attempt, they picked up the microphone and ran the route again.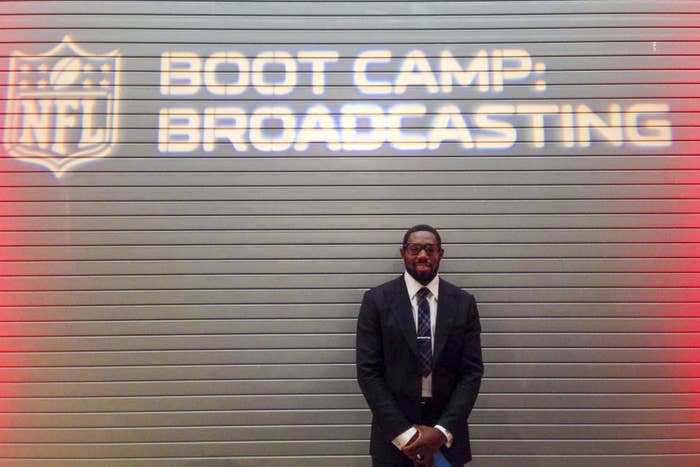 Cromartie is approaching his 10th season in the NFL, and admits he has to think about his life after the full-contact sport. "You never know when that play will come," he said. He was referring to a hit that could end his career without notice. He said he "absolutely" intends to pursue broadcasting after his player career is over.

The NFL Player's Association claims the average NFL career is "about 3.3 years." For "players with at least one Pro Bowl appearance," which includes Cromartie, the average is estimated at 11.7 years.

Dazzling careers can end with a single hit — think Steve Young — and the effects of years of repetitive brain trauma can make it difficult for a player to maintain a comfortable lifestyle after their career.

The money players are contracted to make is hardly indicative of how much they will be left with when they no longer suit up for games. Contracts are not guaranteed, and agents' fees and taxes can drain up to 50% of a contract earning. Ill-advised investments, legal troubles, and learning to curb spending when the big paychecks stop are issues in retirement.

An April 2015 report by the National Bureau of Economic Research said 15.7% of former NFL players have filed bankruptcy within 12 years of leaving the league. Kleinman told BuzzFeed News that "broadcasting is one of the few career paths with an earnings potential" anywhere near what players make in the NFL.

Kleinman argues that the Player Engagement program is not a direct response to the statistics about former player bankruptcy. The initiative has existed since 1991, long before the issue came into the spotlight and received widespread media attention.

Cromartie insists that money isn't a factor when considering life after the league.

In 2010, he took a salary advance from the Jets to resolve paternity and child support payments for his reportedly seven children in five different states. At that point in his career, he'd made less than $1 million, but now his projected career earnings have increased to nearly $37 million through the 2014–2015 season.

Today Cromartie has ten children from eight women, one of whom has been his wife since 2010. When asked if child support payments for the children not in his custody present a significant financial expense, Cromartie issued a stern "no."

"It's about passion," he said. "It's the same as with football: If you're only in it for a check, you're not gonna last very long."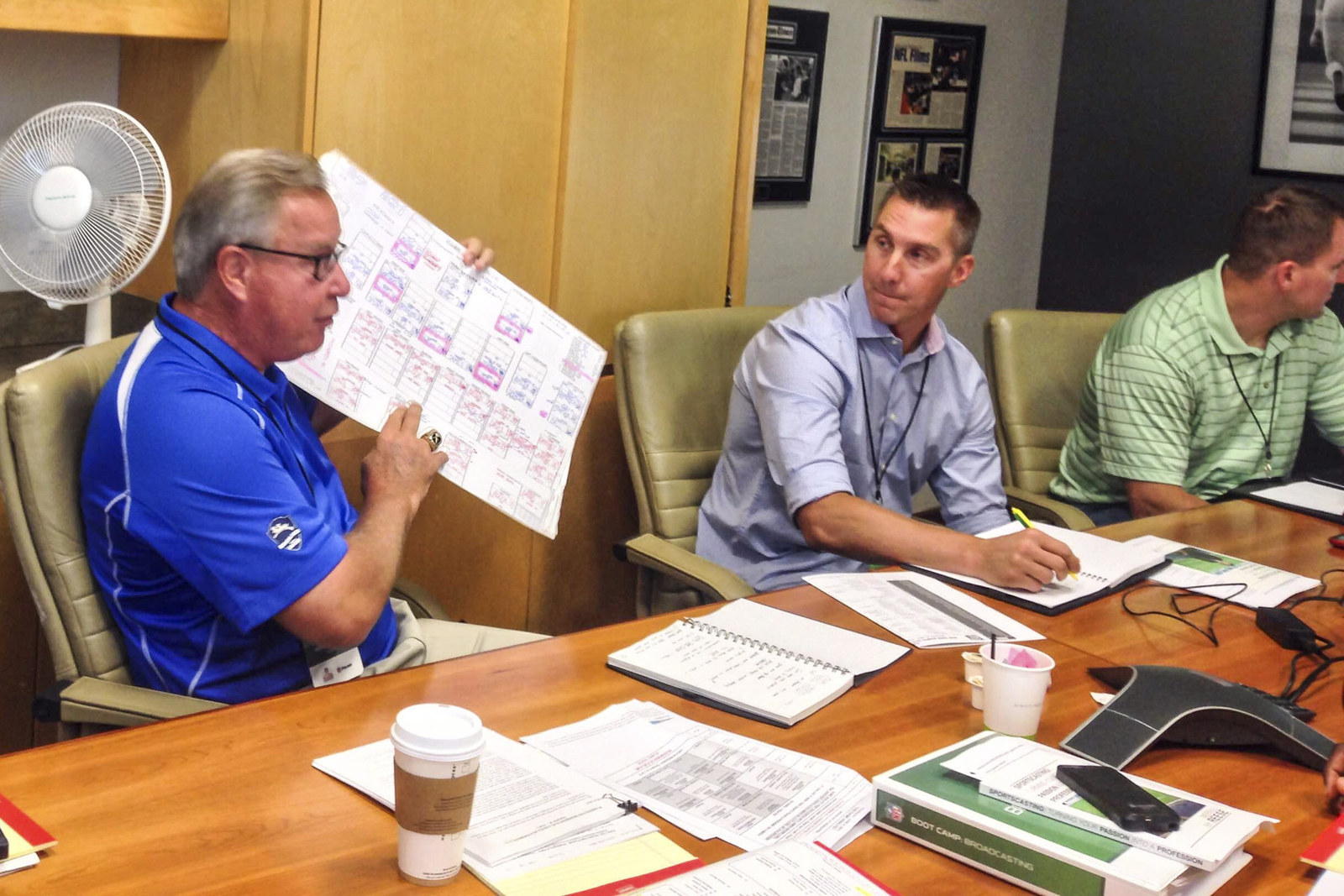 During Broadcast Bootcamp, players report for breakfast at their hotel at 6:30 a.m., then spend the day at the NFL Films campus, based in Mount Laurel, until 6 p.m. or 8 p.m., depending on the day's programming. For most people who aren't professional athletes, whose lives are defined — not interrupted — by long, intense workdays, the rigorous schedule would be rough.

The boot camp is part of the NFL Player Engagement department, which offers classes in continuing education, personal finances, counseling, and transitions to and careers for post-NFL life — players learn about franchising businesses, coaching, or broadcast, for example. Participation is optional, but Kleinman told BuzzFeed News that "nearly 15%" of players enroll.

For the broadcast classes, players are split into groups and are shuffled around from one hourlong session to the next. Classes like "your studio voice," writing for Teleprompters, on-site broadcast rehearsal, tape study, game calling, and others are all crammed into the boot camp.

Ike Taylor, a cornerback who retired from the league in April after 12 seasons with the Steelers, joined Douzable and Cromartie this year.

Group photos of Bootcamp alumni run across a wall in NFL Films' far wing. Few faces are recognizable. In each frame 25 men stand in suits with hands clasped behind a studio desk that reads "PLAYER ENGAGEMENT."

The final day of this year's class focused on game analysis — the path to getting a coveted spot breaking down games every Sunday during the NFL season.

Ron Jaworski, a former Philadelphia Eagles quarterback and longtime analyst for ESPN, told the players that a single game can require 80 to 90 hours of preparation. Up to 40 hours of that, he said, is watching game tape to familiarize yourself with play-calling trends and position schemes.

Jaws, as he is known, said the way an analyst watches film is a "180 from preparing as a player."

"As a player, you are worried only about your own position," Jaws said. "As an analyst, you have to be tracking everything."

While watching a set of plays from a 2014 Cowboys–Giants game, players shouted out observation on routes, coverage, and formations, each revealing how they see the game as a player.

"It wasn't double coverage on Odell [Beckham Jr.]," Jaws said about the New York Giants wide receiver.

"It was just single-high coverage, and he ran a terrible route," a player echoed.

"You see Eli [Manning, the Giants quarterback] look over in Odell's direction, but then throws an incomplete," Jaws pointed out. To be able to accurately understand, analyze, and sometimes even predict what will happen during any given play, an analyst must be dedicated to film, he said.

Greg Cosell, who produces NFL Matchup, a preview show of upcoming games, reminded the players that they have to learn to explain schemes and formations beyond football jargon. "And you only have 10 seconds to do it," he said.

Jaws added they have to learn to become storytellers. If a play is not particularly noteworthy — say a two-yard run on first down — then use that opportunity to talk about the running back or another game narrative.

"For me, John Madden humanized the game," Jaws said. "He brought fans football, and he brought us fun."

As an example, Jaws told a story about Jon Gruden, former player, head coach, and current Monday Night Football color analyst.

"Gruden is one of the most intelligent men I've ever met," Jaws said, already laughing a bit. "But when he started, he would run to [the device announcers use to draw arrows, x's and o's] and grip it and get ready to jump into the details of a play."

Through laughter, Jaws recalled, "his producers had to help him tone it down."

Twenty-five years into his own career, Jaws told the players they are getting a "master's degree education" during the boot camp.

"I wish that I'd had this opportunity while I was making my own career transition."