Here's What You Need To Know About The Aaron Hernandez Trial
The former NFL star is charged with the 2013 murder of Odin Lloyd. The trial begins Thursday.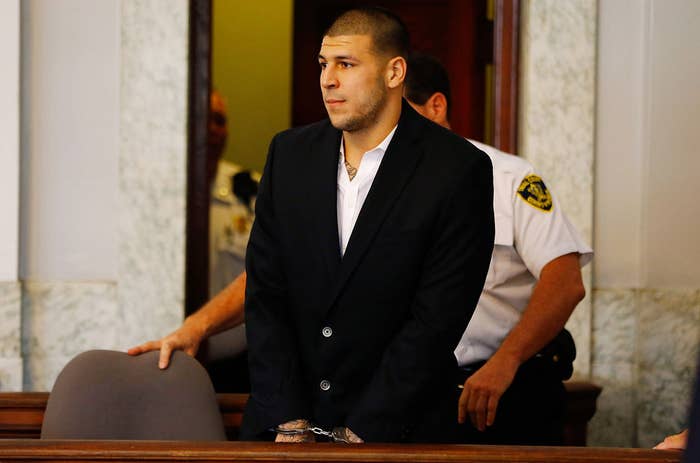 Former New England Patriots tight end Aaron Hernandez's trial for the 2013 murder of Odin Lloyd begins on Thursday.
Lloyd's body was found in an industrial park in North Attleborough, Massachusetts, on June 17, 2013. Hernandez was arrested on June 26 and was immediately cut from the Patriots. He has has pleaded not guilty to first-degree murder.
Who are the people involved in this case?
Odin Lloyd:
• 27 years old at his time of death
• Was dating Aaron Hernandez's girlfriend's sister
• Played semipro football with the Boston Bandits
Aaron Hernandez:
• NFL tight end with the New England Patriots at the time of arrest
• 23 years old at time of his arrest; 25 at start of his trial
• Lived in North Attleborough, Massachusetts, with his girlfriend and daughter
• Facing upcoming trial for charges that he was involved in a double homicide — unrelated to the Odin case — that took place in Boston in 2012. (Jurors in the Lloyd trial will not hear information related to the double homicide.)
Shayanna Jenkins:
• Aaron Hernandez's girlfriend at the time of Lloyd's murder; now his fianceé
• Still lives in Hernandez's mansion in North Attleborough with their 2-year-old daughter
• Sister of Shaneah Jenkins, Lloyd's girlfriend
• Charged with perjury for lying during questioning, which prosecutors might drop as part of an immunity deal if she testifies against Hernandez; the deal has been offered, but Jenkins has yet to accept
• Allegedly disposed of the .45-caliber Glock used to kill Odin Lloyd; prosecutors have presented a coded text message from Hernandez to Jenkins
Shaneah Jenkins:
• Sister of Shayanna Jenkins
• Was in a long-distance relationship with Odin Lloyd at his time of death
Carlos Ortiz and Ernest Wallace:
• Were seen with Hernandez at his home, at Lloyd's home, and near the entrance to the scene of the crime the night of Lloyd's murder
• Also arrested and indicted for involvement in the homicide
What do we know about the night Odin Lloyd was murdered?
What evidence will and will not be shown?
• [INADMISSIBLE] Odin Lloyd texts his sister, "U saw who I'm with," then, "Nfl."
• Surveillance video from Hernandez's home, Lloyd's home, and businesses near the industrial park
• Prosecutors will attempt to track Hernandez's trip the morning of Lloyd's murder by using cell phone data triangulation. Police obtained a warrant to search Hernandez's electronics, but never recovered his cell phone.
• When the Altima was seen at 1 a.m. at Hernandez's home, then later at Lloyd's home in Boston, the car was undamaged. The tire tread on the Altima was allegedly consistent with tracks found at the scene of Lloyd's murder, and dirt found on the vehicle allegedly matched the dirt at the scene.
• An Enterprise car rental manager confirms Hernandez rented the Altima. She tells police she found a .45 shell casing in the backseat of the vehicle. Police recover the shell casing after obtaining a search warrant for Enterprise's dumpster.
• Ballistics experts determine the .45 shell casing found in the vehicle rented by Hernandez matches the five .45 shell casings found at the scene of Lloyd's murder.
• [INADMISSIBLE] Police learn of a small condo Hernandez rented in Franklin, Massachusetts, and obtain a search warrant to look for a Samsung flip phone. The phone is not recovered, but while searching a Hummer H2 registered to Hernandez, police find a .45 magazine and receipts bearing his name. In the 633-square-foot condo, police find .45 ammunition. Hernandez has never had a license to own a firearm or firearm ammunition in the state of Massachusetts.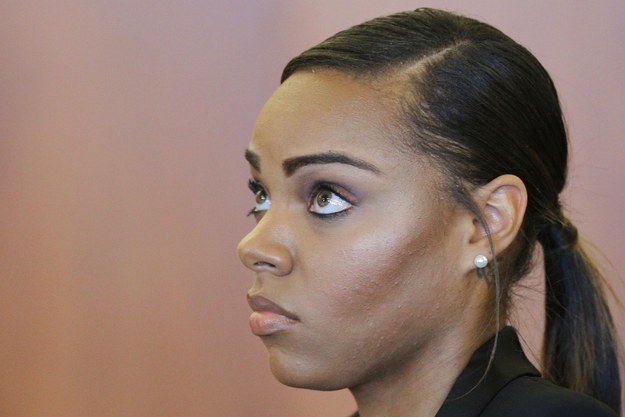 Where's the murder weapon?
The Glock used to murder Odin Lloyd was never recovered. Hernandez's fianceé, Shayanna Jenkins, received a text message from Hernandez that prosecutors believe was a coded set of instructions to dispose of the weapon.
June 18, 2013, surveillance video from Hernandez's home shows Jenkins leaving with a bag containing a "rigid object," and returning just over a half-hour later. It is alleged that the rigid object might have been a box containing a gun.
Shayanna has been offered an immunity deal that would allow her to testify against Hernandez without self-indictment for any complicity.