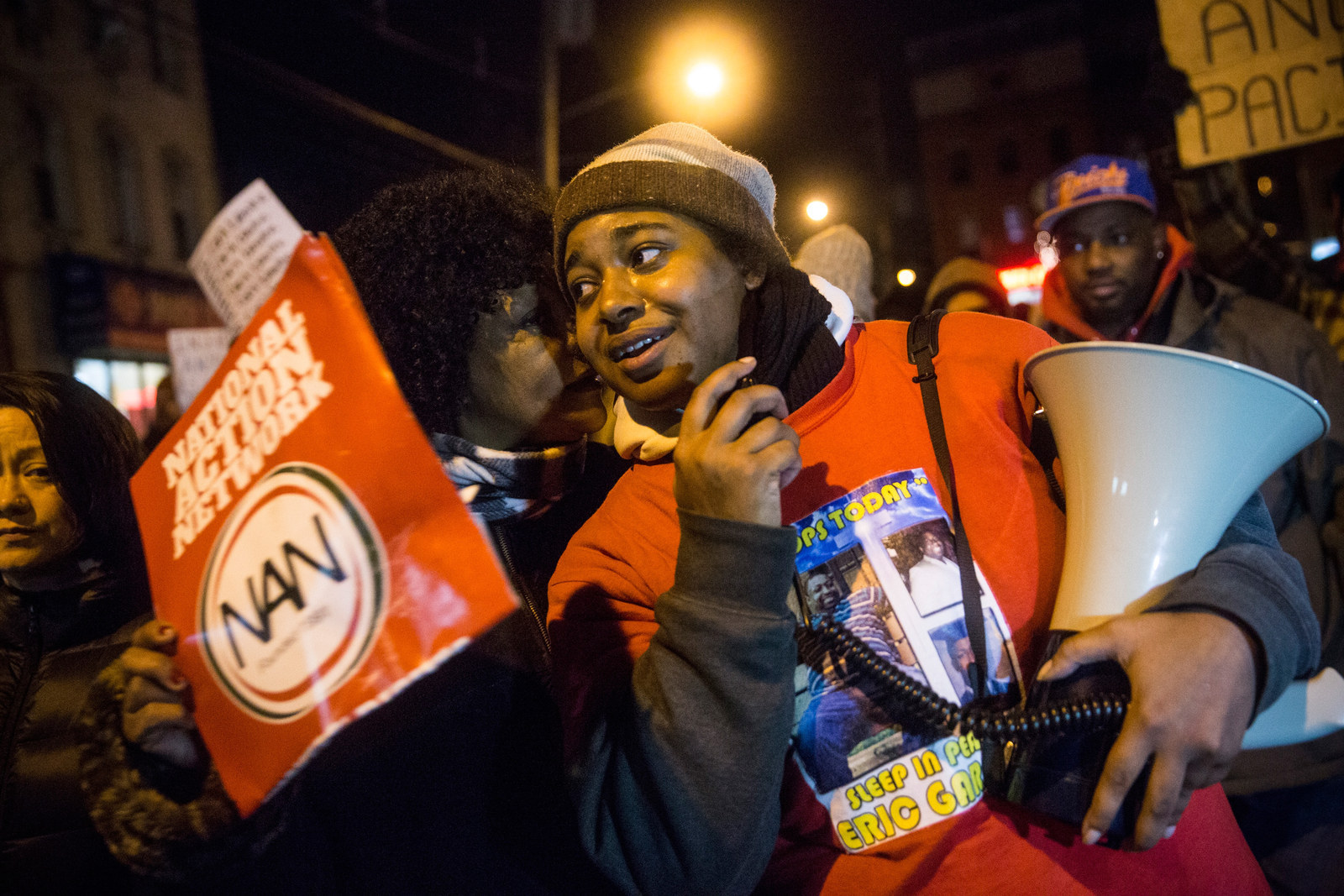 The daughter of Eric Garner, who died last year after being held in a chokehold during an arrest for selling untaxed cigarettes on Staten Island, is sharply criticizing a "Blue Lives Matter" police fundraiser that took place during a recent local minor league baseball game.
The event took place at a Sunday afternoon game for the Staten Island Yankees — a minor league affiliate of the New York Yankees.
"When I heard about the event I threw up. I was just at the grave site of Mike Brown, with his mother and his father in Ferguson. I just observed the memory of the one-year mark of my father's killing," Erica Garner said. "It's not the cause that is a slap in the face to me and Mike Brown's family — it's the slogan. That slogan stands for every single person that has been lost to police and gotten no justice. It's a slap in the face to everything that Black Lives Matter stands for."
Garner also mentioned the families of 10 other black Americans whose deaths were caused by police.
Blue Lives Matter is a nonprofit organization that "help[s] Law Enforcement Officers and their families during their time of need." Proceeds from the event with the S.I. Yankees were to benefit the families of detectives Rafael Ramos and Wenjian Liu, who were fatally shot in Brooklyn in 2014. According to comments made by the gunman on social media, their deaths were a response to Eric Garner's death.
Joseph Imperatrice, who started Blue Lives Matter, said the name of his organization is not meant to be a direct response to the Black Lives Matter movement that has come into prominence in the past year.
"I have no idea when the phrases for each of them started coming around," Imperatrice told BuzzFeed News. "I think what people are forgetting is that people of all walks of life wear that uniform, and behind that uniform are people of all colors and races. The name is not a spinoff, it's not a fight, it's not to throw it in anyone's face. The last thing we're going to do is start a nonprofit just to stir up controversy."
But controversy there was, for both Blue Lives Matter and the S.I. Yankees.
On Twitter, Erica Garner called the Blue Lives Matter event during the S.I. Yankees game "disgusting," and noted that her "father was killed not too far from this event."
This Sunday was also the one-year anniversary of the police-involved killing of Michael Brown, an unarmed teenager in Ferguson, Missouri. As the S.I. Yankees played out their game on Sunday, remembrance protests were taking place in Ferguson, largely organized by black activism organization Black Lives Matter.
Mike Holley, senior director of marketing and fan experience, said the timing of the event was "entirely coincidental." Blue Lives Matter had reached out to the S.I. Yankees in February and requested a Sunday game against the nearby Brooklyn Cyclones, an affiliate of the New York Mets. The Yankees and Cyclones played in Staten Island on Sunday only twice during the season, and the Aug. 9 date was the only game still free for an event, he added.
"Had we known this weekend was the anniversary [of Michael Brown's death] back in February, we would have done something different," Holley told BuzzFeed News. The scheduling of the event did not stand out to them closer to the date, either, he acknowledged.
According to the S.I. Yankees website, a separate event, NYPD Appreciation Night, will be held Aug. 14.
Holley explained that the Staten Island Yankees hold fundraising events like the Blue Lives Matter event during many games in a given season, and that they didn't intend for the event to be "politically charged." Instead, he said, the games are intended to give community members a platform for fundraising.
As he said in statements to other reporters Monday, the S.I. Yankees are open to hosting fundraising events for any organization, as long as the money is for a cause, including Black Lives Matter, Holley said.
"I want everyone to know we are open to events to benefit Black Lives Matter, and that we see ourselves as a platform for the Staten Island community."

He added: "I can totally understand it seems like it is something that is offensive, but we definitely did not think that people would see it as we were making any sort of a statement. In retrospect, it's easy to see why people are upset. If I or anyone had been able to see it then, we would have changed the way we held the event. If we had done just a fundraiser for these two families, I don't think anyone would have been upset."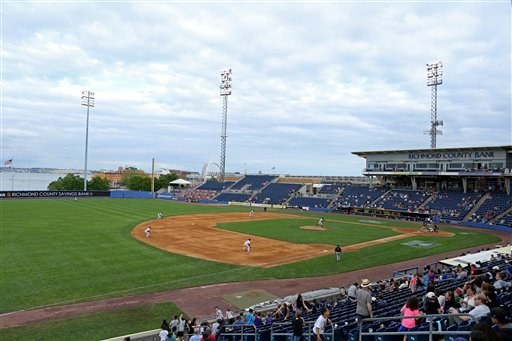 But for Erica Garner, the intent of the organizers does not outweigh the context of her father's nearby death and the ensuing year of attention on police violence against black Americans.
She would like to see the S.I. Yankees hold an annual day of remembrance for her father on June 17, the day of his death, and to donate proceeds to families of victims of police violence.

In response to a statement given earlier today by S.I. Yankees President Jane Rogers about the nature of the event, Erica Garner said: "Being the president of anything means that you don't have the luxury of your intentions outweighing your results. I would hope that she is more educated than I am, and I'm smarter than that. I will take her at her word, but if that is the truth, she needs to be fired. Period. What did she think would happen? In this place? On that day?"
Holley said he is not at liberty to discuss personnel decisions, but noted that a firing is unlikely.
Erica Garner also pointed out that Staten Island is home to many NYPD officers, and compared "race relations" on the small island to the American South.
"The [S.I. Yankees] stadium is a short walk from where my father was killed and directly across the street from the police department that is home to my father's killer — who is still on the city dole, by the way. It's not hard to see that black lives do not matter on Staten Island."
Daniel Pantaleo, the officer who held Erica Garner's father in the chokehold, was not charged with homicide. The City of New York recently reached a settlement with the Garner family.