Todd Kincannon, former Executive Director of the GOP in South Carolina, apparently bored with his post-office life has taken up trolling as a hobby.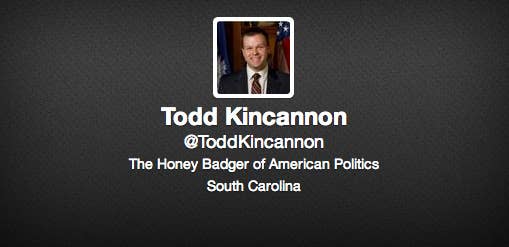 During the Super Bowl, he joked about Trayvon Martin... as you do.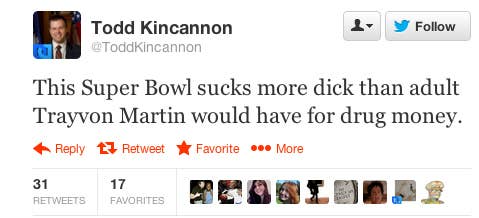 Oh, and survivors of Hurricane Katrina.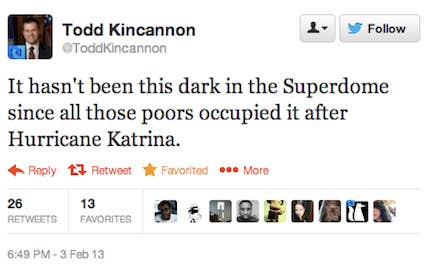 Apparently, being the "Honey Badger of American Politics" means offending as many people as possible on a regular basis.
When asked to explain himself, Kincannon had this to say about his trolling:
One of the things I like to do on Twitter is I'll tweet something inflammatory, kind of borderline crazy-sounding just for fun. And I enjoy watching people go nuts. One of the best things about it is if you say something that's borderline offensive or if it is offensive, the people that attack you and say just the awfulest [sic] things about you, they do the very thing that they accuse you of.
Three days ago, a trans person responded to racist comments on Kincannon's Twitter and the vicious cycle began anew.
People were upset, which only fueled Kincannon's tirade.



But don't worry! He's "ok with gays."

He pointed out that he was trolling, while using the term "trannies."
And called "The Left" out for being inflammatory:


The next day, he was still going:


...And the next day.