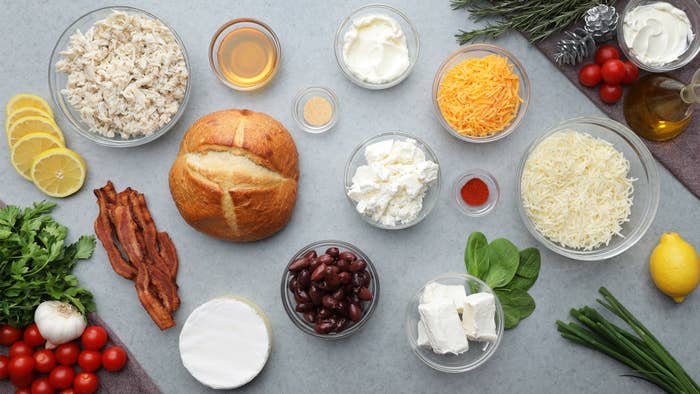 Bread Bowl Baked Brie
Servings: 8
Ingredients:
1 round bread loaf (slightly larger than round of brie)
1 wheel of brie
Rosemary sprigs
¼ cup honey
Preparation:
1.Cut a hole out of the center of the bread loaf, wide and deep enough to comfortably fit the brie.
2.Place brie in the hole. Cut a diamond pattern in the top of the brie, cutting down deep into the wheel.
3.Tuck rosemary sprigs into the space between the cheese and the bread, forming a wreath. Drizzle brie all over with honey.
4.Place on sheet tray and bake for 8–10 minutes, until brie is melty. Remove from oven and serve immediately.
Baked Tomatoes & Feta
Servings: 8
Ingredients:
20 ounces cherry tomatoes
2 garlic cloves, thinly sliced
Olive oil
Kosher salt
½ cup pitted kalamata olives
1 cup crumbled feta
Chopped parsley for garnish
Pita chips, for serving
Preparation:
1.Preheat oven to 450ºF.
2.In a baking dish, toss cherry tomatoes with garlic, a drizzle of olive oil, and a sprinkle of kosher salt.
3.Bake for 17–22 minutes or until tomatoes are starting to collapse and are turning dark in some spots. Remove from oven and turn down oven temperature to 350ºF.
4.Spoon off excess liquid from tomatoes. Gently fold in olives and feta.
5.Return dish to oven and bake for 5–7 minutes, just to heat through ingredients.
6.Remove from oven. Garnish with parsley and serve!
Hot Crab Dip
Servings: 8
Ingredients:
8 ounces cream cheese, softened
¼ cup sour cream
¼ cup mayonnaise
1 cup grated cheddar cheese
Zest of 1 lemon
Juice of ½ a lemon
1 teaspoon kosher salt
1 teaspoon garlic powder
½ teaspoon paprika
1 pound canned lump crab meat, picked through for stray shells
Chopped chives, for garnish
Toasted baguette, for serving
Preparation:
1.Preheat oven to 350ºF.
2.Combine cream cheese, sour cream, mayonnaise, cheddar cheese, lemon zest and juice, salt, garlic powder, and paprika in a bowl. Mix well. Fold in lump crab meat.
3.Transfer dip to a baking dip.
4.Bake for 20 minutes, or until hot and gooey.
5.Remove from oven. Garnish with chopped chives. Serve with toasted baguette.