Memorial Day has come and gone in the U.S., with a number of stellar movie releases having made their debuts this weekend. While some (including the modern iteration of Baywatch) may have flattered to deceive, however, others have enjoyed more marked success.
Take the fifth instalment of the Pirates of the Caribbean franchise, for example, which earned an impressive $76.6 million during the course of the four-day weekend.
With Johnny Depp reprising the iconic role of Jack Sparrow, it is little wonder that the film has enjoyed initial success. What may come as more of a surprise is the sheer value of the jewellery that Sparrow wears in the films, for example, which has been estimated at £224,615 by UK experts F. Hinds.
Breaking Down the Numbers: How Much is Captain Jack's Bling Worth?
The British firm has taken a tongue-in-cheek look at every single piece of jewellery that Sparrow wears during the films, valuing each one or estimating how much it would cost to replicate them. In total, Captain Jack's haul of bling amounts to a quite staggering £224,615, which is not bad for a supposedly inept and often inebriated pirate.
Jack's rings alone are worth an estimated £19,000, with the famous Skull Ring leading the way with a value of £4,250. This sterling silver ring, which has been embedded with a single emerald stone, has become almost as iconic as the man and is a particular favourite among fans. Then there is the notorious stolen ring, which has a weight of 22ct gold and would cost an estimated £8,500 in the current market.
Another key component is Jack's stunning pearl necklace, which would need be replicated using contemporary cultured pearls from South China Sea. As you would expect, this would not be an inexpensive item, with a real-world market value in the region of £5,500. Some of this cost can be attributed to the fact that these pearls would have been hand-dived, and it is interesting to note that there are comparable products in 2017.
No such research is complete with including Jack's crown, which was stolen (you can see a theme developing here) form the Isle de Muerta and is worth a staggering £200,000. It is impressively bejewelled with pearls, semi-precious gemstones and blue sapphires, and most importantly of all isn't cursed. This is an important consideration pirates, even those like Jack who are a little too fond of their rum!
When you consider that Jack also has a treasure haul that equates to £3 million in today's market, his impressive collection of jewellery adds a considerable boost to his net worth. Be sure to check this out when you see the film, keeping an eye out for those unique key items that make Jack who he is.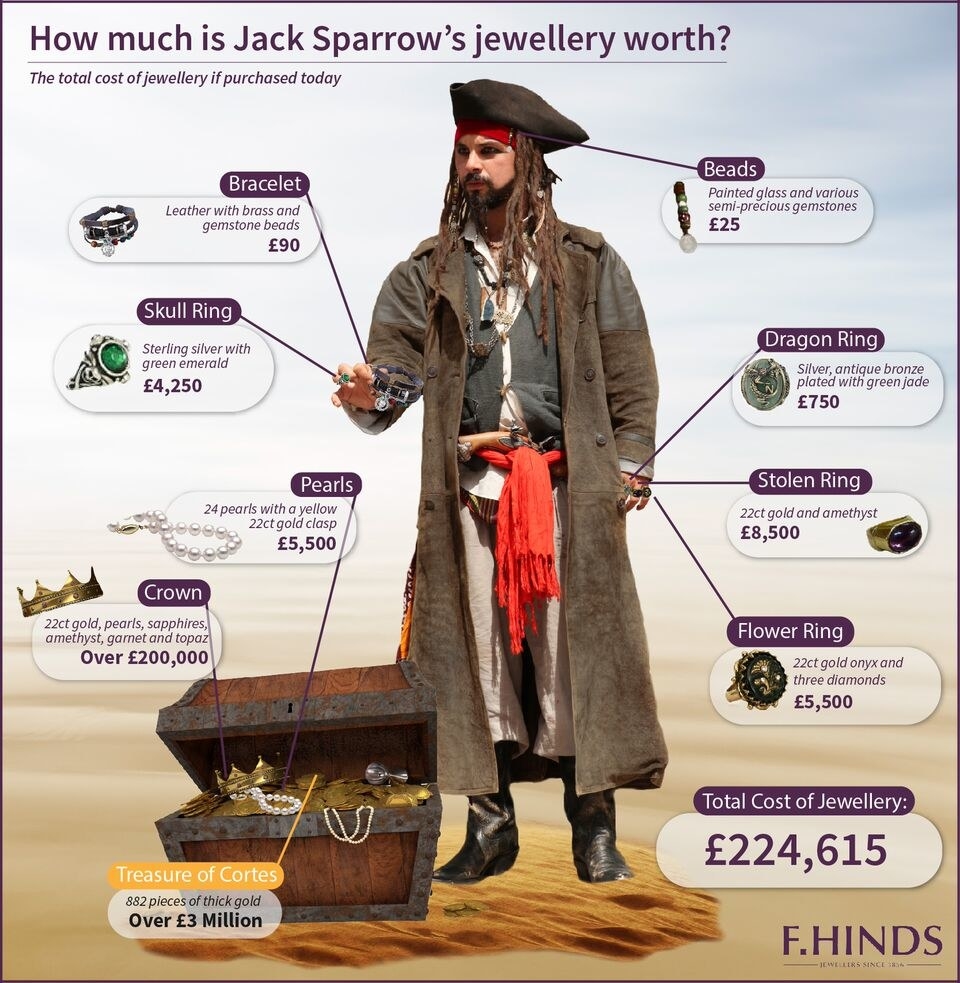 This post was created by a member of BuzzFeed Community, where anyone can post awesome lists and creations.
Learn more
or
post your buzz!