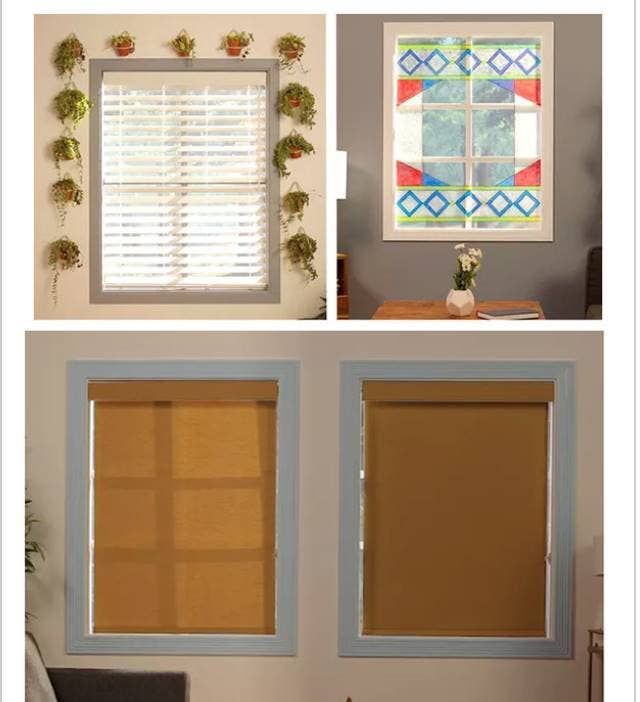 Materials:
Plant Window Border:
LEVOLOR Faux Wood Blinds

Hanging plants

Terra-cotta pots

Rope

Cup hooks
Painted Window Frame:
LEVOLOR Roller Shades

House paint

Painter's tape

Paint brush
Faux Stained Glass:
Clear acrylic sheet

Instant leading

Glass paint

Dry-erase marker

Cardstock paper

Yardstick

4 small 90°-angle brackets

Drill

Instructions:
Plant Window Border:
Install LEVOLOR Faux Wood Blinds using the step-by-step installation guide.

Place trailing houseplants, such as senecio radicans or pothos, into small terra-cotta pots.

Tie a piece of rope around the pot. Tie the ends of a longer piece to either side of that rope, creating a handle for the pots.

Screw in cup hooks around the edge of the window.

Hang the potted plants onto the cup hooks.

Let the plants overlap each other for a lush, continuous green look.
Painted Window Frame:
Choose LEVOLOR Roller Shades in an eye-catching color and install using the step-by-step installation guide.

Measure your windows with these easy steps to ensure you order the correct size.

Outline the outside and inside of your window trim with painter's tape.

Apply a complementary paint onto the trim and let dry.

Remove the tape to bring a refreshing pop of color to your space.
Faux Stained Glass:
Have the acrylic sheet cut to the size of your window.

Draw a design on one side of the sheet using a dry-erase marker and yardstick or cut out card stock stencils to trace.

On the other side of the acrylic sheet, begin laying out the instant leading along the lines of your design.

Color your design using the glass paint, swirling it to create a stained-glass texture. Let dry.

Place the sheet snug against your window. If needed, secure it by drilling 90°-angle brackets into the window jam but not the acrylic.

Now your window can be a statement piece of your home!