I've seen people do crazy things for love. I'm always impressed by these bold gestures — online videos of extravagant proposals or lavish movie scenes where a hopeless romantic catches his lover's eye by dangling from the metal bar of a Ferris wheel. My heart swells with envy, but I can't help but feel a sense of bewilderment. I'd do anything for my family and friends, but beyond them I've yet to have a personal connection so strong that I felt it necessary to go to unthinkable lengths for love...until this year.
For my cat.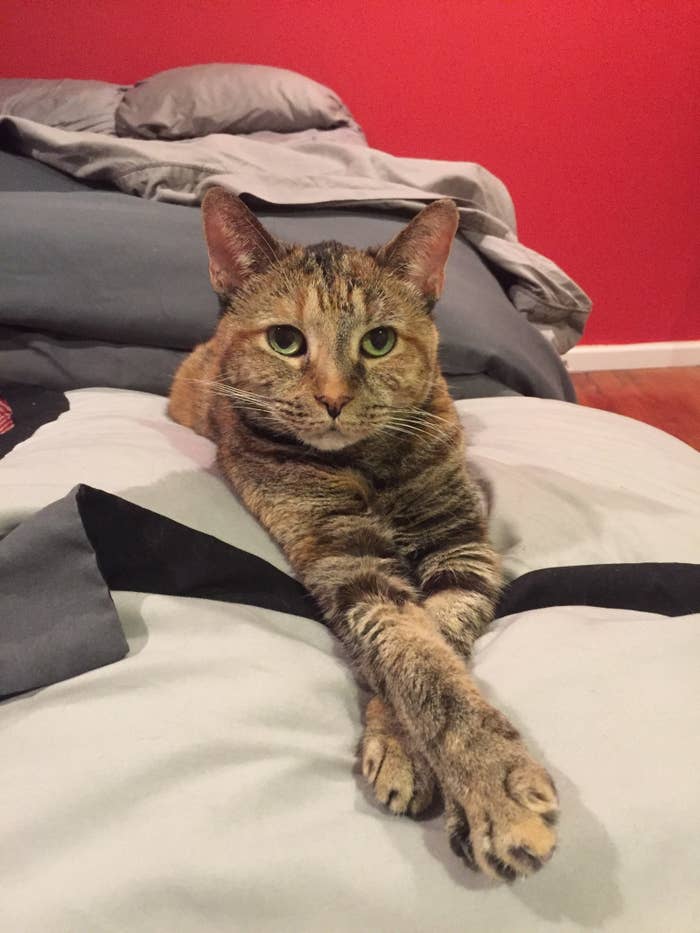 In August of this year, my cat, Eva, had six and a half teeth removed. When I visited the vet in May they found that she had gingivitis, and we needed to act fast before the disease spread to her blood and ran the risk of being fatal. Her doctor told me that the procedure would cost $1,200. That's more than my rent, but kitty's health was more important than a few tough months.

I bought rice and chicken in bulk and spent weekends at home to reduce my cost of living. By the time August rolled around I had just enough money saved to cover the surgery and get me through the two weeks before my next paycheck, but on the day of the procedure they informed me they found a root fracture and the procedure would take longer. A longer procedure meant a higher bill. Precisely a $1,540 bill. *gulp*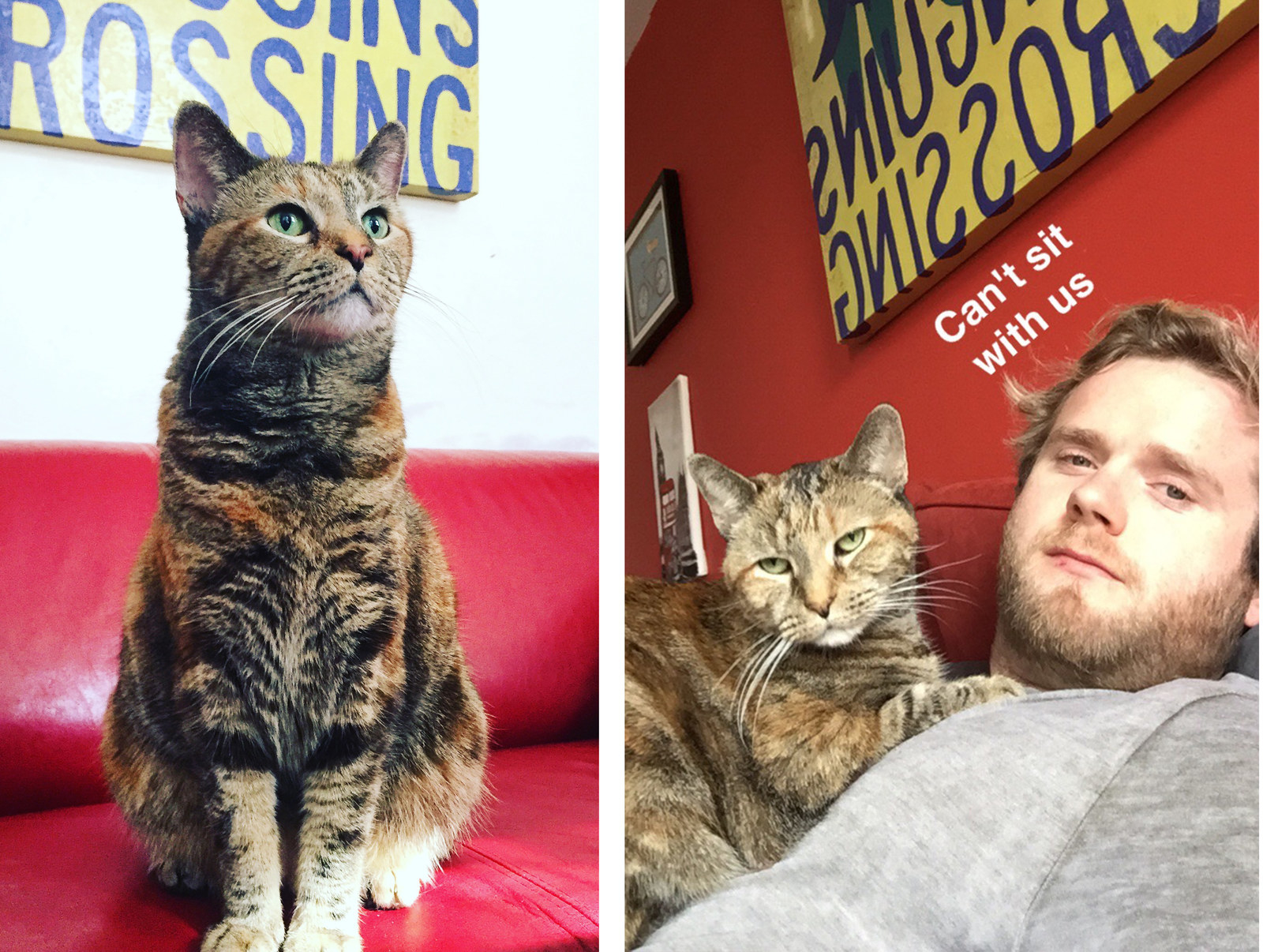 Do I find some odd jobs online for the weekend? I thought. Do I work as a bike courier for a week? Should I beatbox in the Union Square subway station, busking for commuters' spare change? After three days of deliberation I had a moment of clarity: I could use letgo!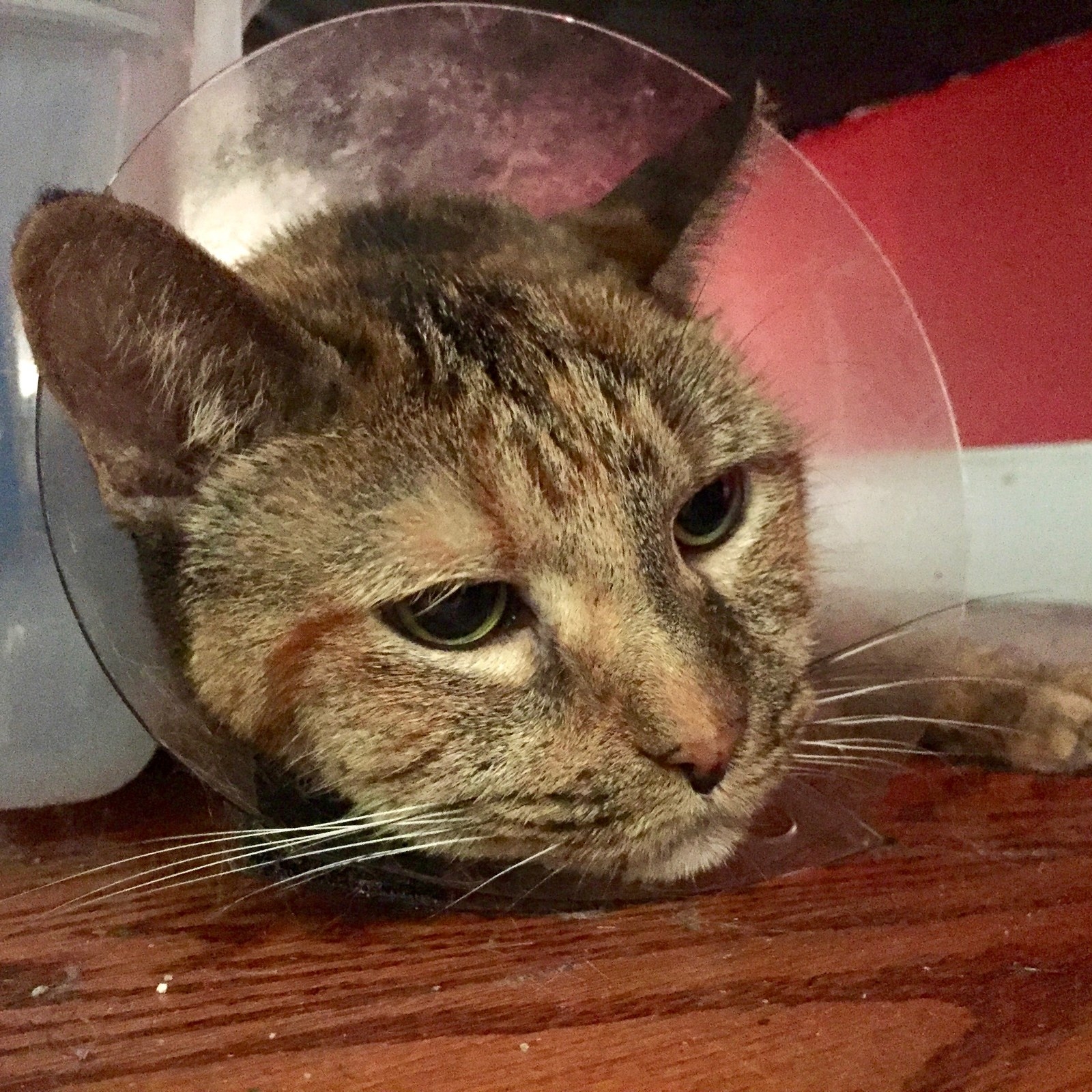 Since February of this year I have been working on a campaign for the reselling app letgo. I've genuinely loved telling their story to secondhand shoppers, thrifters, parents, financially conscious millennials, and eco-friendly folks. As much as I believed in the work I was doing for them, I hadn't really considered how the app could benefit my own life...until the surgery. Why not see if I could have some luck of my own? What did I have to lose? What other options did I have?

I scanned my room looking for items I could sell. I knew that electronics were a popular item on the app, so I began to audit what I owned.
In college I was drawn to the liberation and sense of community I felt from the electronic music scene. My best friend and I decided we would pursue our passion and take a crack at producing. We had big dreams of touring the country as a big dubstep duo like Zed's Dead or Adventure Club and decided on the name Chasing Chevy. I bought a midi keyboard that had drum pads and knobs to make the wobble-and-womp sounds. We tinkered around with it and had our fun, but after graduation we needed to figure out how to pay off all that student debt. He moved to Dallas; I moved to New York. I hadn't touched the keyboard since but often told myself, I might. I recalled that I had two nice speakers, one in my kitchen and one in my bedroom. I didn't need both. I could sell one of those too.

But what if I wanted the keyboard later?

That's when I remembered the advice I got from an earlier post I wrote for letgo about why we hold onto old items. The expert I talked to said to ask yourself three questions:

"How long have I had this?" Six years.
"When was the last time I used it?" Err…five years ago?
"Could I get it again if I really needed it." Probably.
With all those boxes checked I decided to let go and get some cash in return. I originally paid $125 for the keyboard, but the current market price was $80. It wasn't new, so I settled on $40. I snapped a picture of the keyboard. Almost instantly the app's AI pulled some sci-fi sorcery and was able to recognize what the item was, select the best category to sell it in, and give it a title. I set the price and posted it and within hours responses started rolling in.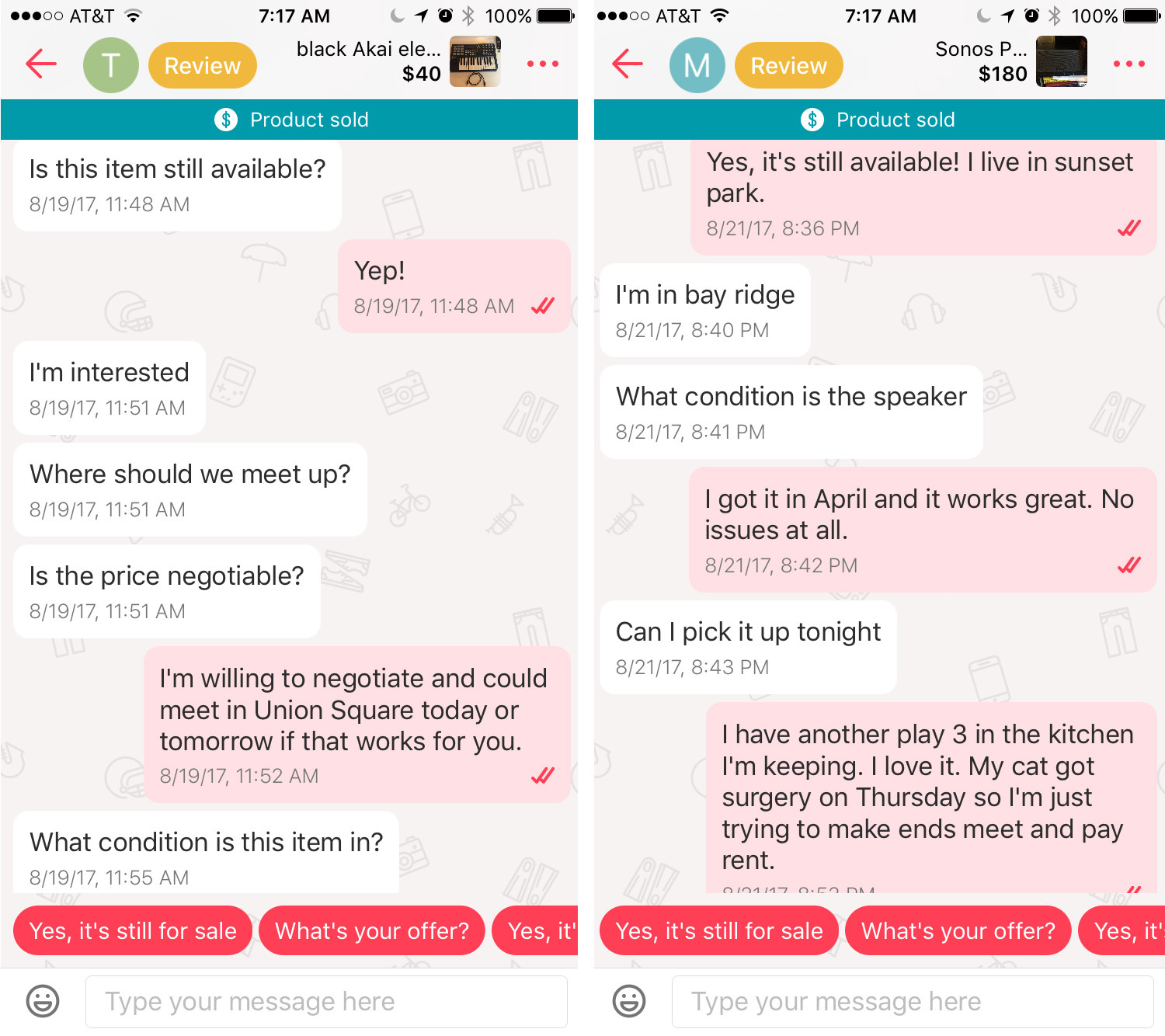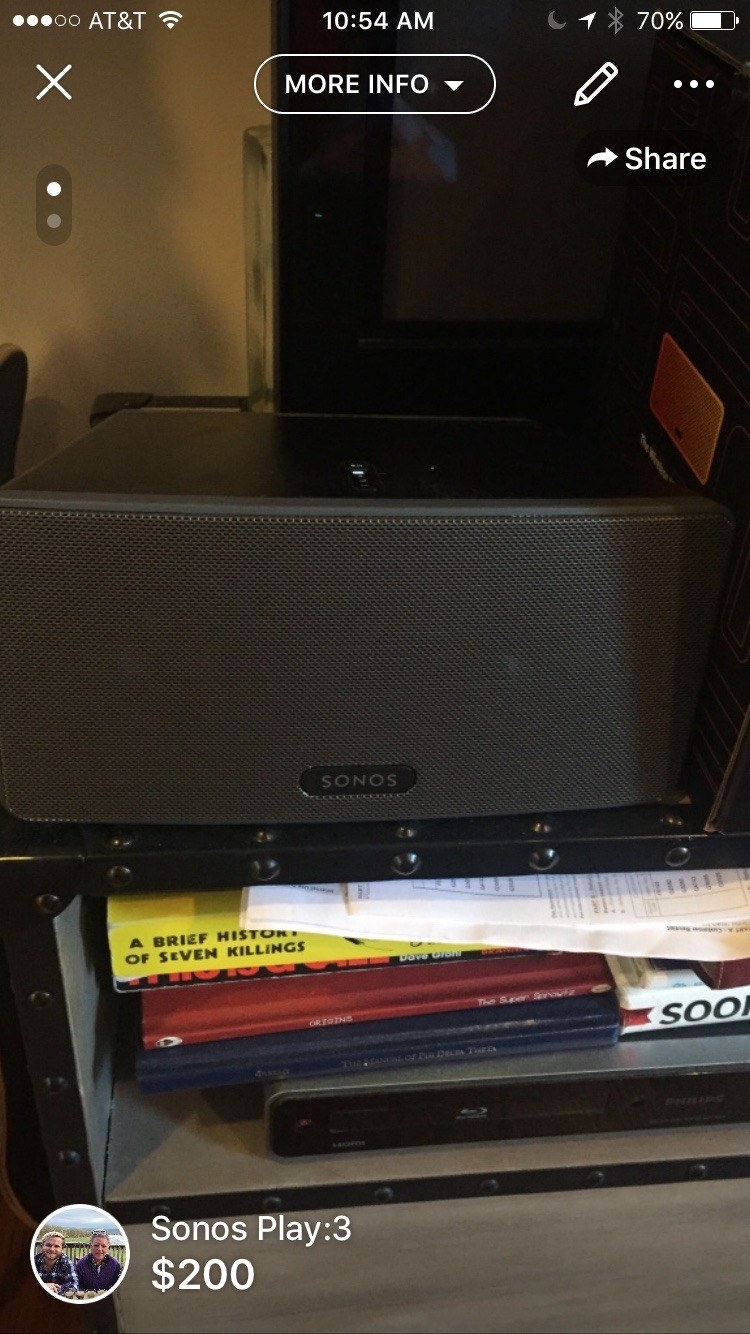 As for the speaker, I love it, but sometimes I turn it up a little too loud and get a visit from my neighbors. I could live without that. Besides, it was practically new, so I knew I could get some decent coin for it. I bought it in April for $300, so I decided to list it for $200. I snapped a pic, the app gave me a title and category, and I listed the price. Boom. Another item listed. After two days there wasn't much interest, so I dropped the price to $170 and within minutes started getting bites. (Pro Tip: Look for items similar to yours and sell it for a bit less. You'll attract more buyers that way.)

I ended up finding a great buyer for the keyboard, a musician born and raised in Queens, so I felt good knowing it was going to a good home. We negotiated the price down to $30 and agreed to meet in Union Square after work. Six o'clock rolled around, and I carried the keyboard from the office to meet him. He had a lot of questions about it, like if it could be used with various recording softwares, and he shared with excitement his plans to become a producer. I gave him the keyboard, he gave me $30, and I left feeling great that it was getting a second life and continuing to let people work toward their dreams.
I rode the subway home glowing. Maybe there was a light at the end of the tunnel. Maybe Kitters and I would be all right after all! That night I messaged with some potential buyers for the speaker. I gravitated toward the speediest buyer who happened to live in a neighborhood next to mine. He was a father who had another version of the same speaker and was excited to add it to his home. We agreed on the price, and within 30 minutes he was outside my door with $170 in hand.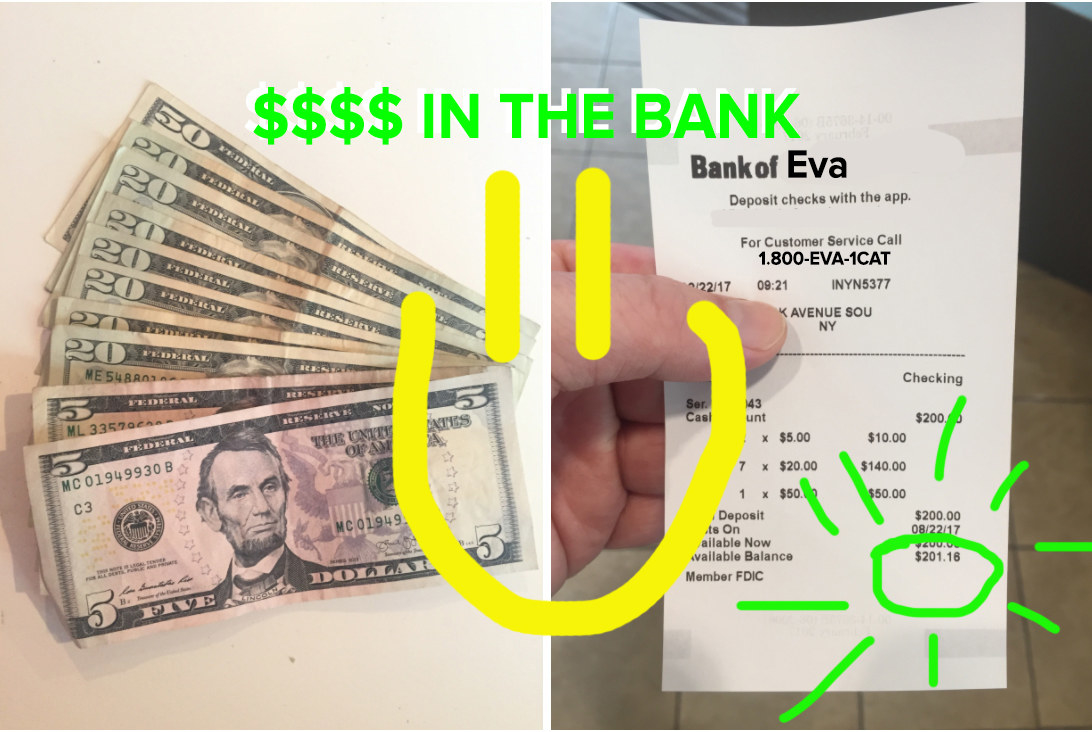 I was stunned and elated by my experience. In the days leading up to this, I'd been so anxious about my immediate finances, but the answer was right there all along (and so painless). In three days I gained $200 and peace of mind that would carry me through the next couple of weeks. It felt great knowing the items were going to empower a musician's dream or entertain a family on nights and weekends. I was honest with them about my plight, and I hope they felt good knowing their money was going to help a healing kitty.
After working with letgo for most of this year I was ecstatic to have my own success story and, more importantly, a healthy and happy little kitty (give or take a few teeth).

All images courtesy of Clark McCaskill. Header designed by Laura Hoerner /© BuzzFeed.
What things can you sell for some cash on letgo? Download the app and see!