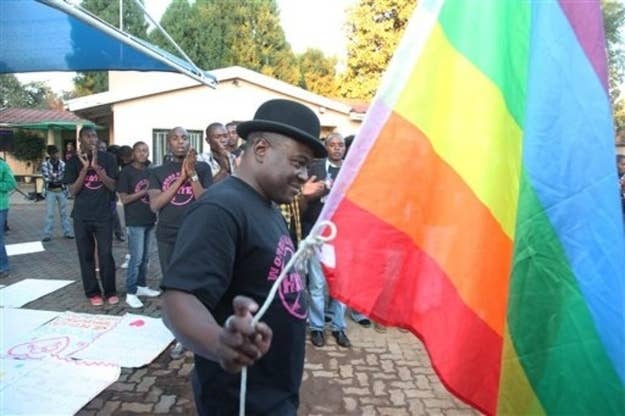 Five men with hammers forced their way into the Harare offices of Gays and Lesbians of Zimbabwe on Thursday, according to a statement released by the organization following the attack.
The human rights group has been under intense government harassment during the past year as same-sex marriage became a contentious issue in negotiations over a new constitution. In August, the government of President Robert Mugabe raided GALZ's offices and arrested 44 people.
According to the GALZ statement,
At around 11 am on Thursday 6 June 2013, five unidentified men wielding hammers violently forced entry into the GALZ offices in Harare disrupting a meeting in progress. One of the men disguised as a mentally challenged person, threatened the security personnel controlling the gate with a Hammer whilst a visitor was driving into the GALZ premises. The men rounded up all staff and board members and locked them up in the Guard Room whilst they ransacked the offices collecting all personal property including cellphones, laptops and bags.
In this case, the police came to the aid of the activists. "We commend the Police's swift reaction," the statement said.
Though the police intervened, the group said that the government's youth militia was behind the attack.
Noting that "the men were constantly making communication with an individual addressed as 'Machacha' of an unknown 'security wing' over the phone, the group said, "GALZ is not taking this incident as a random act of attempted robbery but that of deliberate attack by the youth militia, acting on the orders of someone superior."