Victory For Gay-Friendly Mayor Of Lima Still Troubles LGBT Activists
Leftist Lima Mayor Susana Villarán survived an evangelical-backed recall election on Sunday. LGBT activists, though, say their cause was sacrificed to keep her in office.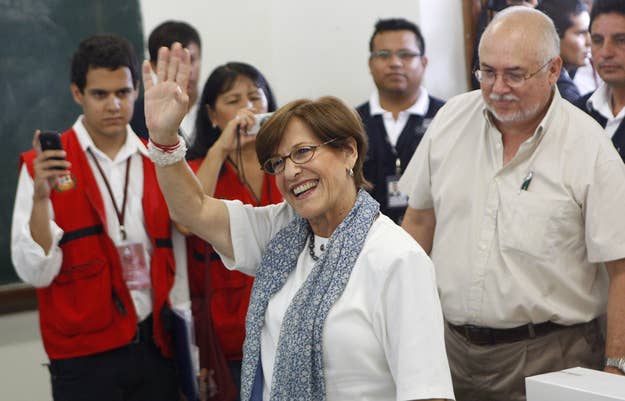 Lima Mayor Susana Villarán, who entered office in 2011 as a vocal supporter of LGBT rights in Peru, survived an evangelical-led recall vote this Sunday. Peruvian LGBT-rights activists, however, say the way she stayed in office made it a hollow victory.
Villarán survived the recall vote recall by less than three percentage points. But most members of her Fuerza Social party on the city council lost their seats. They were replaced by members of the conservative Partido Popular Cristiano, with whom Villarán struck up an alliance in order to stay in office.
"This is a victory with the taste of defeat," said Veronica Ferrari, director of Peru's oldest gay rights organization, the Movimiento Homosexual de Lima (MHOL). "The left … is left weakened, and the municipal government is practically one of the Christian Right."
Villarán gave an opening to her political opponents in 2011 by marching in Lima's gay pride parade and backing legislation to ban discrimination against LGBT people. Vigorous protests from the city's evangelical community and opposition from the Catholic church ultimately forced the city council to table the bill. Then these forces also launched the campaign to remove her from office.
Villarán and her team were politically inexperienced and did not realize the cost of raising the profile of LGBT rights, said former councilman Manuel Abelardo Cardenas Muñoz in an October interview. Cardenas, a member of the mayor's party and a lead sponsor of the nondiscrimination ordinance, lost his seat on Sunday.
"It was a mistake not to evaluate" the strength of religious conservatives, Cardenas said. Although they expected opposition from the Catholic church, he had not anticipated such tremendous mobilization from Lima's large evangelical community.
"We did not think that there was such a fundamentalist vision [amongst evangelicals]," he said. "We discovered there was very fundamentalist thought, a hard nucleus of [these] ideas."
The mayor's support of LGBT rights "is going to be the banner of the [recall] campaign," said one of its leaders, Marco Tulio Guitiérrez, in a November interview with a Peruvian magazine.
He continued that evangelicals "do not agree with a mayor that participates in marches of transvestites and sissies [maricas], a pro-lesbian, pro-gay mayor…. Thanks to … evangelical churches' pro-life and pro-family movements, everything has headed towards [her recall]."
"We're not homophobic," he added. "But the state can't take that [pro-LGBT] posture."
All signs pointed to her defeat before Sunday's vote. She'd dragged in the polls for months. Ipsos Peru found her trailing by ten points a week before the vote.
Hanging onto her job meant Villarán had distanced herself from the LGBT community in ways that left her former allies hurt, said George Liendo of Peru's Center for Promotion and Defense of Sexual and Reproductive Rights (PROMSEX).
"Although the gay agenda has been a historic commitment of the mayor and her Fuerza Social party, it became an uncomfortable agenda in this electoral process," he said. Even when the police suppressed a "Kisses Against Homophobia" protest using tear gas and water cannons in February, she did not speak up, he noted.
The election did have some positive results for the LGBT rights movement, however, including the discrediting of a leader of one of the major conservative organizations, the evangelical pastor José Linares Cerón of the International Pro-Life and Pro-Family Coalition (CIPROFAM). In the lead up to the vote, news broke that he was facing allegations of rape and several other charges.
LGBT activists say that it is better that Villarán stay in office to counter the newly conservative city council than if she had lost. But they hold little hope that the nondiscrimination ordinance or other pro-LGBT measures will be back on the agenda anytime soon.
"We're saying goodbye to the hope of having [the ordinance]," said MHOL's Ferrari. "We will continue demanding it, but the scenario will be much more difficult than it already was."
J. Lester Feder is a BuzzFeed contributor and 2013 Alicia Patterson journalism fellow.