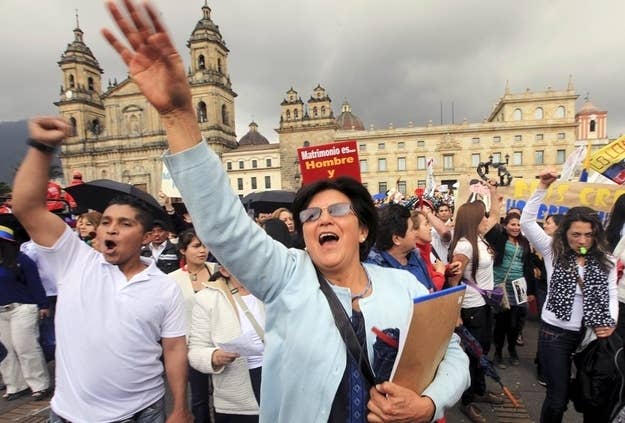 As same-sex couples in the United States wait for the Supreme Court to decide on the legal weight of their marriages, same-sex couples in Colombia are also waiting on a similar decision from much lower officials: notaries and local judges.
These are the officials that solemnize marriages in Colombia, and a Constitutional Court order has left a very large decision in their hands about the standing of same-sex couples under the country's laws.
In 2011, the court ordered the country's legislature to pass a law guaranteeing equal rights to same-sex couples. To give the ruling teeth, it said that notaries and judges could start solemnizing these unions after June 20, 2013, if congress failed to act.
A law that would have legalized same-sex marriage died in Colombia's senate in April, so theoretically same-sex couples should be able to start marrying next week.
But ambiguity in the court's language means it is not clear whether marriage officials will grant same-sex couples "marriages," or whether they will invent some other kind of separate union.
The court produced a "Frankenstein decision," said Mauricio Albarracín, a lawyer with the LGBT rights group Colombia Diversa that worked on the original marriage litigation. The ruling said that same-sex couples deserve equal rights, but didn't actually say if they would be able to "marry" after June 20.
Instead, the court said that these couples can "formalize and solemnize a contractual link that permits them to constitute a family." This could be read ordering that couples should be allowed to marry, because it echoes Colombian law's definition of marriage as a "solemn contract." It could also, however, be interpreted as ordering the creation of a new kind of family contract for same-sex couples.
Observers of Colombia's Constitutional Court say this ambiguity is no accident. Though it has repeatedly ruled in favor of LGBT rights — including opening many rights to same-sex couples between 2007 and 2011 — the court never had a clear majority to decisively rule gays and lesbians have the right to marry. So it sidestepped the question, making it very unclear what notaries and judges are supposed to do when the first same-sex couples come into their offices following June 20.
These officials have not received the clearest advice from Colombia's top legal authorities, either.
The country's attorney general, Eduardo Montealegre, said in an April 28 interview with El Tiempo "any notary can marry a homosexual couple under the [legal] title of matrimony." He also said that no notary can refuse to marry a same-sex couple.
But, confusingly, he also said that a "reasonable interpretation" of the court's ruling means "a notary is also free to interpret that this contractual link does not fit [under the name] matrimony, but rather something completely different."
Both decisions will be valid, he said, and notaries will not be punished whichever path they choose.
The head of the notary's union, Álvaro Rojas, disagrees with both interpretations. Notaries may neither marry same-sex couples nor create a new kind of contract, he said in May. Instead, they can comply with the court's ruling by registering same-sex couples under a kind of domestic partnership status that has already been available to them since 2007.
Inspector General Alejandro Ordoñez, another major legal force in the government, has long been one of the loudest voices arguing that the courts ruling does not mean same-sex couples must be given the right to marry.
"The Constitutional Court does not talk about equating heterosexual marriage with homosexual [unions]," he said in a forum with conservative lawmakers before the marriage bill failed.
And the country's Catholic hierarchy — a powerful political force — has warned that it would be a sin for notaries to solemnize same-sex marriages.
"Catholic notaries cannot formalize homosexual unions," said Father Pedro Mercado, assistant secretary of the Colombian Bishops Conference. "It would be considered a grave act against God and against society."
LGBT rights advocates maintain that the court meant nothing short of "equal marriage," and are prepared to sue notaries who refuse to celebrate same-sex marriages or will only register the unions under a different contract.
"We suggest couples solicit matrimony and if it is denied that they sue," Colombia Diversa Executive Director Marcela Sánchez Buitrago said.
The group has created a flyer for couples that want to try to marry outlining how to apply and the legal process if they are denied.
The group strongly warns that couples should not sign any other kind of contract to register their union other than a civil marriage contract. Otherwise, they take a risk they may permanently have to accept a status that is less than full marriage.
"It is better to do nothing," Sánchez said.
Expect an "avalanche of lawsuits," LGBT rights lawyer Mauricio Albarracín said.
The Constitutional Court may have wanted to sidestep the marriage question, but all it has guaranteed is that it will see the question once again very soon.