Rome's Mayor Ignazio Marino became the latest city leader to record the marriages of same-sex couples performed abroad, violating a pronouncement by Italian Interior Minister Angelino Alfano that doing so is a violation of Italian law.
"Today is a special day that I hope will soon become a normal day," Marino tweeted.
Sixteen couples had their marriages transcribed on Saturday. In recording their Unions, Marino is following the lead of the mayors of cities including Milan and Naples, who have also gone against Alfano's pronouncement. It also comes as Catholic Church leaders meeting in Vatican City retreated from draft language on "welcoming homosexual persons" in a declaration on the family.
Marino tweeted that he greeted the couples by quoting a poem by Pablo Neruda, "If you can stay close to me."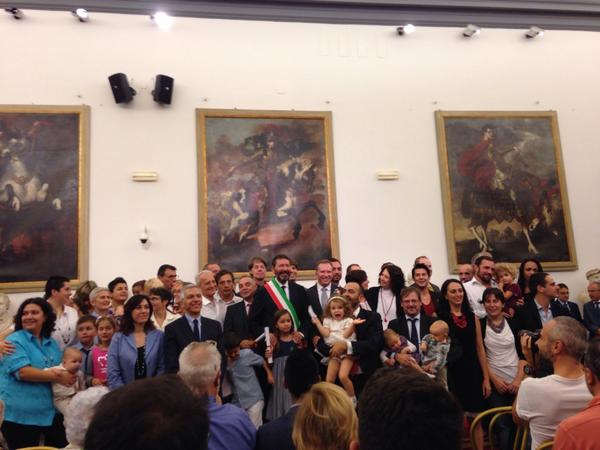 Parliament has been under orders from the courts to pass legislation to recognize same-sex couples since 2010, but it has not acted. The country's Supreme Court again ordered the parliament to act in June in a ruling that also explicitly said that same-sex marriages could not be recognized under existing law.
Prime Minister Matteo Renzi has said he wants to pass legislation, but Interior Minister Alfano has remained the biggest roadblock. Alfano leads a bloc of parliamentarians who had been loyal to former Prime Minister Silvio Berlusconi who joined with Renzi's Democratic Party to form a government. The Democratic Party controls only 40 percent of seats on its own, and Alfano threatened in February to bring down the government if it tried to pass same-sex marriage.
"How can you not call this love?" Marino wrote, tweeting this picture: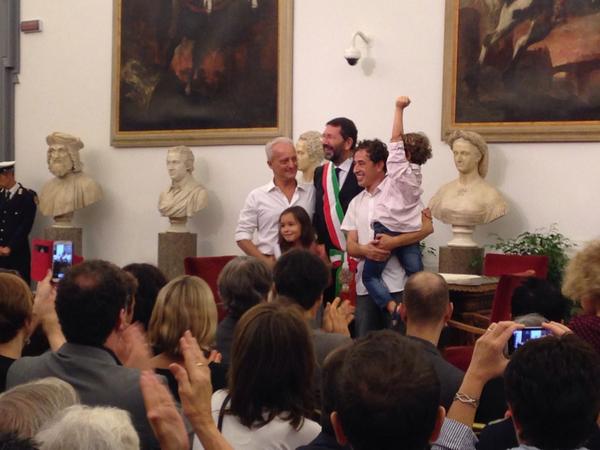 J. Lester Feder is a world correspondent for BuzzFeed News and is based in Washington, DC. His secure PGP fingerprint is 2353 DB68 8AA6 92BD 67B8 94DF 37D8 0A6F D70B 7211
Contact J. Lester Feder at lester.feder@buzzfeed.com.
Got a confidential tip? Submit it here.