Gay Ugandan Refugees Marry In Sweden While The UK Returns A Malawian Asylum Seeker
Lawrence Kaala and Jimmy Sserwadda, the first Ugandans known to legally marry, have been granted asylum in Sweden. But the United Kingdom has deported Malawian Peter George Liwewe, however, despite his fears of being killed.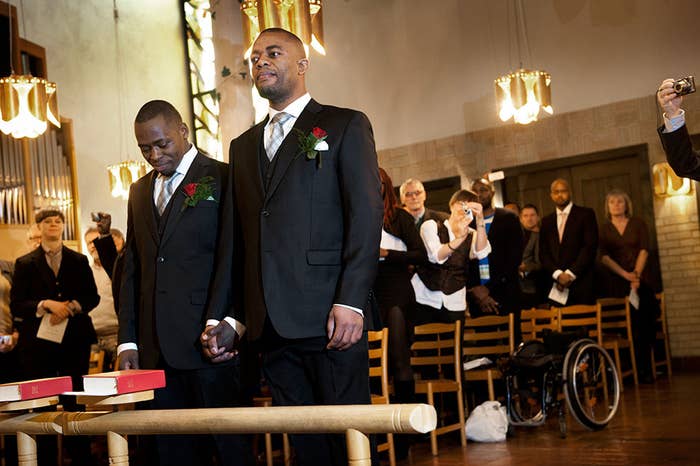 Two dramatic stories have unfolded this winter of gay Africans seeking asylum, with two European countries taking dramatically different directions in a pair of cases.
The story of Ugandans Lawrence Kaala and Jimmy Sserwadda ended in an almost storybook fashion—with a wedding. The two men wed in Sweden in late January, and are believed to be the first Ugandan couple to be legally married.
They had been in a long-term relationship until Sserwadda was forced to flee the country in 2008 after he was arrested and beaten for "promoting homosexuality."
"I didn't tell Lawrence. I know he would have insisted on coming with and that would have put our lives at risk. So I left him behind," he told The Local, a Swedish paper published in English.
Kaala didn't know what had happened to Sserwadda until 2011, when he had also gone into exile and by chance wound up in Sweden. Then Kaala came across a profile of Sserwadda published by a Swedish gay right's organization.
The two reunited, and planned to marry. But days before the wedding, they learned that Kaala's asylum petition had been denied. Activists said Sweden Migration Board doubted Kaala's story of persecution. His case was emblematic of a larger lack of sensitivity and understanding of the situation facing LGBT people in countries like Uganda.
Last week, the Migration Board reversed its decision, granting Kaala a residency permit. News reports say the board was swayed by the fact that Kaala had recieved death threats in Uganda after news of their wedding reached the country.
They were married in a Swedish church with more then 100 guests in attendance, including Sweden's Minister for European Union Affairs, Birgitta Ohlsson.
But the case of a Malawian refugee in Great Britain did not have a happy ending.
Peter George Liwewe was sent back to Malawi on March 4 after living illegally in the United Kingdom since 2004.
He filed for asylum when he first arrived in the country. But he claims to have been sexually assaulted by an officer of the U.K. Border Agency at Heathrow Airport, after which he went into hiding.
He was discovered working illegally under the name of George Banda in February, and taken into custody. He was deported this week despite his claims that he is in danger both because of his sexuality and because of possible retribution for a political killing committed by his father, a member of the United Democratic Front, in 2001.
When his father went into hiding in 2004, Liwewe told PinkNews, his sexuality was used to blackmail him into giving him up.
"The letters said that if I failed to do that they will reveal to everybody including the church and the authorities of my sexuality. I did not approach the police because I was afraid that if I showed the letter to the police it would be known that I was a homosexual and they would arrest me," Liwewe said.
Liwewe told PinkNews he had "no chance of surviving" if he returned to the country.
J. Lester Feder is a BuzzFeed contributor and a 2013 Alicia Patterson journalism fellow.