American Christian Legal Group Exports Anti-LGBT Agenda To Brazil
The American Center for Law and Justice, founded by televangelist Pat Robertson, is now funding anti-LGBT work in Brazil. The group already has expanded into Africa and Eastern Europe.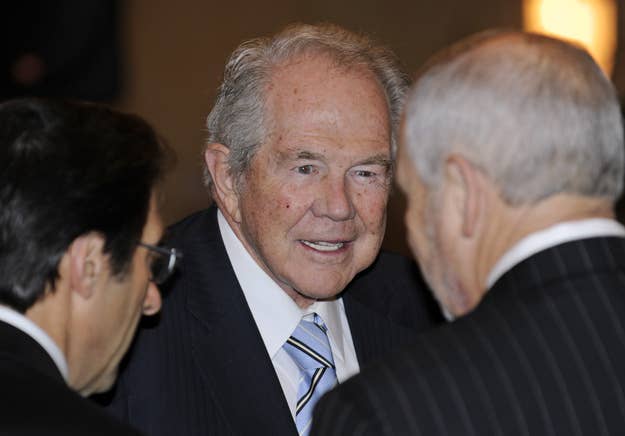 With the opening of a new office in Brazil, a leading U.S. Christian conservative organization may be taking on one of its biggest challenges yet — but one with some big opportunities if it succeeds.
Pat Robertson founded the American Center for Law and Justice in 1990 to provide a national presence opposing the American Civil Liberties Union — often filing and defending cases all the way to the Supreme Court. But in recent years it has been growing its foreign operations, making it a player in policies to constrain LGBT rights on three continents.
The head of the new Brazil office, Filipe Coelho, is a scion of one of Brazil's leading evangelical families, and aims to stop hate crime legislation from becoming law, opposes marriage rights for same-sex couples and speaks strongly about the dangers of employment protections for LGBT people.
The ACLJ already has offices in countries where the climate is hostile to LGBT rights, such as Russia, Kenya, and Zimbabwe. But as Political Research Associates' Jandira Queiroz points out in a new report, the organization is setting up shop in the country that is home to the world's largest gay pride parade. Same-sex marriage is also legal in some Brazilian jurisdictions. This includes São Paulo state, which has a population of more than 40 million people, roughly the same size as Argentina.
But Brazil also has an evangelical movement that most closely parallels the United States. It accounts for about 20 percent of the population and it has serious muscle in election campaigns and the country's legislature. Queiroz writes that the Evangelical caucus in Brazil's congress includes:
about 70 deputies (out of 513) in the lower house and three senators (out of 81) currently in its ranks. Most are pastors, bishops, or self-nominated "apostles" from a range of denominations. This caucus, though a minority group, is influential because of its alliance with landowners, entrepreneurs, and other conservative groups represented in the Brazilian Parliament. Together, they make up the majority of the Congress and have been blocking some of the progressive aims of the federal government, especially over the last decade.
The ACLJ is sending monthly installments to bankroll the new organization. And, despite his Brazilian pedigree, Coelho has deep roots in the United States, where he lived for half his life and received his education at the Presbyterian-affiliated King College in Tennessee.
Coelho says that one of his top priorities will be to fight a nondiscrimination and hate crime bill sought for more than a decade by the country's LGBT rights advocates. "[H]omosexuals are trying to treat homosexuality as if it were a race, while it is really an attitude, a behavior," he has said.
The organization that published Queiroz's report on the ACLJ's new Brazilian foray has also documented the ACLJ's work in Africa. Her colleague, Kapya Koama, has written that its Zimbabwean operation has influence with the government of President Robert Mugabe, which raided the offices of the country's gay rights group last fall. A draft of a new constitution for the country that became public in January included a ban on same-sex marriage.
J. Lester Feder is a BuzzFeed contributor and a 2013 Alicia Patterson journalism fellow.