Alarm goes off, and you need to shower this morning. But you were up late last night studying. Do you...

Get up and shower? The water will wake you up. OR snooze to get some more shut-eye. You literally can't move. Why are beds this comfy?

Alright, now you're running late. You don't have time to eat breakfast in your room. Do you...

Stop off in the caf on your way up to class. What's another 5 minutes late? OR skip breakfast. It's not *actually* the most important meal of the day, right?

Blah, blah, blah. Why are teachers so boring? You're starting to feel sleepy. Do you...

Start online shopping in class so that at least you'll stay awake? OR keep taking notes and hope you'll feel energized by your furious typing?

Lunch time, thank god. You get to the caf to meet friends and then remember that you have a big homework assignment due in your next class. Do you...

Sit with your friends anyway and pull out your homework while you're eating. It's rude to cancel and you can multitask, right? OR tell your friends you can't sit with them because you have work due? Lord knows you can't focus on work while everyone is spilling the tea.

Wow, you're dying from sleep deprivation. How do you still have 2 more classes today?? But you've already ditched once this semester and your teachers have a 2 missed classes only policy. Do you...

Buy a 3rd cup of coffee and hope your racing heart will be enough to help you power through? OR ditch a class and take a nap. Say a prayer for your immune system in hopes you don't get sick this semester.

Praise the lord, classes are done for the day! Clock says 7PM, so it's time to think about what's due tomorrow. Do you...

Squeeze in some Netflix and FB surfing before starting studying. Gotta unwind from today before you deal with tomorrow! OR Start studying now. Sooner you start, sooner it'll be over!

What's that you hear? Friends in the hallway/library/literally anywhere? Do you...

Stay where you are. Do not go to friends. Remain in control of the next 2 hours of your life. OR Go out to say hi just for a minute and then you'll come right back to work. 10 minutes max. Definitely not an hour.

Okay, it's getting late. If you go to sleep right now, you can get 7 hours of sleep! Do you...

GO TO SLEEP. GO DIRECTLY TO SLEEP. DO NOT PASS GO, DO NOT COLLECT $200. OR a quick FaceTime never hurt anyone, and you haven't heard from bae all day.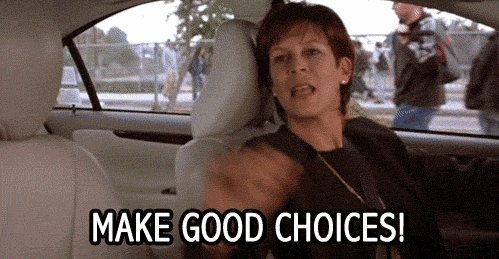 This post was created by a member of BuzzFeed Community, where anyone can post awesome lists and creations.
Learn more
or
post your buzz!