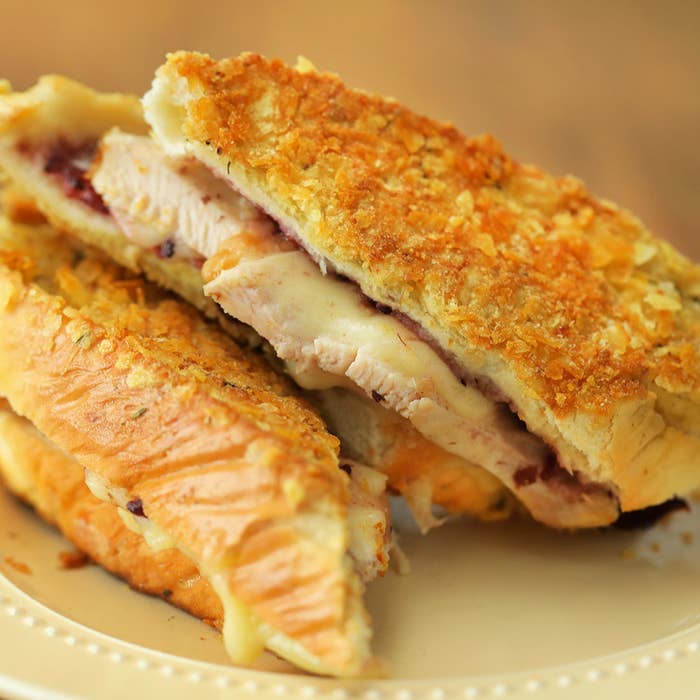 INGREDIENTS:
6 cups ​LAY'S® classic potato chips
8 slices thick-cut soft bread
8 slices provolone cheese
1 cup cranberry sauce
2 cups sliced leftover Butterball turkey breast
3 eggs
1⁄2 teaspoon salt
1⁄2 teaspoon pepper
1⁄2 teaspoon dried rosemary
1⁄2 teaspoon dried thyme
1⁄2 teaspoon dried sage
1 tablespoon heavy cream
2 teaspoons vegetable oil
1 cup gravy, for dipping
PREPARATION:
1. Pour ​LAY'S® classic potato chips​ in a food processor. Pulse until chips have been crushed into large pebbles. Set aside.
2. Lay out bread. Place a piece of provolone on each slice, followed by a spoonful of cranberry sauce. Arrange leftover Butterball turkey breast on half of the slices, then top each of these with one of the other slices to form sandwiches.
3. Whisk eggs together with salt, pepper, dried rosemary, dried thyme, dried sage, and heavy cream. Dip both sides of the sandwiches in the egg mixture, then dredge each side in the crushed chips.
4. Heat oil in a pan on low heat. Cook the sandwiches on both sides until golden brown, about 8 minutes per side.
5. Slice sandwiches in half and serve with gravy for dipping.