Coffee Crepe Cake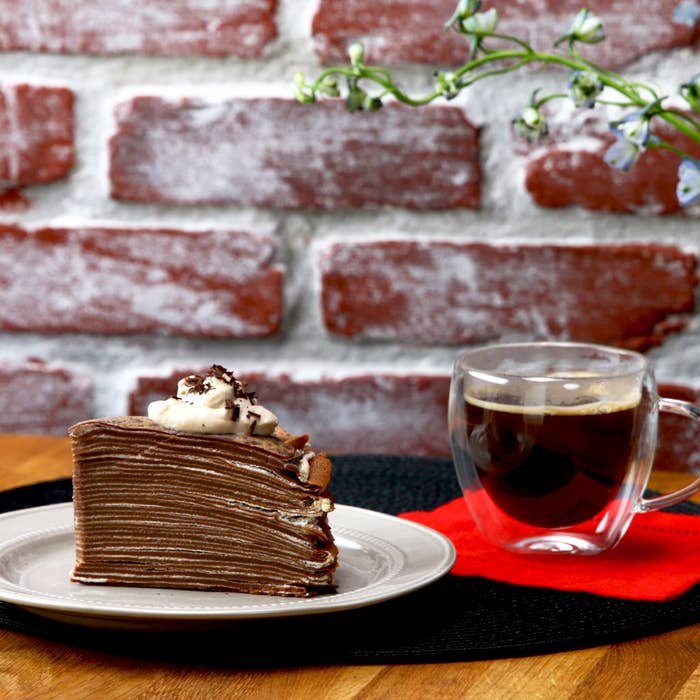 INGREDIENTS
3 ½ cups brewed Lavazza Classico Coffee, divided
5 tablespoons sugar
4 cups whipped cream
2 ½ cups flour
1/2 cup cocoa powder
1 cup sugar
3/4 teaspoon salt
6 eggs
1 ½ cups milk
2 cups brewed coffee
6 tablespoons butter, melted
Powdered sugar
PREPARATION
1. Cook down 1½ cups coffee with the 5 tablespoons of sugar until slightly thickened into syrup. Let cool, then mix syrup into whipped cream. Set aside and refrigerate.
2. Whisk together flour, cocoa powder, 1 cup sugar, and salt. Whisk in eggs, milk, and 2 cups coffee until combined. Whisk in melted butter.
3. Heat 10-inch skillet over medium-low heat, and coat with butter. Pour ¼ cup of batter into pan, and tilt pan in circular motion so that the batter coats the pan in an even circle. Cook for 1 minute. Flip and cook the other side for 30 seconds.
4. Move crepe onto sheet tray to cool. Repeat with the rest of the batter, adding extra butter when necessary, until there are approximately 25 crepes.
Assemble the cake:
On a cake platter or a plate, lay down one crepe. Spread a thin layer of coffee whipped cream on top of the crepe. Lay down another crepe, spread with the cream. Repeat until all the crepes have been used up. Leave top crepe without any cream. Sprinkle with powdered sugar. Refrigerate for 2 hours. Serve!