All you've ever wanted is to be the very best, like no one ever was. To catch them is your real test, to train them is your cause.
BUT HOW ARE YOU SUPPOSED TO DO THAT WHEN POKÉMON GO HAS YET TO BE RELEASED IN CANADA.
AND TO BE CLEAR — AND I MEAN THIS WITH MY WHOLE, POKÉMON-DEPRIVED HEART — THIS IS NOT OKAY.
The game has been launched in several other countries, including the U.S. Because of fucking course they got it before Canada.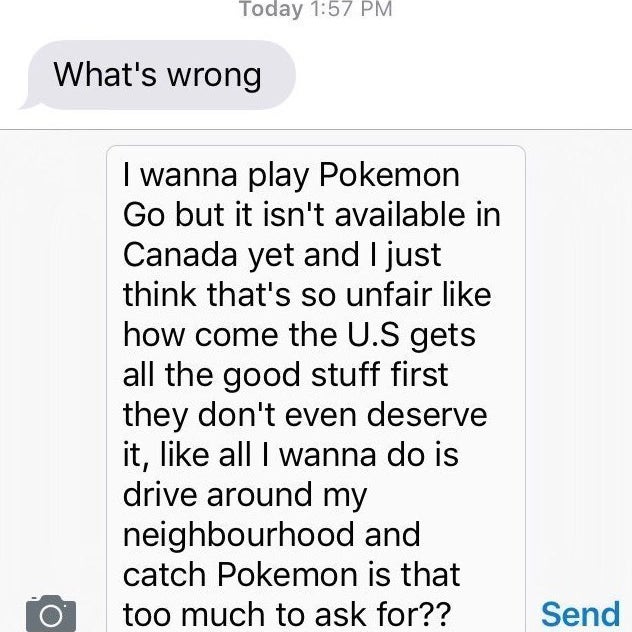 Like, do the Pokémon people just hate Canada? What did we do to you to deserve this?
Jealousy doesn't even quite begin to cover it. It's deeper than that.
There's a particular cruelty in forcing us to watch all the Americans and Australians gleefully posting screenshots of their new Poké-friends.
And we don't even know WHEN it's going to come out here.
Tomorrow? Next week? Next month? WE HAVE NO WAY OF KNOWING. HOW AM I SUPPOSED TO WORK WITH THAT.
The GOOD news is that there's supposedly a workaround for Android users, but the rest of us are still sitting here like:
END OUR SUFFERING.
GIVE US THE POKÉMON.