The Toronto Air Show Is Back And Everyone Is Fucking Miserable
VEEEEEROOOOOOOOOOMMMMMMM!
It's the Labour Day long weekend, heralding the return of Toronto's most treasured pastime: complaining about the air show.
Imagine three straight days of VAHRRUUUUUUUAAAAA!
VEEEEEROOOOOOOOOOMMMMMMM!
WAAAAPARRRRRROOOOOOOOOOO!
PPPPEEEEEEERRRRREEWWWWWWWWW!
People are salty.
Like, real salty.
And non-people are freaking the hell out.
Won't someone please think of the cats?
And the naps?
Complaining about the air show is probably a more cherished tradition than the air show itself.
Are you really a Torontonian if you don't tweet a complaint about the air show?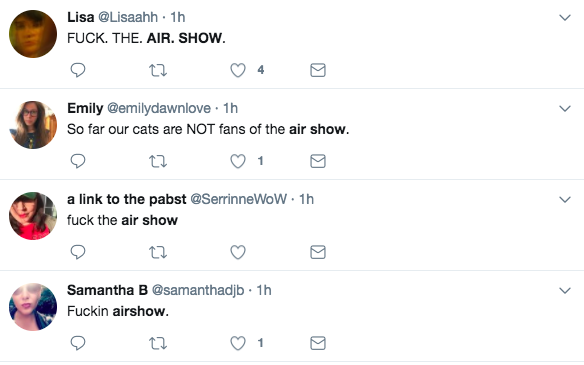 But, perhaps, there are some upsides.