These Moms Want To Know Why "Highlights" Magazine Doesn't Include LGBT Families
The magazine says the "topic of same-sex families is still new."
This is Kristina Wertz, her partner Kara Desiderio, and their 1-year-old daughter, who absolutely loves Hello Magazine, the version of Highlights for kids under two.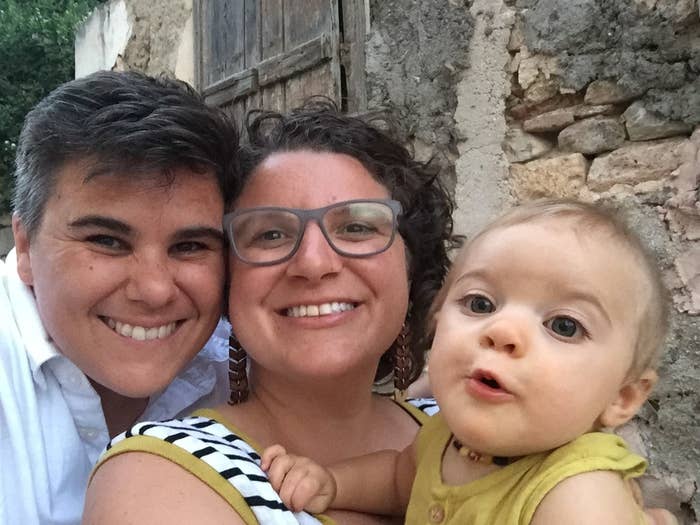 Highlights, of course, is that magazine that's been around seemingly forever and can be found in classrooms and pediatrician offices across the continent.
Desiderio sent an email to Highlights on Sept. 30, saying how much their daughter likes the magazine and how they'd like to see families like them represented.
"I appreciate that there is racial diversity represented in the magazine, but I'm very disappointed that there is no representation of same sex parents," wrote Desiderio.
"Since becoming a parent, I feel keenly aware of the messages kids' books send to tiny minds. There is a deep need for books that positively reflect back the diversity of the world around us and I hope that Highlights embraces that diversity because we would love to keep highlights in our little one's life as she keeps growing."
They received a message from magazine saying their concerns were sent to the editorial department, with a response from them expected to follow.
But after two weeks passed without a response, Wertz reposted the email on Highlights' Facebook page.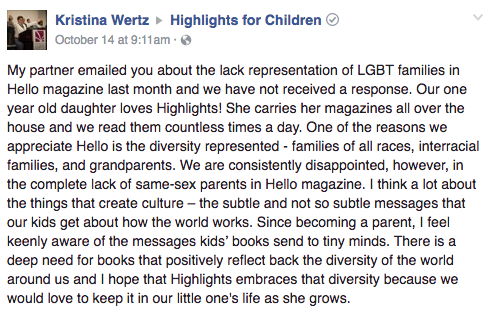 This time, a response came quickly. Highlights responded that "the topic of same-sex families is still new" and they "believe that parents know best when their family is ready to open conversation" on the topic.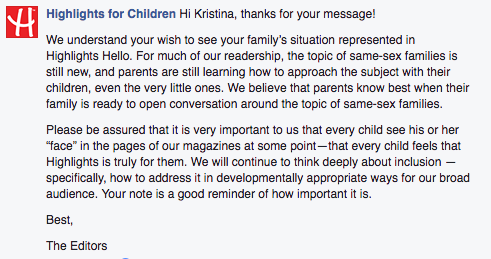 As the backlash mounted, the magazine posted another reply, this time saying LGBT inclusion was more a matter of "how" and "when" than "if."

Still, the comments piled up. Some people shared photos of their own families to show that same-sex parents are already visible in the world.
When reached by BuzzFeed News, Highlights directed us to a statement on their website that expressed regret for how things were handled.
"In our initial response, our words weren't reflective of our values, intentions or our position, and we apologize. We want to assure you that we have read every message and are listening carefully," the magazine stated.
"We know that there are many ways to build a family, and that love is the essential 'ingredient.' This conversation has helped us see that we can be more reflective of all kinds of families in our publications. We are committed to doing so as we plan future issues."
While Wertz has noticed the improvement in Highlights' responses, she still wants a clear timeline as to when the magazine will include LGBT representations. Until then, she and her partner aren't sure they'll keep subscribing.
"It's a sad reminder that our daughter is growing up in a world that thinks her family is something to be hidden," Wertz said. "We've made so much progress but it's easy to forget sometimes that there are people who think their children shouldn't be around LGBT people or who don't want us to exist."