This photo of a protester in Baton Rouge, Louisiana instantly became an iconic image of the Black Lives Matter movement.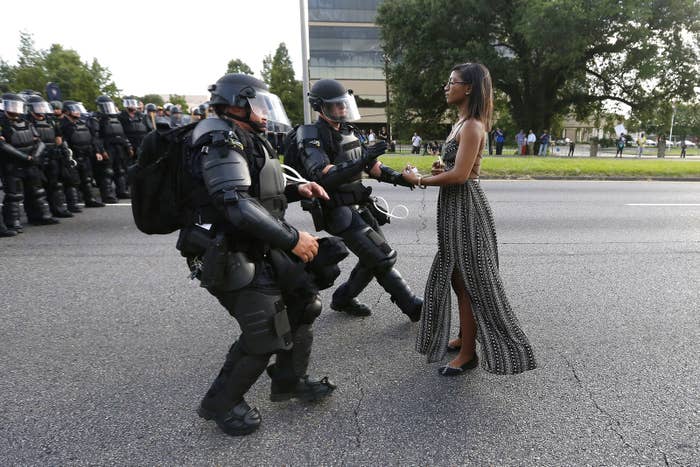 And for Indigenous people in Canada, it was also a reminder of this iconic photograph taken by reporter Ossie Michelin in 2013. It shows an Indigenous woman knelt in front of a line of police, an eagle feather held out in front of her.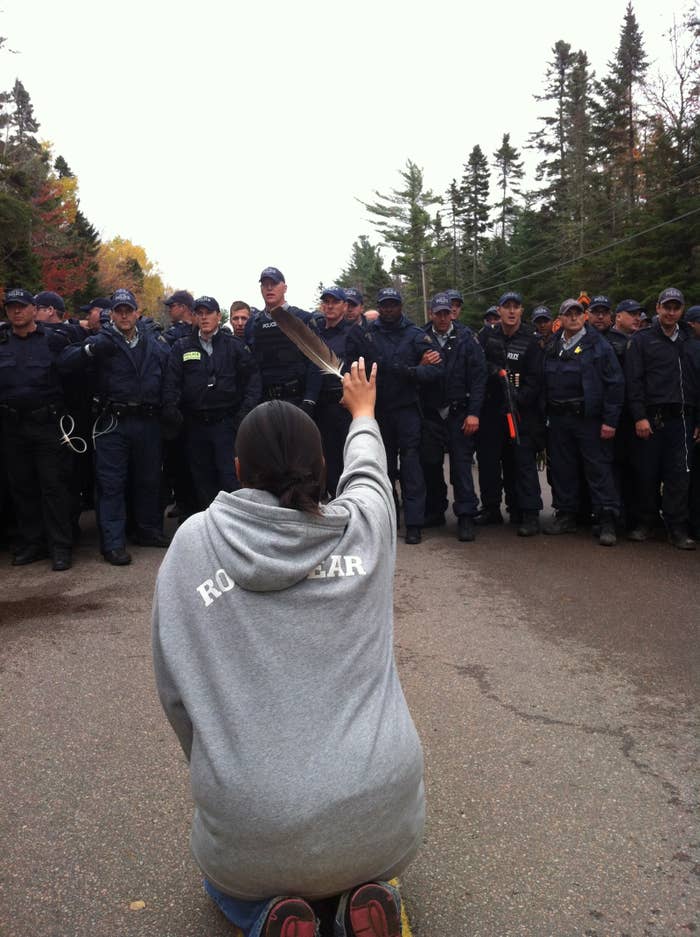 Side-by-side, the images have struck a chord both as a symbol of the solidarity between black and indigenous communities as well as the strength of the women leading social justice movements.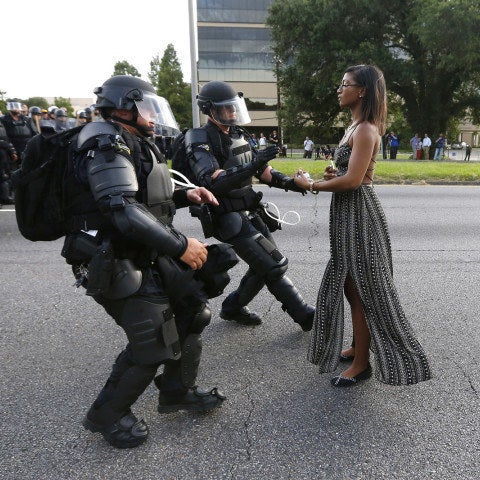 "They're the heart and soul of so many of these movements," said Michelin, an Inuk freelancer.
"It's a different kid of power, and it's a different kind of strength that women bring to this."
A composite of the images has now been shared hundreds of times after being shared on Instagram and the Idle No More Facebook page.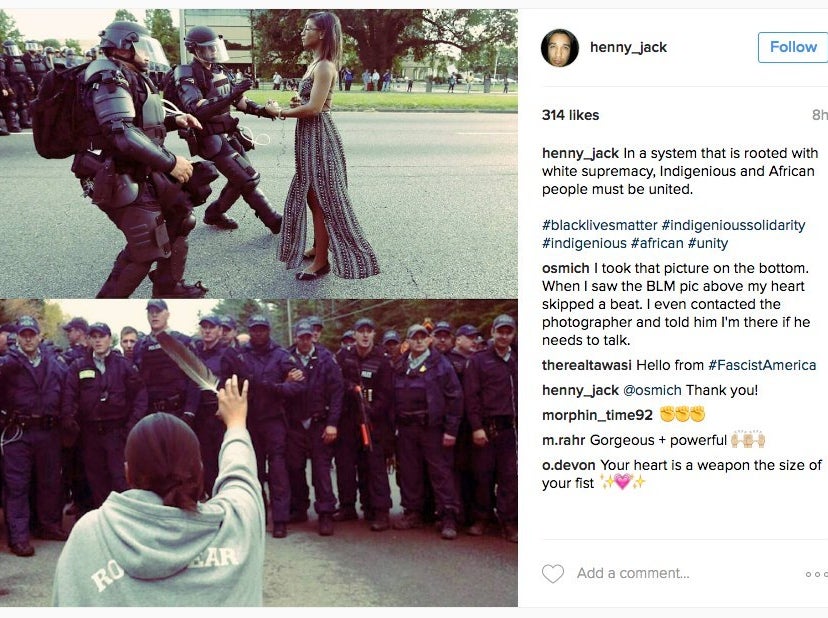 Though there are differences between the protests depicted in each image, Michelin sees common ground between Indigenous and black communities fighting for justice.
"I can strongly say that Indigenous people — we've been there. We're going to support this movement that's looking for a lot of the same things we are."
Michelin took his photo while covering anti-fracking protests in New Brunswick. Protesters from Elsipogtog First Nation had formed a barricade where vehicles were being kept for seismic testing and the RCMP starting moving in.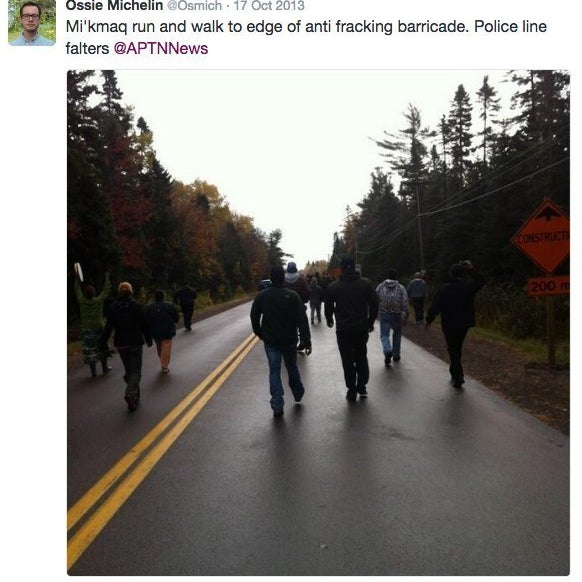 "I want to get the word out, so I started tweeting and taking photos," Michelin told BuzzFeed Canada. He was the first reporter on the scene.
He didn't think much of the iPhone snap at the time, one of dozens he'd tweeted the day. It wasn't until he talked to his editor later in the day that he learned it had been shared more than 400,000 times.
It remains an iconic image of Indigenous resilience to this day, and Michelin has seen it appear in books, on t-shirts, and on protest signs. He's even seen it carved into pumpkins.
When Michelin — who is "very supportive" of Black Lives Matter — saw the image from Baton Rouge, his reaction was immediate. "My heart skipped a beat, my eyes welled up with tears," he said. "It reminded me so much of that day."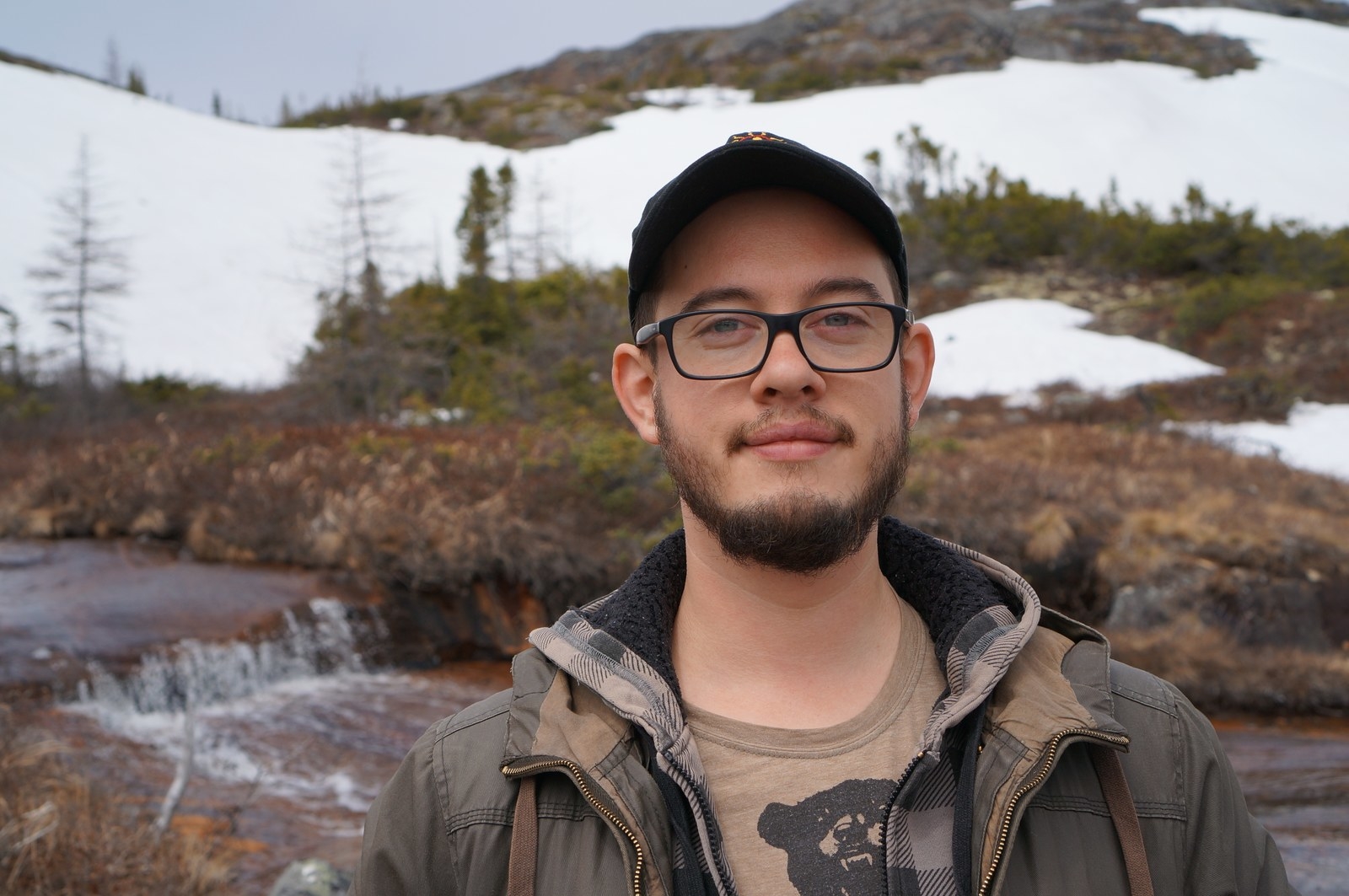 "It was the strength of the people and their willingness to stand up for what they believe in… that's what I remember. They were fighting back, that's why people paid attention to them," he said.
"When I saw the photo, all this went through my head."
It also reminded him of the trauma of being in the middle of that conflict, surrounded by community members he had gotten familiar with.
"I saw a lot of police violence, I saw elders with guns pointed at the back of their heads, I saw young people standing between police and protesters," he said. "I have a bit of PTSD from that day, honestly."
After seeing the Baton Rouge photo, he couldn't sleep. Instead, he sent an email to Jonathan Bachman, the Reuters photographer who took the Baton Rouge image.
"I wrote him and said I know what it's like to be in this situation, to have this incredible career-defining moment that's based on someone's struggle," he said.
"It's a really confusing, conflicting and bizarre place to be as a journalist."