In the commercial, Taylor looks out the window and realizes its a little bit chilly outside, so she walks over to her closet and figures out what to wear.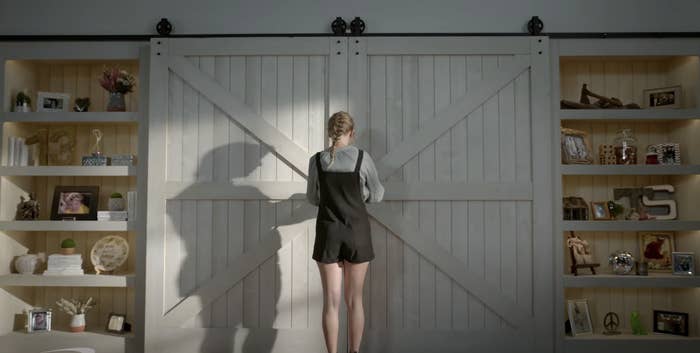 And in perfect Taylor fashion, there are a TON of other Easter eggs too:
1.
First, we have the "August" hourglass:
2.
There's a jar full of pennies for "The 1":
3.
A miniature version of the trunk from the "Cardigan" music video:
4.
A peace sign for "Peace":
5.
A pair of pointe shoes (also known as toe shoes) and a mirrorball for, you guessed it, "Mirrorball":
6.
A lime green dog, like the one Taylor references in "The Last Great American Dynasty":
7.
A soldier for "Epiphany":
8.
An ax for "Invisible String":
9.
The number 13, because like, duh:
10.
Two dice showing the number eight, which is the amount of albums Taylor currently has:
11.
And a stack of six books, which could maybe represent the six master recordings now owned by Big Machine, five of which Taylor is planning to rerecord:
12.
However, the tiny plants on top of the stack of books can also be for "Invisible String":
14.
A bunch of wisteria for "The Lakes":
15.
The perfume on the shelf for "Illicit Affairs":
16.
A "Home Sweet Folklore" stitch for Folklore, obviously:
Did you notice any Easter eggs that we didn't catch? Let us know in the comments!