Big Time Rush Reunited Again... So, I Think It's Pretty Clear Who The Superior Boy Band Is
"I'll be thinkin' about you worldwide." —Me, singing to Kendall, James, Logan, and Carlos.
If you grew up during the early 2010s, then I'm positive you must remember Big Time Rush.
Just a few months ago, Kendall Schmidt, James Maslow, Carlos PenaVega, and Logan Henderson had a mini virtual reunion for the first time since BTR went on hiatus in 2014.
That virtual reunion ended with some peace signs and a "see you guys soon," which led fans to believe that this wouldn't be the last time we heard from Big Time Rush.
And those fans were 100% correct.
Flash forward to yesterday, when the band virtually reunited AGAIN — this time to sing an acoustic version of their ~iconic~ hit "Worldwide."
And like the perfect boy band they are, BTR said the purpose of this video was to send love to all of their dedicated fans ~worldwide~.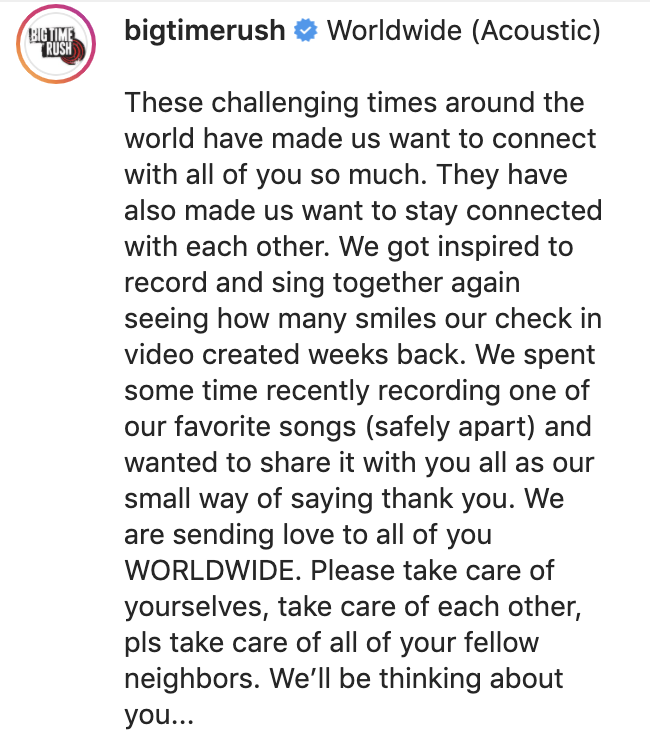 Needless to say, those fans were thrilled:
Their former costar, Stephen Kramer Glickman, was also feeling the love:
And even Nickelodeon had something to say:
So thank YOU, Big Time Rush, for putting a smile on everyone's faces and giving me a reason to listen to this song 57 times today.