This post has not been vetted or endorsed by BuzzFeed's editorial staff. BuzzFeed Community is a place where anyone can create a post or quiz.
Try making your own!
5 Surprising Reasons Why You Should Replace One Meal Per Day With Popcorn!
1.Popcorn has more protein than any other cereal grain and more iron than eggs or roast beef! It's a low fat, low calorie whole grain, and we're supposed to eat whole grains every day . . . so choose popcorn! 2.You'll save lots of money! For only about 25 cents you'll get a whole quart of the fluffy stuff out of just 2 tablespoons of kernels. A quart of roast beef (think of shoving a piece of meat into a quart container) will cost you about $20—yikes! 3.Popcorn contains a mere 31 calories per cup (compared to 139 calories per cup of potato chips, and don't try to justify potato chips as being "just like potatoes"). A cup of scrambled eggs is 328 calories, and just 3 ounces of ground beef weighs in at 218 calories. Not only is beef a kajillion times more expensive, it's way more fat and calorie dense! 4.Popcorn is gluten free and contains no food allergens! The only bellyache you might get would be from eating too much of the magical stuff or from loading it up with butter. Don't do that! 5.And the best reason of all? With so few calories in each handful—yes, you also get to eat with your hands!—you can fill up guilt-free! A meal of popcorn will fill you up without weighing you down. It's simple to make, and let's face it, it's just . . . plain . . . fun to eat!
Dinner for TWO!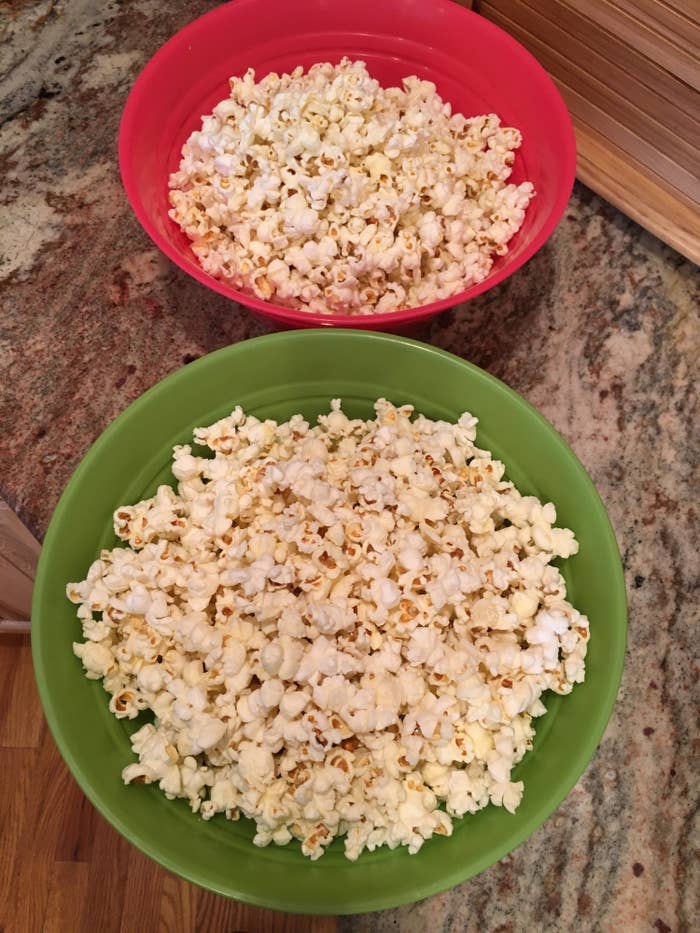 POPCORN! It's What's for Dinner (or Breakfast, or Lunch)!