Charlotte Church Accused The Tory Government Of "Waging Class War"
"This ideological persecution of the people threatens our very democracy," the Welsh singer and activist said at an anti-austerity rally in Manchester.
Singer and activist Charlotte Church said that the Tory government was "using a debt that we have always been in as an excuse to wage class war," at an anti-austerity rally in Manchester on Sunday.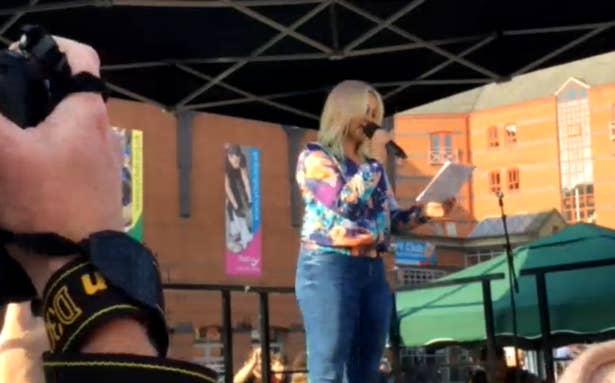 As Trade Union leaders and campaign groups protested against the government's anti-austerity measures, coinciding with the opening of the Conservative party conference in the city, she warned that "this ideological persecution of the people threatens our very democracy."
"Our rights are being stripped away from us. Our right to have a say on the conditions of workplaces, our children's right to school meals, for so many people the right to live independently," she said. "This is anti-democratic."
She called out hypocrisy in the press for painting newly-elected Labour leader Jeremy Corbyn as a "political extremist," while they "go easy on a Prime Minister who may or may not have been photographed in flagrante with the severed head of a farmyard animal."
Over 80,000 people took to the streets in Manchester for Sunday's protest, according to the Manchester Evening News. Church told the crowd gathered for speeches at Castlefield Arena that it was "moving to see this many people standing up for what is right and just."
"This is not a radical fringe group, but a growing social movement," she added.
Addressing the Conservative party on Sunday, Secretary of State for Justice Michael Gove called supporters of figures including Church and Russell Brand, the "voices of a silent majority".
He said that the Labour "Twitterati" during the period leading up to May's election "who thought a retweeted hashtag was a democratic mandate [...] were proved totally, completely, tragically – and yet marvelously and hilariously – wrong."
But during her speech, Church said that she had never felt more optimistic. "They can hurl abuse at us and we will fight back," she said.
"They can say that protest doesn't work, but we can prove that protest has worked, does work, and will work for us now.
"Keep fighting the honest war and we will win."