What's a football-loving mum to do when you've got one son playing for one country and your other son playing for another?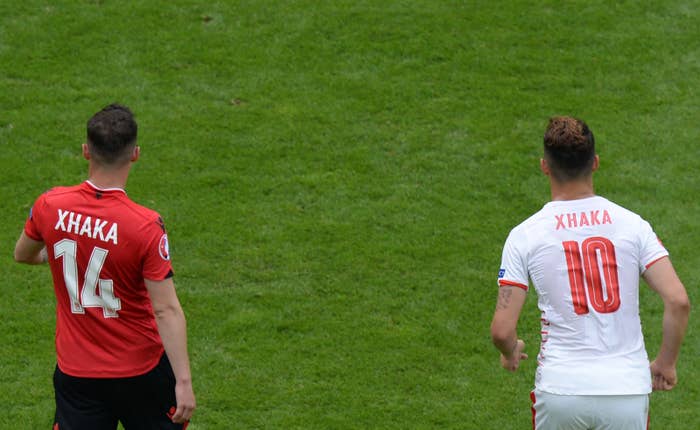 If you're Elmaze Xhaka – mother of Granit Xhaka, who plays for Switzerland, and Taulant Xhaka, who plays for Albania – you wear one T-shirt for both teams, that's what.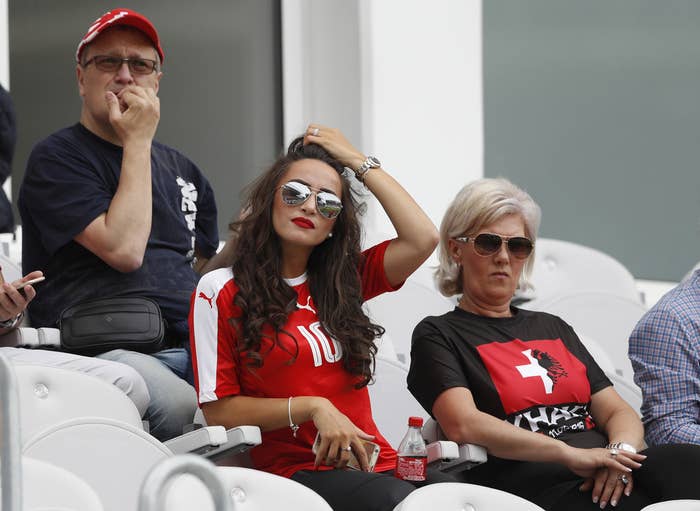 The Xhaka brothers went head-to-head when Albania played Switzerland at the Stade Bollaert-Delelis in Lens, France, in the teams' opening game of Euro 2016.
Basel-born Granit, 23, plays for the county of his birth. But his 25-year-old brother, Taulant, plays for Albania, the country where their Kosovo-Albanian parents were born.
Elmaze, therefore, wore a T-shirt showing half a Swiss flag and half an Albanian flag when she turned up to support her sons during Saturday's group A match.
The match marked the first time the brothers have met on the pitch as opponents – as well as the first time brothers have faced each other at the European Championship – and Granit said he hoped it would be the last, in a Facebook post shared on Friday.
But Granit, who recently signed for Premier League club Arsenal, also took the time to wish his older brother "health and best of luck" for Saturday's match, adding that he had always been his role model.
"We will show the world that even though we are opponents for 90 minutes we will stand together like only brothers can do," Granit wrote.
He said that "a match will never get between us, not as friends and not as brothers".
Taulant had not made a comment about the brotherly face-off by the time the match began.
Granit's Switzerland went on to beat Taulant's Albania 1-0.