Women Are Using A New Hashtag To Talk About Times They Were Sexually Violated
The #WhenIWas hashtag took off again at a heightened period in gender politics, and those tweeting it hope to make survivors feel less alone.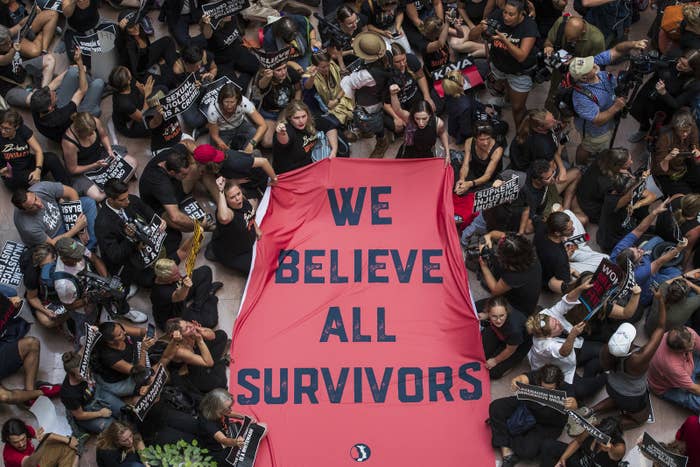 The hashtag #WhenIWas has flooded Twitter this week, with women using it to tweet about times they felt they had been sexually violated in some way.

"#WhenIWas in sixth form, a male student kept pressing himself up behind me so I could feel his penis against me when I was photocopying. I complained. Nothing was done," wrote Emily, who preferred not to give her last name, in a Twitter thread detailing numerous incidents of sexual harassment throughout her life.

"The past few weeks have been really weighing on me and this morning it just felt like a dam had burst," Emily told BuzzFeed News.
The appointment of Brett Kavanaugh to the US Supreme Court has made global news in recent weeks following a lengthy appointment process in which he faced historical allegations of sexual misconduct.
"It seems particularly vital to speak out in the wake of recent events, as we're seeing women around the world fighting a horrifying battle to have their experiences heard and believed," Laura Bates, founder of the Everyday Sexism campaign, told BuzzFeed News.

"If we are victimised, assaulted, and harassed as children, told not to speak up or blamed when we do, is it any wonder women later on often experience great trauma in trying to break the silence about abuse?"
One year on from the explosion of the #MeToo movement, the testimony to the Senate Judiciary Committee by Christine Blasey Ford, who claimed that Kavanaugh sexually assaulted her when they were in high school together, has once again raised questions about victims of sexual violence being believed.

On Monday, US President Donald Trump called the sexual misconduct allegations against Kavanaugh a "hoax that was set up by the Democrats" — without providing any evidence.
"I didn't feel like I would be believed when I was younger, so I want other women and men to feel like they will be believed," Emily said, adding that she hoped that anyone reading her tweets who had had similar experiences would feel empowered to speak out too.
Helping other women to share their stories was a key reason that performer Perpetua Motion, who preferred not to give her real name for professional reasons, chose to share her story. She tweeted about her experience of having a boy forcefully put his hand in her underwear at age 9.
"I think it's important to share stories like this because it helps to know we aren't alone," she told us.
"It was important to me to show my friends who don't want to come out as survivors that I'm willing to say publicly that this isn't OK, that it happens to a lot of us and it happens as children."
She hoped that it might demonstrate how prevalent such behaviour is and the impact it can have on the people who experience it.

"Maybe someone will realise that their behaviour is making people feel unsafe, and they will change, and that's probably the dream," she continued.

"We need to have a broader awareness that assault can happen to anyone, and it happens in so many situations.
"But mainly it's about saying that what someone else did to us when we were young is not something we need to be ashamed of. The person who should be ashamed is the perpetrator, not the victims or survivors."
The hashtag #WhenIWas has been used several times in recent years by the Everyday Sexism campaign, but Bates told us she felt it was especially important to get it trending again after Plan International UK published a study that showed that two-thirds of girls had been sexually harassed in public in the UK, and over a third of them while in their school uniform.
"I thought it was vital to highlight just how young these experiences start, to help people to realise that it isn't just 'banter' or 'a compliment' as we're so often told," Bates said. "This is impacting children from around 8 years old, and that those in school uniforms, signalling vulnerability and youth, are often explicitly targeted."

Many of the tweets shared using the hashtag detailed the experiences of women in their pre- and early teens.
"#wheniwas 13, two guys thrust their naked dicks in me and my friend's faces while sitting on the ground at a festival while shouting 'wanna touch it? do you like it?'. 13," Yentl Reynders tweeted.
"I instantly wanted to share something with this hashtag," Reynders told us.

She said there were several instances throughout her life where she had experienced this kind of behaviour, and the hashtag has helped her reflect on the impact they'd had on her.
"For years, they were more like semi-awkward/funny stories that once happened to me, but only after sort of getting into the 'feminist movement', I realised how messed up it is and how a series of these sorts of events has subconsciously shaped me into who I am," Reynders continued.
"I also thought it was important to share because I believe that many people still think that feminism isn't necessary, and that sexism doesn't really exist anymore.

"I think to put it in a context of 'Look, this does happen, and it even happens to children' makes it even more confronting for the 'non-believers'."