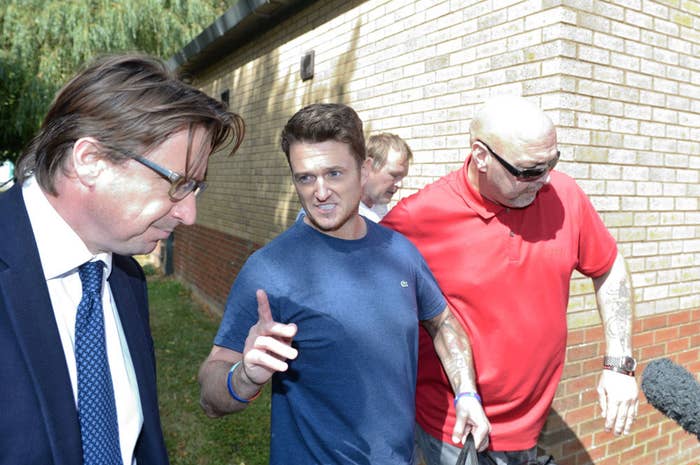 Stephen Yaxley-Lennon, the far-right activist and former leader of the far-right English Defence League who goes by the name "Tommy Robinson", has been freed on bail after winning an appeal against his 13-month contempt of court sentence.
Yaxley-Lennon was sentenced to 10 months in custody in May for broadcasting live from outside Leeds crown court in the north of England, where a criminal trial was underway, to which he had pleaded guilty.
He was sentenced to a further three months for breaching an existing suspended sentence for broadcasting outside a court in Canterbury, Kent.
On Wednesday morning, the Lord Chief Justice, Lord Burnett, and two other appeal court judges in London quashed the contempt verdict and ordered a fresh hearing of the allegation.
"The appellant is granted bail and the matter of contempt at Leeds crown court is remitted to be heard again," Burnett told the court on Wednesday morning.

Yaxley-Lennon's legal team welcomed what they called an "expertly put-together" judgment.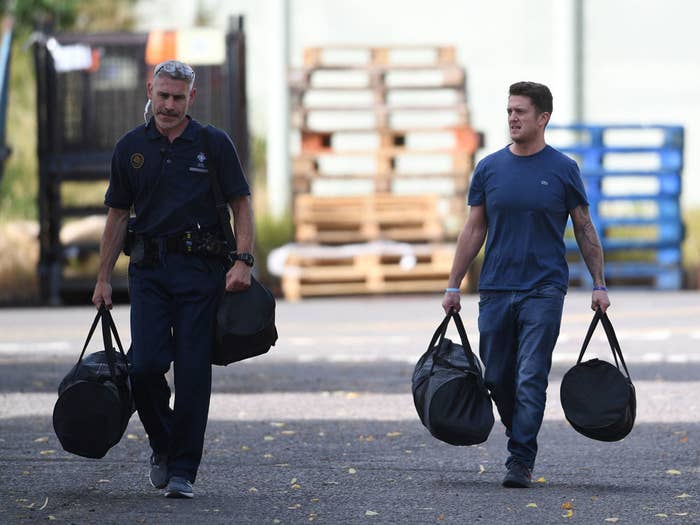 "The rule of law and right to a fair hearing are fundamental to every individual and this ruling is an example of the safeguards of our system," his solicitor, Carson Kaye, said in a statement.

The UK's contempt of court law means that it is illegal to broadcast or publish any details of a trial while it is taking place, as it is considered that this could jeopardise a fair trial.

But following Yaxley-Lennon's appeal, it was concluded that contempt proceedings should not have been immediately brought against him in July.

"Once the appellant had removed the video from Facebook, there was no longer sufficient urgency to justify immediate proceedings," Wednesday's judgment read.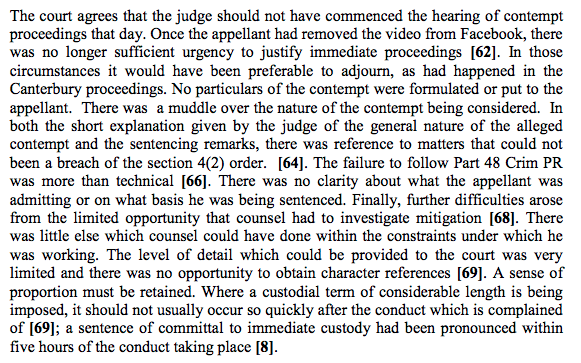 In a strongly worded ruling, the appeal court judges went on to conclude: "There was a muddle over the nature of the contempt being considered.

"In both the short explanation given by the judge of the general nature of the alleged contempt and the sentencing remarks, there was reference to matters that could not been a breach of the section 4(2) order.

"The order at Leeds Crown Court was also erroneously drawn up to suggest the appellant had been convicted of a criminal offence rather than having been committed for contempt of court."
The judgment went on: "Errors like this have serious consequences upon the classification of prisoners, resulting in the deprivation of privileges and release on licence.
"In this case, it also resulted in the erroneous imposition of a victim surcharge."
Because Yaxley-Lennon has already served the equivalent of four months in jail, the court considered not bringing a fresh trial, according to Wednesday's judgment, but it was concluded that the alleged contempt was serious enough to potentially warrant a longer sentence.

During the May broadcast, which was viewed more than 250,000 times on Facebook, Yaxley-Lennon, who has frequently espoused anti-Muslim views, referred to the ethnicity of the defendants. "Twenty-nine people, [including] two women, are involved in this case. Thirty per cent of them are called Mohammed," he said.
A 2012 UK Children's Commissioner report into child exploitation noted that abusers "come from all ethnic groups and so do their victims."

Supporters of Yaxley-Lennon, however, have said that his incarceration is a breach of freedom of speech, and several "free Tommy Robinson" demonstrations have taken place in the UK, including outside the prime minister's 10 Downing Street residence in Westminster, since he was taken into custody.

"I respect everyone's right to freedom of speech. That is one of the most important rights we have," Judge Geoffrey Marson QC said during Robinson's sentencing in May.
"With those rights come responsibilities," Marson added. "The responsibility to exercise freedom of speech within the law. I am sure you appreciate the potential consequence of what you have done."
Shortly after Yaxley-Lennon was taken into custody in May, a statement posted to the Tommy Robinson Facebook page thanked his supporters and urged them to continue to challenge his sentence using the hashtag "#FreeTommy" on Twitter.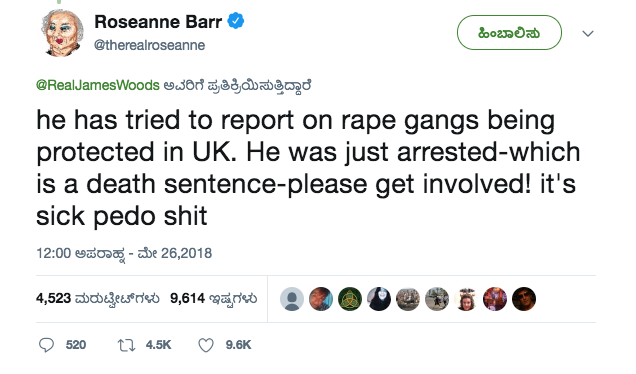 Since his incarceration, Yaxley-Lennon has gained support from a number of right-wing figures, including anti-Muslim Dutch politician Geert Wilders, who described the sentence as an "absolute disgrace," the anti-Muslim think tank the Gatestone Institute, and US comedian Roseanne Barr, who said in a since-deleted tweet that "rape gangs" are being "protected" by the authorities.

Following Wednesday's judgment that Yaxley-Lennon would be freed on bail, many of his supporters claimed victory.
"We fought the law and... we won," wrote former Breitbart UK editor and Farage aide Raheem Kassam on Twitter.
"Over the past few months we have worked tirelessly to make the case that was accepted in the Court of Appeal today," a spokesperson for the "Free Tommy" movement said in response to the judgment.
"People across the political spectrum laughed, mocked us, derided the entire process, and almost unilaterally, without understanding the case, decided Tommy was guilty.
"We proved them wrong today, and Tommy will be freed imminently. What happens next will be a major test of whether or not the British justice system is fit for purpose.
"I want to thank everyone who was involved in this process. From the thousands of peaceful protesters, to the international politicians and diplomats who raised the profile of the case.
"It shows you can fight the establishment and win."
Anti-racism group Hope Not Hate dismissed cries of victory from Yaxley-Lennon's supporters.

"Stephen Yaxley-Lennon, to give him his actual name, remains a far-right extremist and a violent thug," a spokesperson said.

"His appeal over the original Canterbury conviction for contempt of court has been thrown out, and his Leeds conviction will be reheard.

"This is a man who admitted to a serious crime and nearly derailed a major trial. Today's verdict changes none of that."

The case will be reheard at the Old Bailey in London. No date has been given for this yet.

"We will direct that the matter be reheard before a different judge," Lord Burnett said.

Yaxley-Lennon is not allowed to return to within 400 metres of Leeds crown court, where the alleged offence took place in May, and if convicted at the re-hearing, he could be returned to custody.
CORRECTION
Raheem Kassam is a right-wing activist and former editor of Breitbart London. A previous version of this post described him as an "alt-right commentator".