This Woman Says Her Mum's Ambulance Waited Outside A Hospital For Hours While She Was Having A Stroke
The number of patients waiting for more than an hour in ambulances has nearly doubled in the last week as emergency wards reach crisis point.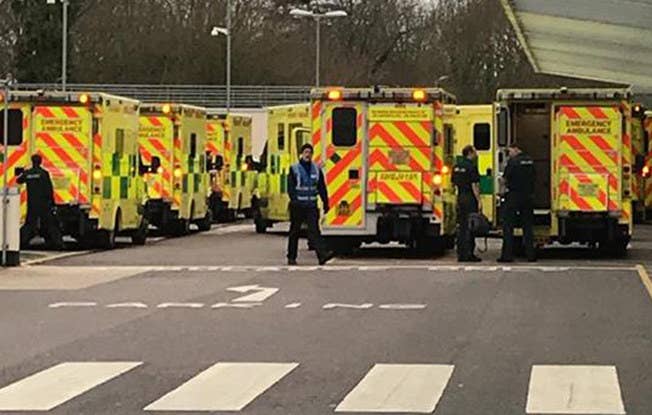 A 72-year-old woman who was having a stroke was forced to wait for several hours in an ambulance outside a hospital in Essex, her daughter says.
The patient was taken to Broomfield Hospital on Wednesday morning with a suspected stroke after her daughter Leah Butler-Smith called emergency services.
When they arrived, however, the hospital's A&E department was so overwhelmed that staff were unable to admit her.
Instead, Butler-Smith told BuzzFeed News she waited in the ambulance with her mother and sisters for approximately four hours before a specialist nurse came out and urgently admitted the elderly woman for a brain scan to assess the severity of her stroke.
She also claimed another nurse had previously told them they were 10th in a queue of ambulances containing patients who needed to be admitted to A&E.
A spokesperson for the NHS trust that runs the hospital told BuzzFeed News that demand at the time was so high at the time of the family's arrival, it had been forced to declare an "internal significant incident".
"We didn't know what was what," Butler-Smith told BuzzFeed News. "We had the sudden realisation that we were going to be waiting for some time and there were a lot of poorly people doing the same."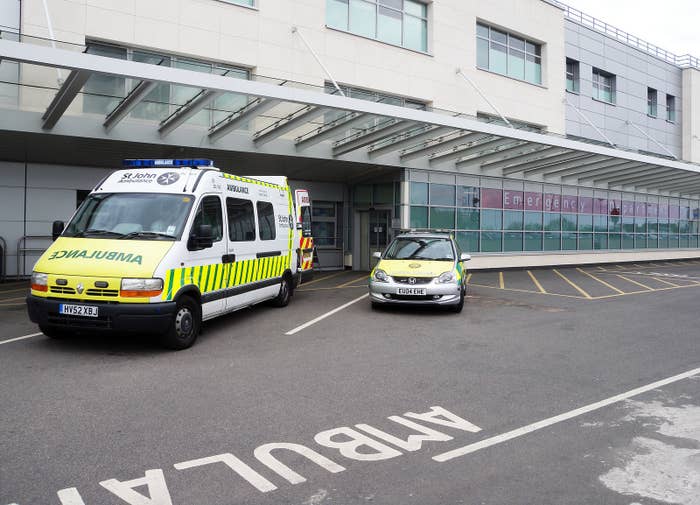 Their story came to light on the same day the prime minister issued a public apology to patients and their families for the delays in treatment that are happening across the country as the NHS struggles to cope.
Figures published today show East of England Ambulance Service (EEAS), which covers the area surrounding Broomfield Hospital, received 4,200 emergency call-outs last week. "The Trust, as well as the wider NHS, is still experiencing incredibly high demand and is under extreme pressure," a spokesperson for EEAS said.
Because several A&E departments are also under intense pressure, many of those patients have been forced to remain in ambulances until space is freed up in hospitals. The EEAS spokesperson said its staff had been instructed to "hand over the sickest patients as priority".
NHS England figures reveal hospitals are now at 91.7% capacity – much higher than what's considered to be a safe limit of 85%.
In addition, 16,900 people waited more than 30 minutes and 4,700 waited more than an hour in the week ending 31 December, up from 11,900 and 2,400, respectively, the previous week.
"I recognise that it's difficult for people who are facing delays. I recognise that it's difficult if somebody is delayed on their admission to hospital or if somebody has an operation postponed," Theresa May told Sky News. "We will hope to ensure that those operations can be reinstated as soon as possible. I know it's difficult, I know it's frustrating, I know it's disappointing for people, and I apologise."

In a tweet, Labour leader Jeremy Corbyn said May's response was "not good enough".
Butler-Smith posted a picture of the ambulances waiting outside A&E to Facebook when she noticed that ambulance staff appeared concerned about the delays in handing over patients.

"I knew that something was not normal because of the way the crew were talking," she said.

"They weren't trying to alarm us. I noticed that they were talking about the 'flashing lights' and realised what they were referring to was the number of ambulances queueing."

Butler-Smith said she and her sisters had been left feeling especially anxious when ambulance staff informed them their mother was still in the midst of having a stroke while she waited.

She said her mother, who was drifting in and out of consciousness, became alarmed when she realised she was still in the ambulance.

"I realised she was still in a lot of danger, that it could get so much worse and she could end up dead or brain-damaged," she said. "Prior to that we were just glad that we were in an ambulance and moving towards help. We weren't aware there was this terrible backlog.

"I think you just take it for granted that you will get help."
A spokesperson for Mid Essex Hospital Services NHS Trust, which runs Broomfield Hospital, said in a statement: "The trust declared an internal significant incident yesterday as a result of the very high demand for our services that we have experienced over the extended holiday period, in common with hospitals across the whole country.
"Our teams continue to work extremely hard providing high-quality, safe patient care while under continued pressure, ensuring that patients are assessed, triaged, and treated as appropriate."
Earlier this week, health secretary Jeremy Hunt apologised for the cancellation of routine operations until the end of the month in response to the crisis currently faced in hospitals, leading to several senior MPs calling for serious reforms in the NHS to prevent further escalation.