A woman who travelled by train from Leeds to London in first class was not able to use the toilets for the duration of her journey of more than two hours because her wheelchair wouldn't fit through an internal door.
London North Eastern Railway (LNER), which operates the service, has apologised and said it will investigate the incident — but has not offered her a refund.
Hannah Barham-Brown, a recently qualified junior doctor, travelled from her home in Leeds to Bristol on Tuesday to speak at a conference about doctors with disabilities.
Barham-Brown has Ehlers-Danlos syndrome, which means her joints can dislocate spontaneously, so she uses a standard-size wheelchair to ease pain in her legs and prevent her from falling, which she can do very easily. "If I fall over I'm in a lot
of trouble," she told BuzzFeed News.

"Ironically, I've just got up and done my spiel about how great it is being a doctor with a disability, and this is the second conference like this I've been to and had train nightmares," she added.

Barham-Brown booked a last-minute first-class ticket hoping she would be able to travel in extra comfort and take advantage of complimentary food and drink.
But when she got on to the train she found that, because of the wider chairs in first class, she was unable to get through the internal door of the carriage in her wheelchair.
"There was a wheelchair space with a fold-up table right there in first class, but I couldn't physically get to it," she said.

Barham-Brown has some use of her legs, and was able to access her space in the carriage, but said that without the further assistance of staff, which was not available, she couldn't get in and out of the carriage.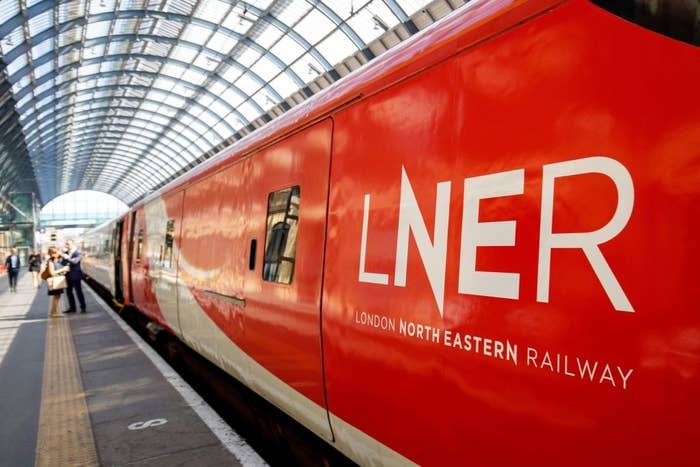 "Because I can mobilise, I bumped myself out on to the nearest chair, took a wheel off my wheelchair, scooted it into place, and then sat there, but then realised that I couldn't get to the toilet," she told us.
Knowing she would not be able to get to the toilet, she did not want to accept any of the food or drink on offer.
"There was a trolley with lovely wine and gin going past me, but I couldn't drink any of it because I knew I wouldn't be able to get to the toilet for two and a half hours," she continued.
"The staff offered to try, but the toilet itself wasn't disabled-access, so it would have been a bit risky even if they had been able to manhandle me to the loo.
"The nature of my condition is that I can dislocate spontaneously, so on a very mobile, wobbly train it would have put myself and the staff in quite a lot of danger to try and do that.
"It was really not worth the risk, so I just had to sit there for two and a half hours crossing my legs."
When she arrived at London Kings Cross, she said she felt very uncomfortable having not been able to use the toilet throughout her journey.
"I'm lucky that I can sit and not pee myself for two and a half hours, but we've seen multiple cases over the last few years where that's not been an option for people with disabilities," she said.

Last year, Paralympian Anne Wafula Strike said she was forced to wet herself on a three-hour CrossCountry train journey because there were no accessible toilets.
"I was very, very uncomfortable when I got off that train, and had it been much longer I would probably had to have wet myself in first class," Barham-Brown continued.
"It's frustrating and it's embarrassing. People are walking past offering you drinks, and I'm having to sit there talking about my toilet needs in front of a carriage full of strangers, which is just humiliating."
Barham-Brown contacted LNER after tweeting about her experience and said she was told that she needed to contact the operator in advance of booking so they could tell her whether the train carriage used that day would be accessible or not.

But because she travels so regularly for work, often at the last minute, she said this isn't always possible: "I shouldn't have to plan my day around which type of rolling stock is being used at a particular time," she said.
Barham-Brown doesn't claim disability living allowance, doesn't have a disability railcard, and pays full price for her train tickets. "I should be able to turn up like anyone else because I pay the same for my ticket as anyone else," she said.
Barham-Brown is involved with the doctors' union the British Medical Association and often speaks at conferences at short notice.

"I get a phone call saying I'm needed in London in a couple of hours and I jump on a train," she said.
"It feels like this constant assumption that as a disabled person I don't have a worthwhile career, or I don't have responsibility or need to travel like everyone else, or that I've got loads of time to sit and organise travel."
A spokesperson for LNER told BuzzFeed News in a statement that it had apologised, but its statement did not confirm whether it plans to reimburse her.
"We're committed to providing an excellent service for all our customers and we take the experience of less able passengers very seriously," it said.

"We are therefore extremely sorry for Dr. Barham-Brown's experience whilst travelling with us and have launched a full investigation into the issue."

Barham-Brown said that she was less interested in having her ticket refunded than in seeing railway companies make significant changes to improve the accessibility of their facilities for disabled customers.

"I'm going to be anxious about getting on a train and finding myself in that situation again," she said. "I want to just turn up at a station and get on a train like anyone else."