"I couldn't keep the child."
Roisin* was 23 and drowning in revision for her final exams at medical school last summer when she discovered she was 14 weeks pregnant. She was planning to move from rural Ireland, where she grew up and was studying, to Dublin that autumn to take up a training placement as the next step towards her dream career as a doctor.
"I couldn't continue having the life I wanted," she told BuzzFeed News, "or any career I wanted if I was to have the baby at that time."
But in Ireland, abortion is illegal in almost all circumstances – something Irish women and their supporters around the world will protest against with the "Strike 4 Repeal", a day of action encouraging people to show their support by demonstrating, stopping work, or taking a stand in other ways. Inspired by recent activism for abortion rights in Poland and Argentina, it takes place on 8 March – International Women's Day.

For Roisin, choosing not to have a baby that she couldn't afford, couldn't cope with, or simply didn't want was absolutely off the cards unless she shelled out the money to travel to a country where the procedure is legal. The eighth amendment of the constitution of Ireland gives equal right to life to the unborn child as it does to the mother, meaning that even in cases of rape, incest, or ill health of the mother, or where the foetus may not survive, abortion is completely prohibited. Only when a woman's life is in immediate danger can a doctor consider terminating her pregnancy without either party facing up to 14 years in prison.


Roisin said she had been "blissfully ignorant" of her pregnancy while immersed in her studies. She had swerved the seven-day gap she was supposed to leave between contraceptive pill packets so as not to add painful periods into the revision mix, so for a couple of months she didn't notice as hers wouldn't have come anyway.
"I should have realised earlier," she said, "but because I was going through exams I was just eating whatever junk was around and didn't notice that I was putting on weight."
With her boyfriend also in the early stages of a medical career hundreds of miles away in Dublin, continuing the pregnancy "just wasn't an option", she said. "It wasn't just that I wasn't ready, it was that my whole life wasn't ready."
Unable to legally terminate the pregnancy in her home country, Roisin felt forced to become one of an estimated 12 women per day who travel from Northern and the Republic of Ireland to England for an abortion, where Irish women are permitted to get the procedure via a private clinic at a cost of up to around £1,500.
"When we found out I was pregnant it was quite urgent that we got across to England as it just was something neither of us wanted," she said. "I really felt like we didn't have an option. We had to travel."
Roisin had to organise her journey fast, but as a student, didn't have the money to pay for it. For many women without a steady income, finding money for plane tickets, an expensive private medical procedure, and often a hotel room at the last minute can be a heavy barrier to accessing abortion services.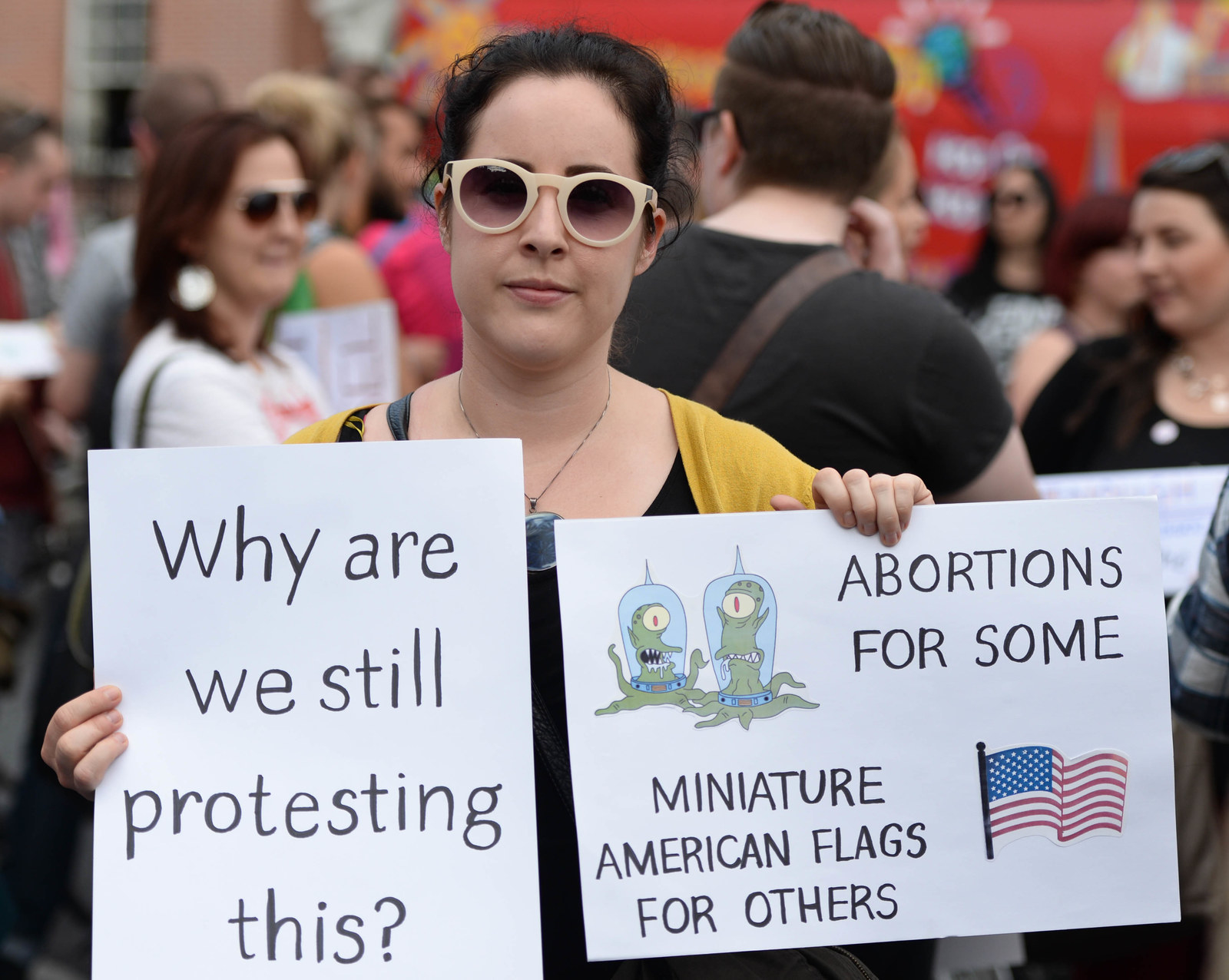 At the time of writing, the average price of an overnight return flight in one week's time from Dublin to Liverpool, where Roisin travelled for her abortion at 16 weeks, is £59. The average price of a hotel room in the city that night is £78.50.

"It wasn't a question of whether I should travel, but it was more a question of finances," Roisin said. "I don't know how many students would be able to come up with the cost of having the procedure and actually getting on the plane too."
Then there was the cost of the procedure itself. The British Pregnancy Advisory Service (BPAS), one of the largest providers of abortions in England, offers discounted terminations privately to Irish women at costs ranging from £415 for a medical abortion, where a drug is used to induce a miscarriage in pregnancies up to 10 weeks, to £1,415, for a surgical abortion with general anaesthetic from 18–24 weeks. Its standard fees range from £545 to £1,725, although women in England, Scotland, and Wales are also able access abortion services for free via the NHS.
"BPAS does everything it can to make a difficult situation as straightforward as possible for women travelling from Ireland," a spokesperson for the charity told BuzzFeed News. It also aims to waive the consultation fees involved and can sometimes arrange further discounts on an individual basis. "We'd advise any woman worried about funds to talk to us as soon as they can," the spokesperson said. "We won't turn our back on Irish women and we won't stop campaigning until women are able to access this care at home."

Marie Stopes, another of the UK's largest abortion providers, also offers discounted rates to Irish women, ranging from £425 to £1,395, as well as providing them with free taxi transfers from airports to its clinics. It has however recently been forced to suspend all appointments for Irish women until at least April as a result of an increased demand for NHS appointments for British women, narrowing the options of Irish women still further.
While Roisin said her family is very supportive of all other aspects of her life, their stringent anti-abortion views meant she couldn't turn to them to raise the money. When she hypothetically asked what they'd do if she accidentally got pregnant, they said they would offer to help her raise the baby, but added: "If you were to have an abortion, you would be a murderer." It was a similar story with her boyfriend's family. "He knows for a fact that his family would have kicked him out, so it was a lot of pressure," she said. Terrified of the news of her pregnancy getting back to her family, Roisin felt unable to turn to friends for advice either, and told nobody else about her turmoil.
Instead she remembers going into crisis mode, and "in a complete panic" googled the Abortion Support Network (ASN), hoping it could offer her advice on how she could raise so much money at such short notice. "I was just devastated because I had nobody to talk to or turn to and I was in a very bad way," she said.
ASN, a UK-based charity set up by abortion rights activist Mara Clarke in 2009, provides advice, funding, and sometimes accommodation to women travelling from Ireland and Northern Ireland for an abortion. "Some people just need help explaining how they can afford it without our help," Clarke told us, describing how her volunteers will scour around for the best flight deals and help women work out a suitable cost-effective procedure for them, as well as working with providers such as BPAS and the National Unplanned Pregnancy Advisory Service (NUPAS) to negotiate reduced rates. "When we get a call," Clarke said, "the first thing we say is, 'Calm down, take a deep breath.'"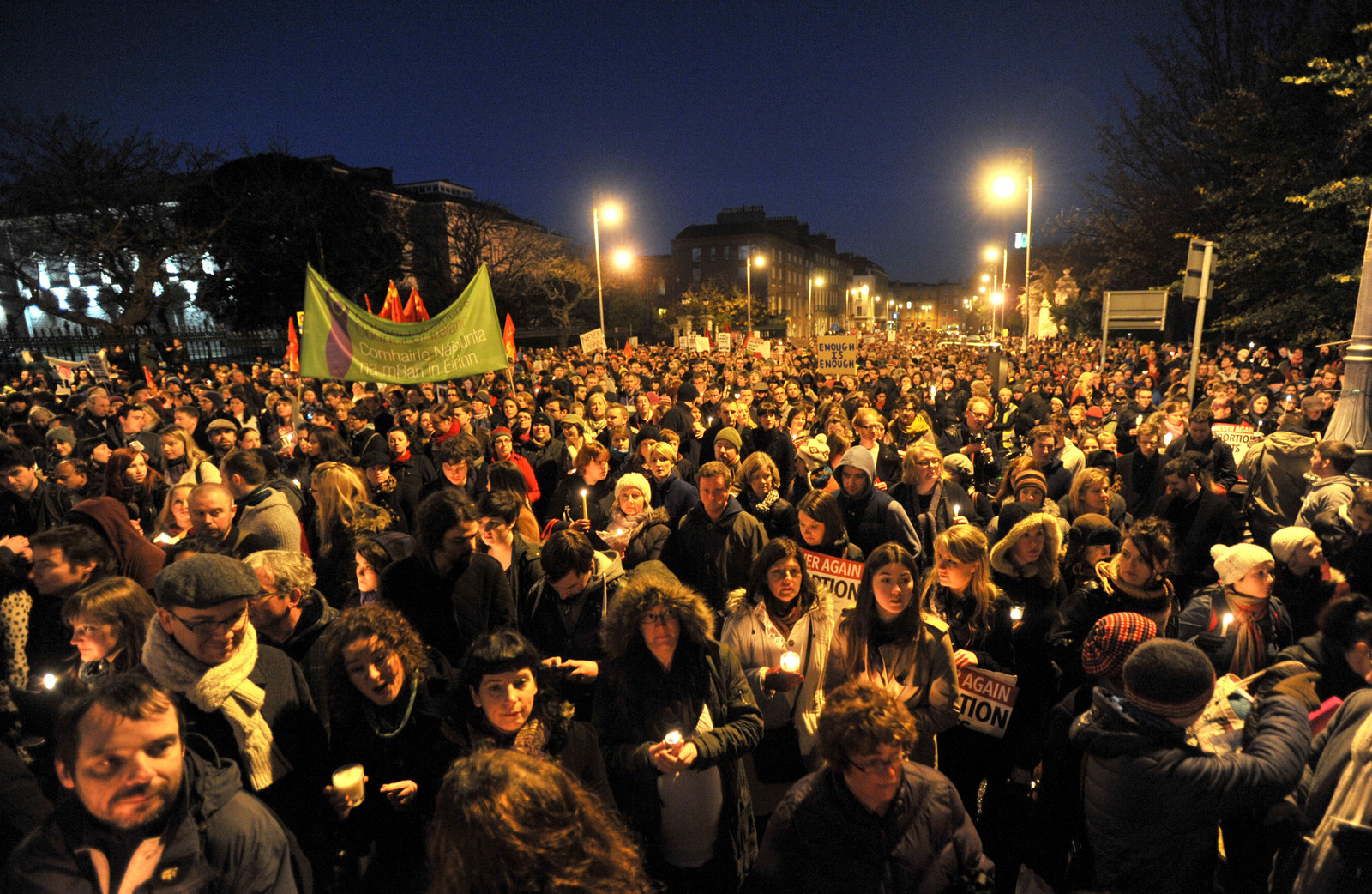 Mostly, ASN provides grants to women like Roisin who are unable to save up the full amount in time. These grants have ranged from £27 to £1,593 and are predominantly used to pay abortion clinics for a procedure, but have also been used to cover flights and accommodation. According to its most recent figures, in 2015 ASN provided 154 people with £43,484 of funding – raised almost entirely from private donors, many of whom are women the charity has previously supported – and helped get more than £8,500 knocked off clinics' already discounted rates.

Roisin managed to scrape together around £200 towards the cost of her abortion and ASN paid the rest, as well as providing her with a night of accommodation with one of its volunteer hosts.
"ASN were incredible," she said. "I wish I could tell more people about how good they were. I cannot thank them enough for what they did for me."
Travelling on a late flight from Dublin to Liverpool, Rosin said she went into "robot mode", desperate to power through the next 24 hours and then put the experience behind her. "I felt like I was a fly on the wall of my own life at that point," she said. "I just couldn't believe this was happening to me and just kind of switched off. I was so desperate that I think that was my only way to cope."
In the departure lounge, an excitable group of women sat opposite her, laughing as they waited to board a flight to popular holiday destination: Malaga, Spain. "I just remember really resenting them and wishing I was one of them," she said. "Of course, none of them had any idea why I was going to Liverpool."
Her volunteer ASN host collected Roisin from the airport and took her home, where she gave her dinner and a bed for the night. In the morning the host drove her to the clinic.
Sitting in the waiting room, Roisin said she realised there was a "trifecta of women" who travel from Ireland to England for an abortion. "There's the woman who is pregnant with a child that has a fatal foetal abnormality and can't continue the pregnancy, there's someone like me whose life is just not ready for it, and there's also the women who already have children and just don't want any more," she said. There were two other Irish women waiting with Roisin for a procedure at the clinic in Liverpool that day, and she learned that they were in those other two situations. "In that moment we were that trifecta."
When the procedure was over, the host brought her home to recover with a hot water bottle and a few hours on the sofa before it was time to head back to the airport for an evening flight home.
"She was just so lovely, and made me feel like I was at home in her home," Roisin said of her host. "We ended up watching Gogglebox – mindless TV – because I just wanted to switch off. She was phenomenal."
Offering a comfortable home from home is one of the most important things about being an ASN host, one who preferred to remain anonymous told us. "You're meeting someone who could be having one of the worst days of her life," she said.
Over the past two years she has hosted around one woman per month, and said there was no typical case. "Sometimes people will come and just sit on the sofa and cry all night and they won't want to speak at all, and then other times it can be just like having a friend visit," she said. "You're just sort of there if they need you." Usually that means simply freeing up time and offering whatever support feels like is needed at the time. "It can be lonely and scary to be alone in a new city, so it can be nice to be greeted by a friendly face, or at least someone who knows where they're going," the host said.
Flying home, Roisin noticed one of the women from the clinic waiting room was on the same plane. "You read things in the newspapers about x amount of women travelling every day, and x amount of Irish women do this, and everyone just seems like statistics. But it really hits home when you're sitting there and you are one of those women."

Next week, strikes and mass protests will put fresh pressure on the Irish government to repeal the eighth amendment and replace it with a law that would allow women freer access to abortion. In addition to the Strike 4 Repeal, a "March for Repeal" is planned in Dublin on International Women's Day, and earlier in the week, activist group ROSA ("for Reproductive rights, against Sexism, Oppression and Austerity") will drive a "Bus for Repeal" around the country, holding abortion rights rallies in Cork, Limerick, Galway, and many other smaller towns along the way.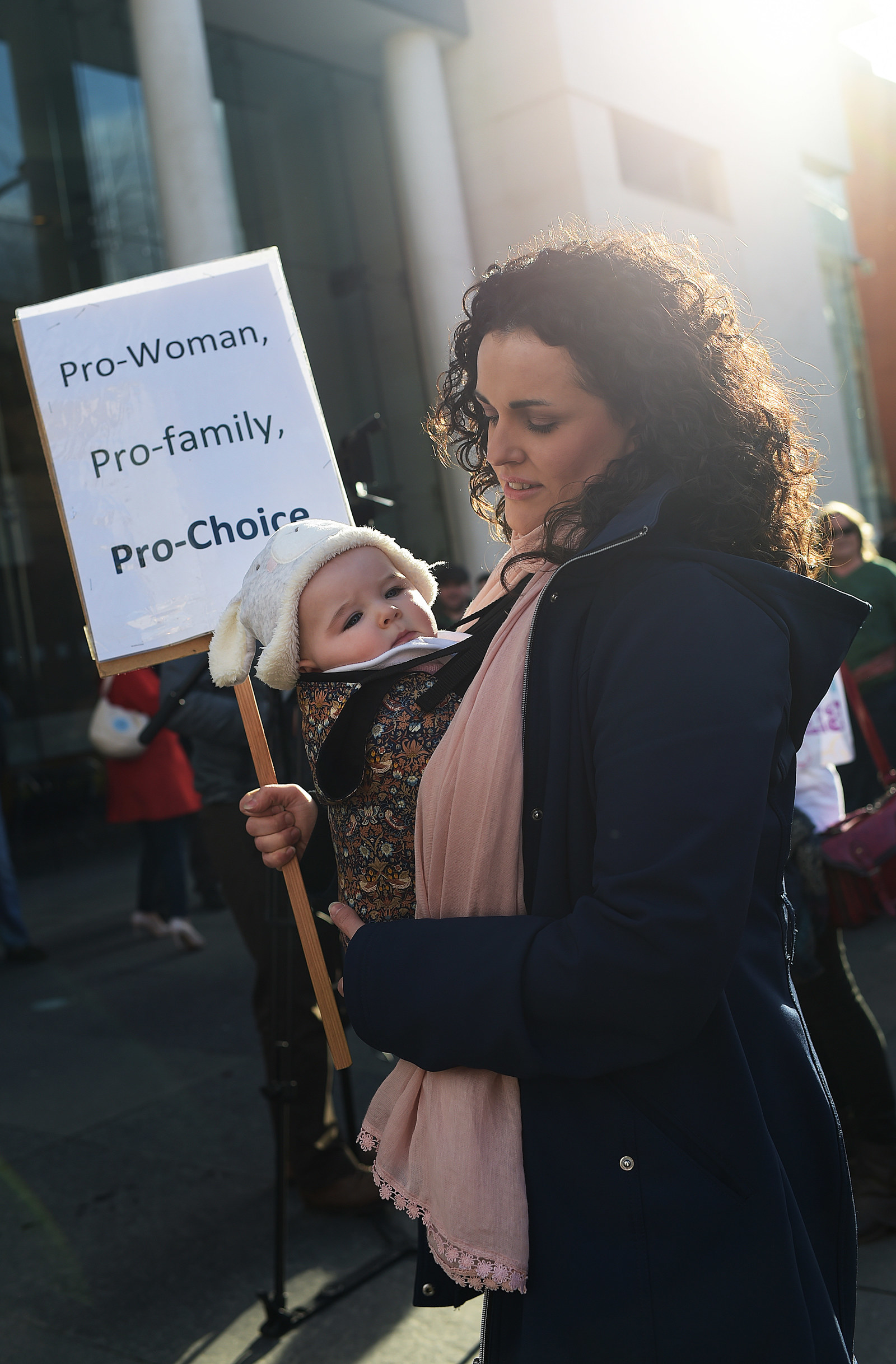 "When we launched Strike 4 Repeal in January it was a warning to the government to call a date for a referendum on the eighth amendment," a spokesperson for group organising the strike told BuzzFeed News. "As no date has been given we now have groups in Ireland and across the world, from Argentina to Aberdeen, planning to stage walkouts and the number of businesses supporting the strike by closing down on the day continues to grow."

She continued: "We strike to demand the state takes action. We refuse to stay silent, beg, plead, or bargain with our reproductive rights. People have died as a result of this law in Ireland and we refuse to wait for the next tragedy before political will is summoned."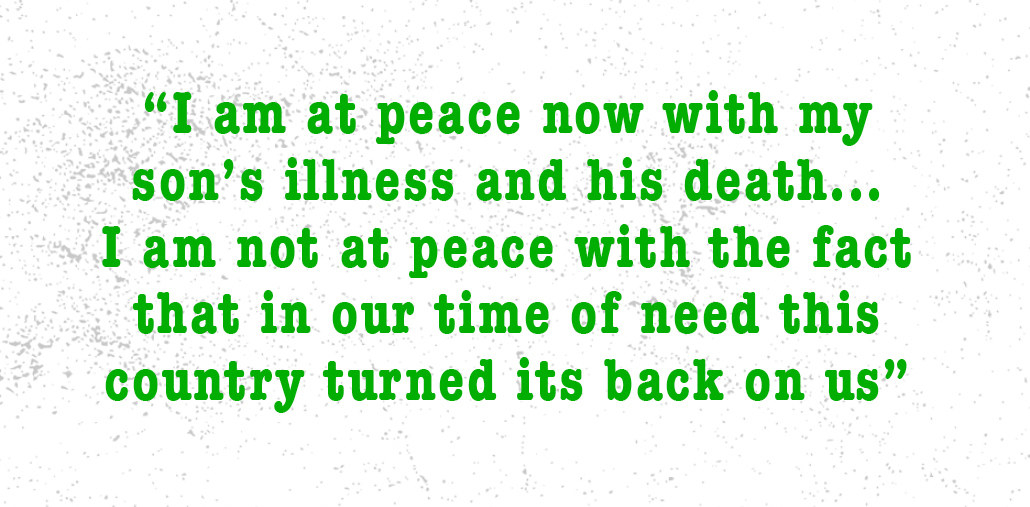 There are many other reasons women in Ireland seek abortions, and many more why some are unable to travel to access them.
"There are women we can't help," ASN's Clarke told us. "If you're an immigrant, I can't make the Home Office process your visa. I can't lock your abusive partner away. We can give you money for childcare, but we can't send you a childcare provider who can turn up at any time and stay with your children overnight while nobody knows where you are."
Clarke found that the women who contacted ASN were disproportionately those without money, and tended to be disadvantaged for a wide variety of reasons. "Our poorest people are by definition marginalised or at risk or vulnerable," she said. "If they weren't one of those things, they wouldn't be contacting a tiny charity in England to ask for money and involving a group of strangers in something that should be a private decision between a woman and her doctor."
For many women, buying illegal abortion medication online via organisations such as Women on Web and Women Help is the only viable alternative for ending an unwanted pregnancy, but although the drug is widely considered to be safe, this option is not without its pitfalls.
Women who do manage to get hold of the medication take it with the fear of being prosecuted if they need to seek medical attention in the face of any complications.
Hana, who responded from Ireland to a recent BuzzFeed News survey on experiences with illegal abortion around the world, described secretly taking the pills in when she discovered she was pregnant with a baby she felt she would be unable to support. "When I took the pills I bled so heavily the second day that I thought I was dying, but I couldn't go to the hospital because they could arrest me if I told them what I had done," she said. "So I lay there, bleeding in my friend's spare room, praying that I didn't die. I will never forgive my country for that."
In Northern Ireland, a mother is currently appealing a criminal conviction after a GP reported her for providing the abortion pill to her then 15-year-old daughter, and another woman was handed a two-year suspended jail sentence after her housemates shopped her to police for taking the abortion pill.
Others simply can't access abortion at all. Over one week last summer, Irish police seized 78 abortion pills at customs, meaning many women may not have got hold of them in time.
"Many women go ahead and they have the baby, and that's it," Ailbhe Smyth, convenor of the Coalition to Repeal the Eighth Amendment, an alliance of of more than 70 charities campaigning for legal abortion in Ireland, told us. "They struggle, they cope, they manage, and they love the baby."
Others have suffered grave consequences of Ireland's abortion laws. In 2012, Savita Halappanavar died as a result of complications with a septic miscarriage after being denied an abortion. Two years later the husband of a braindead woman was forced to fight a court battle to turn off her life support machine because she was 18 weeks pregnant, and allowing her to die, in turn killing her unborn baby, violated the eighth amendment.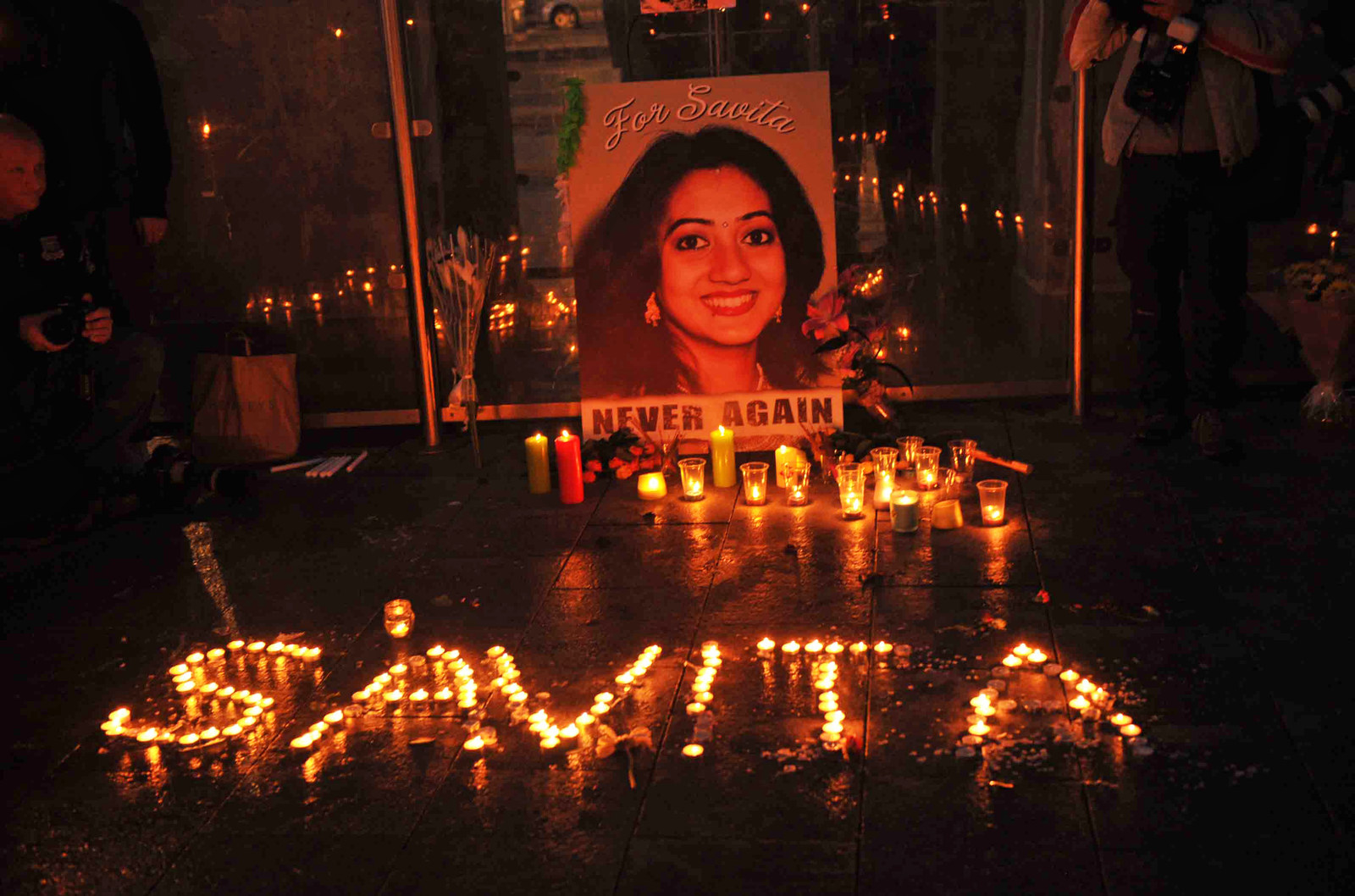 In testimony submitted to the Irish government's Citizens' Assembly, which will hold the fourth of five meetings to debate abortion law in Dublin this weekend, a woman recounted having to wait for her baby to die after it was discovered it would not survive the pregnancy, because her doctor could not perform an abortion.

She could not afford to travel to England to access an abortion – as she was more than 19 weeks pregnant, it would have involved the most expensive form of the procedure, costing around £1,500 before travel was factored in – so instead had to wait and deliver the baby after it had died.
"I could feel Sam's little movements. They were more like a flutter than a kick. He was obviously very weak," she said. "I'd wake up to the feeling of his slight movements and I would lie awake wondering was he suffering as much as his mum."
Five weeks later, she experienced sharp pains in her stomach. "I knew he was gone," she said. After a sonographer confirmed the baby had died, the doctor was finally able to induce a premature labour. While the mother said she was able to recover from losing her baby, she became angry about the ordeal she had had to endure. "I am at peace now with my son's illness and his death," she said. "However, I am not at peace with the fact that in our time of need this country turned its back on us."
Roisin too found that after her initial relief at being able to end her pregnancy with the help of ASN, it was anger, rather than regret, that lingered. "I was at peace with having had an abortion, and I was so grateful to feel like I had my life back," she said. "But I grew very resentful that the country had made me go through this.
"There can't be more Irish women like me. It was the most horrific thing to go through, it was the most awful experience and we need to stop it."

Smyth, who has spent decades campaigning for abortion rights in Ireland, believes a referendum on repealing the eighth amendment could be no more than 18 months away, a timeline that becomes even more pertinent now England could complete its departure from the European Union shortly after that, potentially adding further complications to travel between the two countries.

The Citizens' Assembly will hold its final session on the eighth amendment on 22 April. It will address the question of what would be on the ballot paper for a referendum on abortion, suggesting one could be triggered soon. The assembly's chair, Justice Mary Laffoy, is due publish her report on its conclusions this summer. The Irish government told BuzzFeed News those conclusions would be submitted to the Oireachtas, Ireland's legislature, for further debate in parliament.
"We continue to put pressure on the government to hold a referendum without any further delay," Smyth told us ahead of next week's action. "There's absolutely no reason why a referendum can't be called immediately."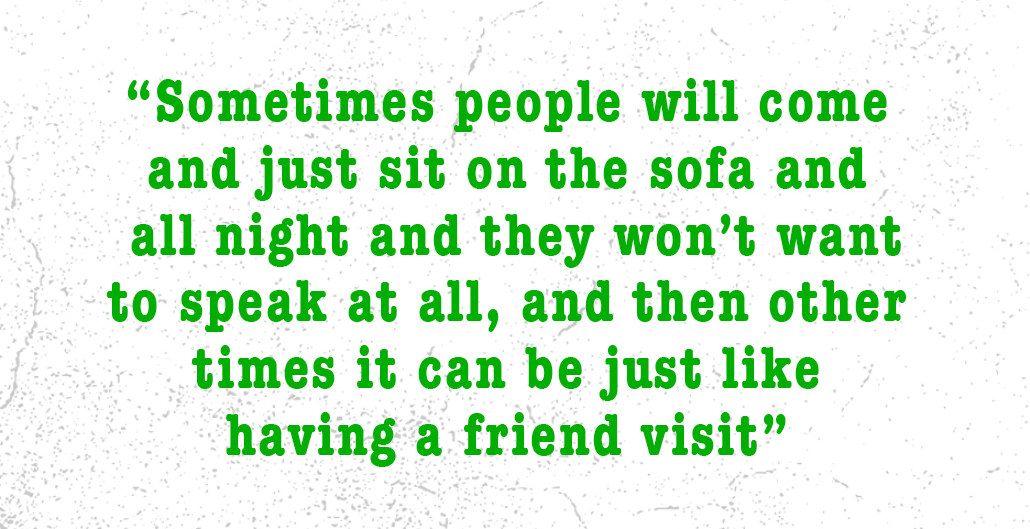 Last year the United Nations ruled that abortion laws in Ireland and Northern Ireland were in breach of human rights guidelines. Recent polling by Ipsos Mori for the Irish Times found that 67% of people were in favour of repealing the eighth amendment and making abortion legal in certain circumstances, compared to 21% who wanted to keep the current law. Twelve per cent did not know where they stood on the matter. The Citizens' Assembly received more than 13,000 submissions on the topic of abortion, which remains at the forefront of public debate.
"Women are completely and utterly fed up with this situation," Smyth said.
Clarke has found that many people she helped had considered themselves against abortion until they, or someone they were close to them faced an unwanted pregnancy.
She said: "They say, I didn't agree with abortion until my 14-year-old got pregnant. Until my sister got pregnant. Until I got pregnant with my seventh child. Until my husband killed himself. Until we both lost our jobs. Until my wife got cancer. Until I needed an abortion."
*some names and details have been changed to protect identity