The British Medical Association sent out 40,000 ballot papers this week asking junior doctors to vote on whether to strike over proposed changes to their contracts.
BMA members will have until 18 November to decide whether they would want to go ahead with industrial action in the lead-up to Christmas.
Health secretary Jeremy Hunt has said the changes will "create a fairer deal for doctors and patients".
The BMA has said the new contract is "bad for patients, bad for junior doctors, and bad for the NHS".
Here is why, following halted negotiations between Hunt and the BMA and a series of protests, a large number of doctors say the government is forcing them into voting for industrial action as a last resort.
1.
Doctors feel the new contract would not prevent them from being overworked.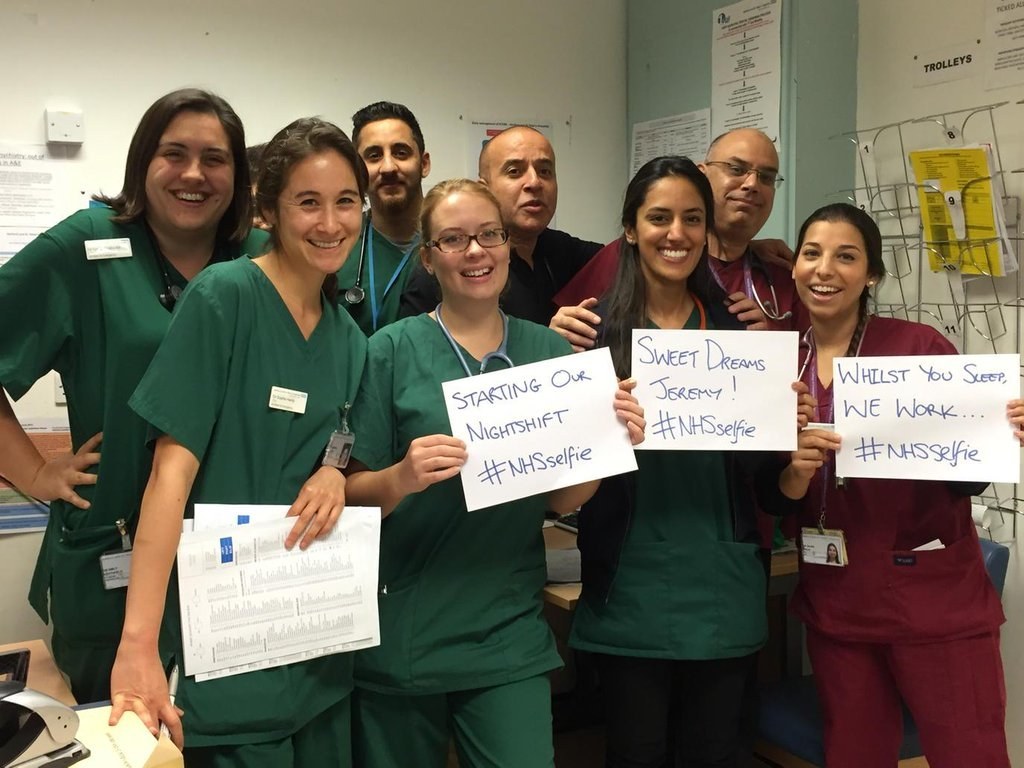 Without "clear and enforceable safeguards", the BMA says, there is nothing to prevent employers from working doctors beyond their scheduled hours.
Under the new contract, doctors would continue to be scheduled for an average of 48 hours per week, according to the Department of Health.
The maximum official legal limit a doctor can work when overtime is taken into account would be cut from 91 hours per week to 72 hours per week.
Doctors could not legally work more than four nights or five long shifts in a row, and on-call shifts would be limited to seven in a row.
Employers would not be allowed to schedule shifts longer than 13 hours.
But doctors are concerned that there is no strong mechanism to ensure these guidelines are adhered to, so there could be a big difference between what they are scheduled to work and what they actually work.
"While Jeremy Hunt says that no junior doctor will be 'rostered' unsafe hours, in reality you may be forced to work beyond that," junior doctor Osman Khalid told BuzzFeed News.
Under the current contract, doctors are subject to a period of monitoring for two weeks every two months, during which they record what time they start and finish every day and any breaks they have taken. If a hospital is found to be overworking doctors, they face heavy penalties.
The new contract would remove the penalty system and replace it with a "work scheduling" agreement between doctor and employer.
Doctors would be able to ask for a review if they feel they've worked more hours than agreed, and the Care Quality Commission (CQC) would be presented with an annual report of the outcome of these reviews.
The BMA is sceptical this new system would be adequate for protecting doctors from being overworked and patients from doctors' resulting exhaustion.
"It is not clear how the CQC mechanism is in any way equivalent to proper contractual controls and it is our view that this will not achieve that end," BMA junior doctors' committee chair Johann Malawana said in a statement.
"With the removal of protection there will be no incentive not to keep doctors beyond their scheduled hours," Khalid said. "That will lead to tired doctors, which will then be bad for patient safety."
Junior doctor Rachel Clarke agreed, telling BuzzFeed News "the claim to protect hours only means something if there is a strong preventative mechanism in place.
"How can the CQC's review process help after a doctor worked has unsafe hours?"
She said the new contract was "deeply worrying because we already work many more hours than we should, but at least there's protection now".
The CQC said the data from reviews will "inform its judgement" about how employers manage their medical workforce to deliver safe quality care.
"I want to make sure the NHS is delivering the safest care for patients," said Professor Sir Mike Richards, the CQC's chief inspector of hospitals. "The new work review process will enable the CQC, through its inspection process, to consider new data which will help bring strong external scrutiny to how NHS trusts manage the workload, supervision and support for junior doctors."
2.
It's not about the money.
"It's insulting to say this is just about money," Khalid told us. "It portrays us as greedy. There is so much more to this fight, and offering a pay rise – which is [really] a pay cut in disguise – only addresses only one thing.
Hunt is offering an 11% increase in basic pay as compensation for changes to "sociable working hours", also known as "plain time", for which doctors receive a standard rate of pay.
The new contract would see "sociable working hours" changed from 7am–7pm Monday–Friday to 7am–10pm Monday–Friday and 7am–7pm on Saturday.
For "antisocial hours", doctors currently receive a banded supplement of 20%, 40%, 50%, or 80%. The banded pay system would be scrapped under the new contract, and doctors would receive time and a half, or 50%, as standard for nights and Saturday evenings, and time and a third for Sundays.
As a result, doctors feel that what they stand to lose under the new contract far outweighs what they would gain from the 11% pay rise.
"In my case and in the case of the majority of doctors I know, pay will be reduced by 30–40%," Clarke told us.
Junior doctor Lulu Ritchie said the reduced pay was not sufficient to compensate for missed time with family in the evenings and at the weekend. "Who wants to work until 10pm at night for the same pay you'd get 9am-5pm?" she said.
The Department of Health has said it is "removing the financial incentives in the current contract that encourage doctors to work unsafe hours", but doctors object to the idea that they are working unsafe hours simply for financial gain.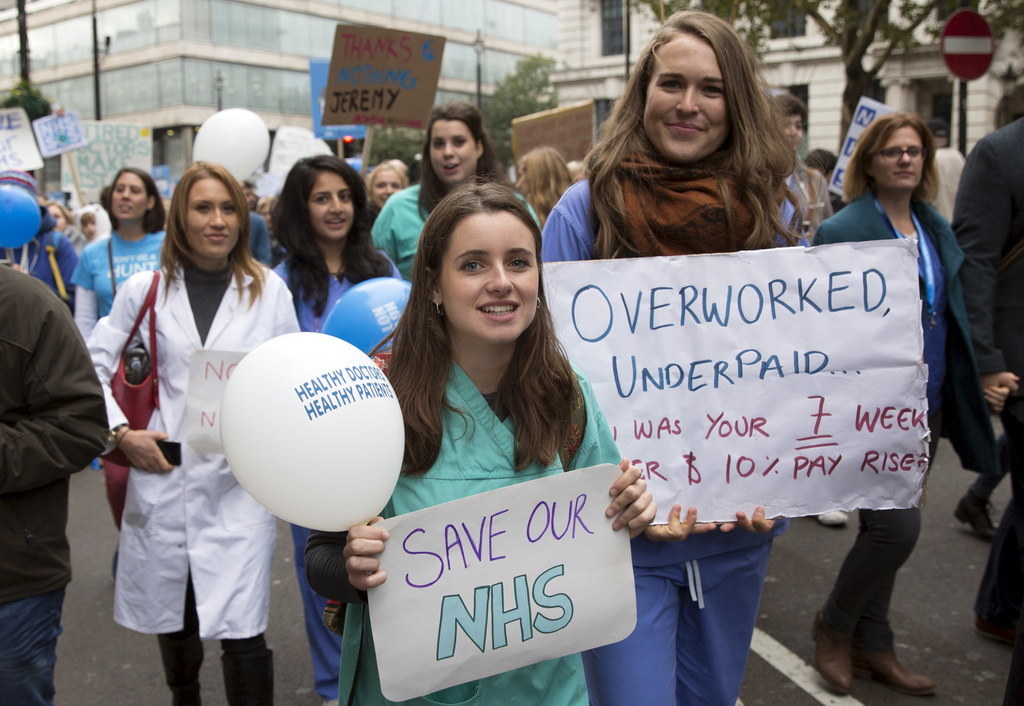 3.
Doctors feel "utterly pushed into a corner by the government" and many feel they have no choice left but to strike.
"Without the reasonable assurances junior doctors require, the BMA has been left with little option but to continue with plans to ballot members on industrial action," Malawana said as ballot papers were sent out to junior doctors on Thursday.
"This is not a decision we take lightly. However, the government's refusal to work with us through genuine negotiations, and its continued threat to impose an unsafe and unfair contract, leaves us with no alternative."
Khalid told BuzzFeed News striking was the only way doctors had left to make Hunt listen. "We've protested, we've written to MPs, we've talked to the press and it hasn't worked," he said. "This is the only one thing left to do."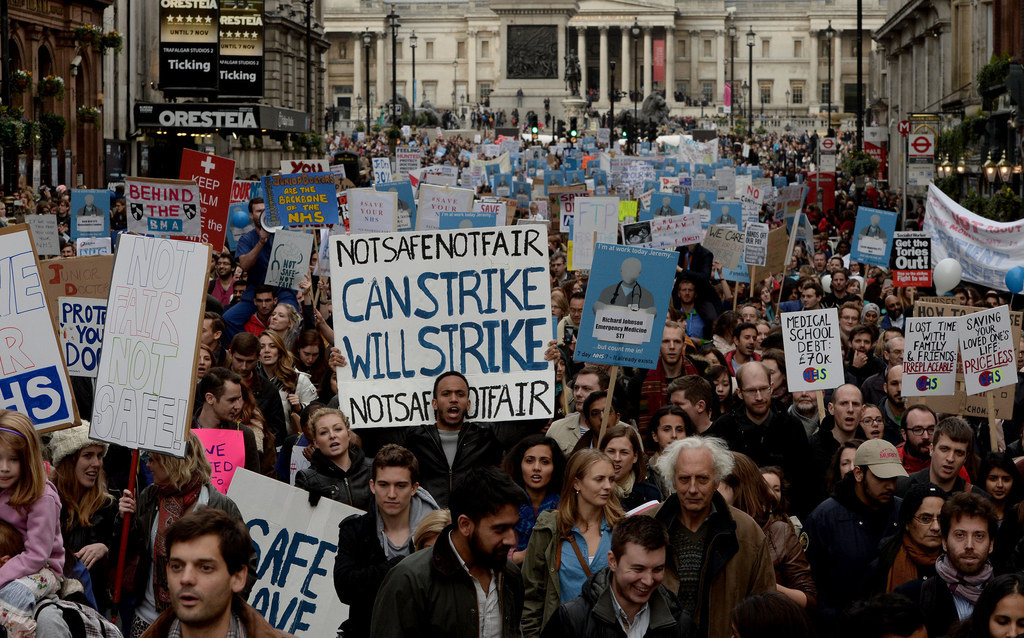 Clarke said she didn't have a single colleague who wouldn't join her in voting for industrial action. "We feel utterly pushed into a corner by the government," she told us.
She said industrial action was a necessary last resort.
"We would love to avoid a strike, but it's in the best interest of patient safety in the long run," she said. "We have to make a stand against this contract.
"With it we can't do our jobs safely. We'll be too broken too exhausted, too demoralised and a danger to patients."
Ritchie was less certain how she would vote. "I hate the concept of striking – it punishes everyone but the government," she said.
"But unless we can open true negotiations I've been urged by my consultants to take the matter very seriously.
"If we do strike, you'll see my team down at the blood bank giving blood, and you'll see our hospital staffed by our amazing consultants who are 100% behind us."