These Women Are Driving An "Abortion Pill Bus" Around Ireland To Protest Anti-Abortion Laws
"We're breaking unjust laws to show the dire need for a referendum on abortion," the campaign's organisers told BuzzFeed News.
A group women are driving an "abortion pill bus" around Ireland on Friday and Saturday to protest the country's anti-abortion laws.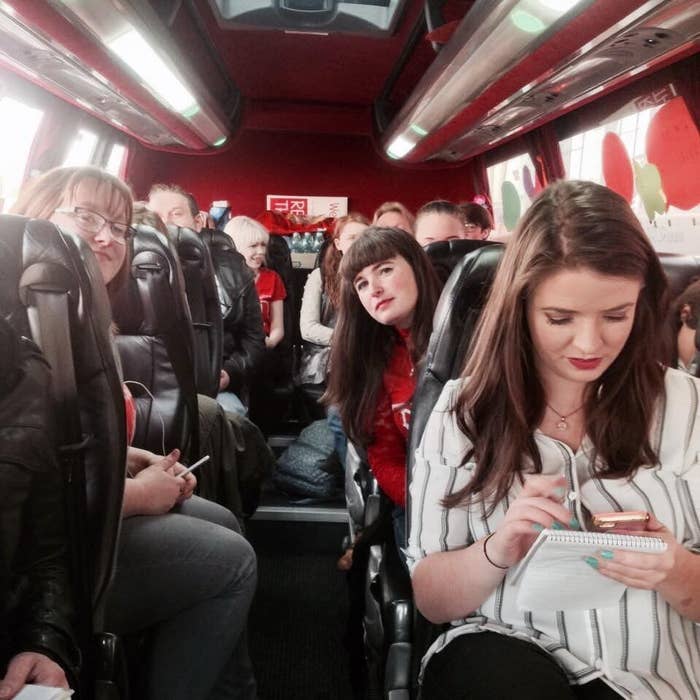 As the bus set off from Dublin on Friday morning, Laura Fitzgerald, a member of the Reproductive rights against Oppression, Sexism and Austerity (ROSA) group which has been involved in organising the bus action, told BuzzFeed News: "The continued ban on abortion in Ireland is draconian, dangerous, and completely discriminatory against women."
Under the 8th amendment of the constitution abortion is completely illegal in Ireland unless the life of the mother is considered to be at risk.
Any women who is found to have had an abortion in Ireland, even in cases of incest, rape, or where the foetus may not survive, could face 14 years in prison.
She said the anti-abortion laws demonstrated "huge misogyny" and that "we can't let women's bodies be policed."
The bus will stop to hold pro-choice rallies in Limerick, Cork and Galway, before returningto Dublin for a final rally on Saturday afternoon.
Working with Dutch organisation WomenOnWeb, who help individuals and organisations that support abortion rights, ROSA will offer on-board consultations and abortion pills as the bus travels around the country.
According to the Irish Family Planning Association, at least 163,514 women and girls travelled from the Republic of Ireland between 1980 and 2014 to carry out a termination in another country.
Abortion pills, Fitzgerald told us, are "extremely important to women who may not be able to travel for the procedure for financial reasons, or because of their immigration status, or in an abusive relationship, or have difficulties traveling because of other children."
The medication, which allows a woman to chemically terminate her pregnancy up to nine weeks into its term, is also illegal in Ireland. ROSA has been provided with the pills by WomenOnWeb.
"We're breaking unjust laws to show the dire need for a referendum on abortion," Fitzgerald told us. Pro-choice activists gathered to see the bus off on Friday said Gardaí [Ireland's police force] would be "foolish" to try and stop them giving out illegal abortion advice, according to local radio station, Newstalk.
Fitzgerald agreed that she did not expect any trouble from the authorities during the campaign. "If [Gardaí] try and prevent this or criminalise us, it would provoke a massive reaction," she said. "We're supported by the vast majority of Irish people."
In August 2015, a survey by Ireland's Sunday Times found that 63% of people polled were in favour of a referendum on abortion while another survey by Red C in July found that 67% of its participants believed the government should decriminalise abortion.
Fitzgerald felt that Ireland's same-sex marriage referendum this year had spurred people on for the same to happen over anti-abortion laws, adding that there is a "strong desire for progress and the separation of church and state" in the country right now.
In July and September, thousands of people marched in Dublin to call for a change to the laws on abortion.
As Ireland's next general election approaches in spring 2016, Fitzgerald told us a referendum on abortion would be a huge campaign issue for all parties.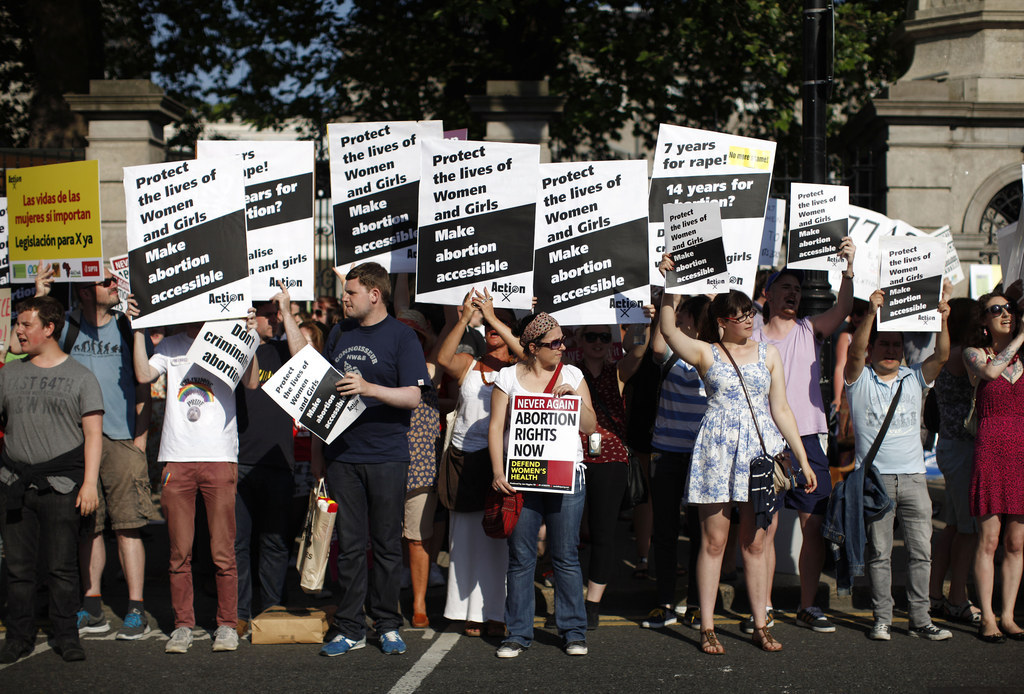 Earlier this week, Amnesty International launched a campaign to put pressure on the Irish prime minister to change the law on abortion. The charity is working with Irish comedy writer Graham Linehan and his wife Helen, who sought out an abortion in the UK when she discovered her baby with a fatal foetal abnormality.
Not all are in favour of the change, however. On the morning of the "abortion pill bus" launch, pro-life campaigner Dr Ruth Cullen told the Irish Independent: "It is an incredibly dangerous and irresponsible one that puts the lives of women at serious risk. Those lending their support to the abortion pill bus have no credibility talking about women's health."
But Fitzgerald would not be discouraged. "A lot of women have already contacted us to say that they will be meeting us on the bus," she said. "We want to keep the momentum going. There is a huge demand for this service."
CORRECTION
163,514 women and girls travelled from the Republic of Ireland to have an abortion in another country between 1980 and 2014. A previous version of this article attributed that figure to 2014 alone.