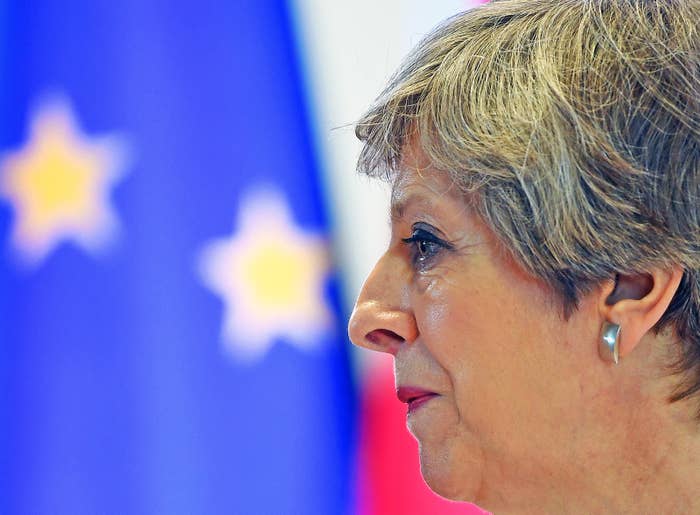 Theresa May's proposed plans to offer non-British EU citizens who have lived in the UK for more than five years the right to stay after Brexit have said the plans lack clarity and respect.
Catherine, an NHS physiotherapist from Italy who preferred not to give her last name and has lived in the UK for a decade, felt taken for granted by May in Brexit negotiations.
"I now feel like the UK is doing me a favour for 'having me'," she told BuzzFeed News. "I earn my stay wherever I go, within and outside my country of birth, and having been a UK taxpayer for 10 years, I deserve more clarity and respect."
At a dinner with leaders of the other EU 27 member states on Thursday, May outlined the key principles of Britain's offer to protect the rights of EU citizens living in the UK, which state that no EU citizen would be forced to leave the UK after Brexit is formalised, and that those who have been living here for more than five years could apply for a "settled status" that would allow them to remain.

May described the proposal as "a fair and serious offer". Earlier in the week, chancellor Philip Hammond had insisted that any offer May planned to put forward in Brussels would be generous.
"To be honest, it's irrelevant to me," Daniel Simbrey, who has lived in the UK for 16 years, told BuzzFeed News. "I don't think the terminology they're using about being allowed to stay is quite appropriate. It makes people here feel uncomfortable."

Simbrey, who is from Germany and runs his own communications consultancy business, said the British government should be doing its best to make EU citizens living in the UK want to stay here after Brexit.

"She should be doing the best she can to encourage people to actually want to stay – we could be doing business anywhere in the world," he said.

"I like to think I'm providing value for the clients I work for and contributing value to the country. This isn't the only place in the world I could be doing this. People who live here can go anywhere they want."
Annalaura, an Italian who declined to give her last name, has lived in London for just under five years. She said May's hard Brexit rhetoric and lack of clarity about what the UK leaving the EU would mean for EU citizens had made her reconsider her future in the country.
"There is this feeling that the UK government thinks for some reason everyone desperately wants to live here," she said.
"The reality is, Europe is a great place too. I and all my European friends live in London because it's a vibrant, welcoming, and diverse city.
"We're not desperately attached to the idea of living in the UK – we just love being in a multicultural place where diversity brings new ideas and opportunities.
"If Brexit means the UK, and especially London, becomes a more isolated place, with less opportunities, then I'm sure many of us would consider leaving."

On Monday May will outline full details of what her offer to EU citizens who want to remain in the UK will be, but for Annalaura, it could be too little too late.
"I find the uncertainty worrying," she said. "One year is a long time, and now knowing about your status can influence your life choices on so many different levels."