1. The article opens with a lot of detail about a swivel chair.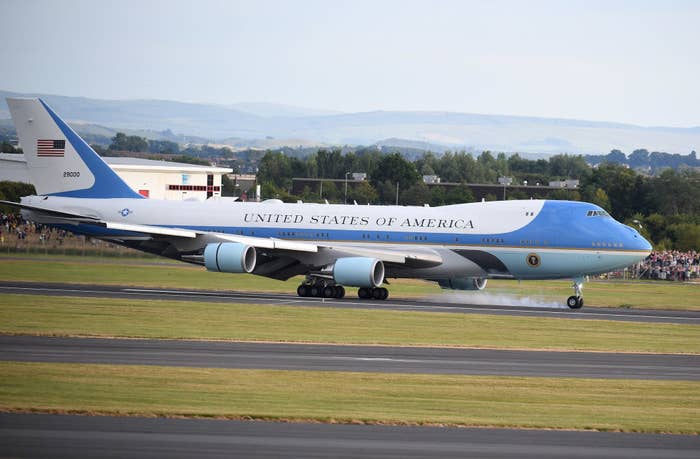 "I pressed a button on the sumptuous leather chair towards where the President would soon himself be sitting and imagined what it must be like in that room when all hell breaks loose," Morgan wrote after being reprimanded by one of Trump's aides for sitting in the president's chair on Air Force One.
In the exclusive interview, which appeared in the Mail on Sunday, and will be aired on ITV on Monday, Morgan also describes the "delightfully positive menace" of White House staff accompanying Trump on the UK trip who he meets when he arrives to interview the president.
Which is totally normal context to set up an interview with a major world leader.
2. Trump broke royal protocol by revealing what the Queen said about Brexit, and also kept saying how beautiful she was.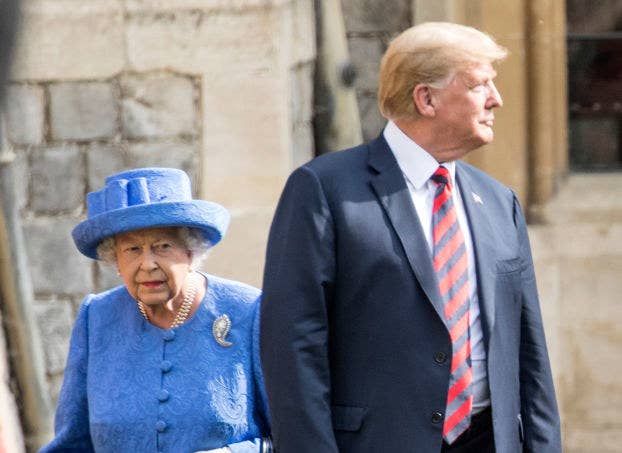 "She said it's a very – and she's right – it's a very complex problem, I think nobody had any idea how complex that was going to be," Trump said.
"Everyone thought it was going to be 'Oh, it's simple, we join or don't join, or let's see what happens'."
The royal family famously do not express political views and do not vote – and world leaders do not typically reveal what was discussed in private meetings. Although the Queen did once wear a hat that some said looked like the EU flag for the state opening of the parliament session that would come to be dominated by Brexit.
Apparently after realising this, Trump switched back to discussing how "beautiful" he thought she was.
"Let me tell you what I can talk about...she is an incredible woman, she is so sharp, she is so beautiful, when I say beautiful – inside and out," he said. "That is a beautiful woman."

3. Trump has personalised boxes full of M&M's, featuring his signature, on the presidential plane.
A White House aide gave some to Morgan to take home.
4. Trump said he would "fight" with Britain over trade.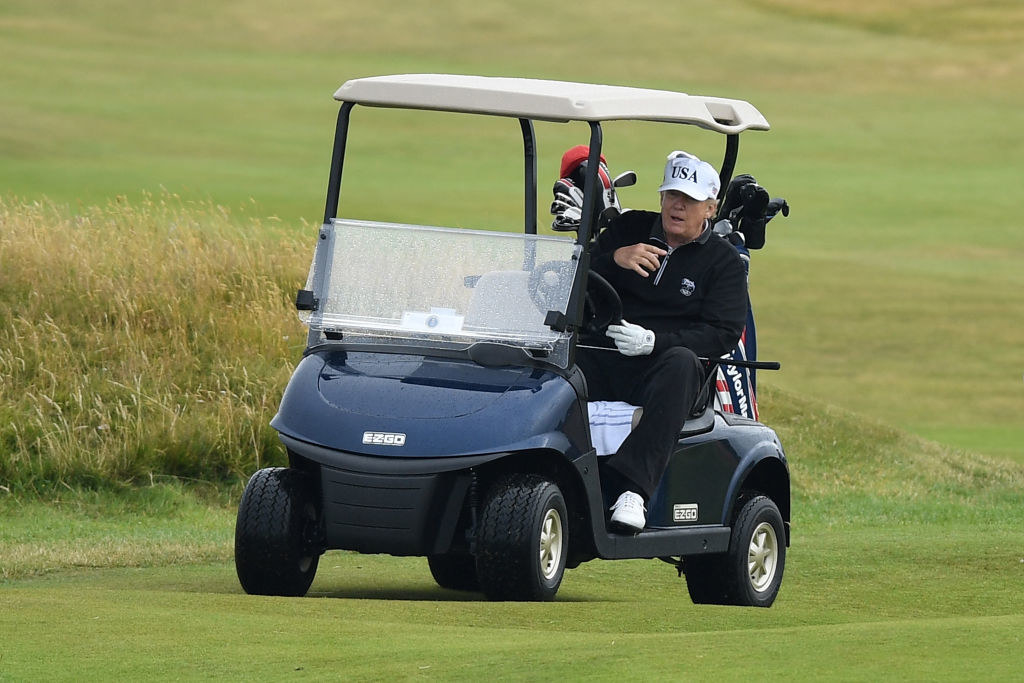 Trade between the UK and the US after Brexit was the key focus for his visit this week, and in a press conference on Friday Trump and prime minister Theresa May appeared positive. This, however, was contrary to what Trump said in a bombshell interview with the Sun the day before, where he said May's latest Brexit plans would "kill" a UK–US trade deal.
Speaking to Morgan, hours after the press conference with May, Trump said: "You're going to put UK first, and we're going to, you know, we're going to argue, we're going to fight, and we're going to end up making a deal," Trump said.
"We are putting America first but you have to put your country first, and other people have to put their country first."
5. Trump seemed a bit confused about what the UK actually is.
The UK's full name is the United Kingdom of Great Britain and Northern Ireland. It is made up of four countries: England, Scotland, Wales, and Northern Ireland.
"You have different names – you can say 'England', you can say 'UK', you can say 'United Kingdom'. So many different– you know you have, you have so many different names. Great Britain," Trump said.

"I always say: 'Which one do you prefer? Great Britain?' You understand what I'm saying."

6. Trump said that he had a lot of supporters among the mass protests that emerged in response to his visit to the UK.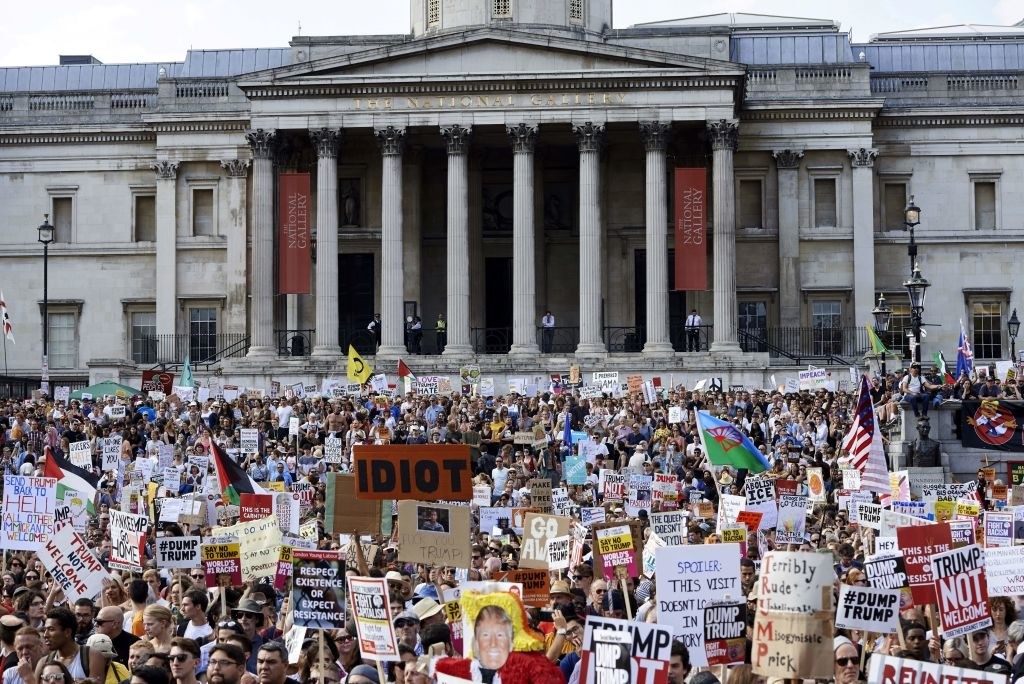 An estimated 100,000 people marched in London on Friday to protest against Trump's visit, many of them joining a demonstration for the first time ever.
Smaller protests emerged at all the key points on Trump's visit, and in Scotland where he owns property and has spent the weekend.
But ever the "glass half-full" kind, Trump said he believed many people were there to support him.
"Some of them are protesting in my favour, you know that?" Trump said. "There are many, many protests in my favour."

It is true that Trump supporters held a joint demonstration on Saturday that was both pro-Trump and pro-Tommy Robinson, the alt-right provocateur who is currently serving a jail sentence for contempt of court.
But that demonstration was significantly smaller than the anti-Trump march on Friday.
7. Trump repeated his claim that immigration was changing Europe's culture for the worse.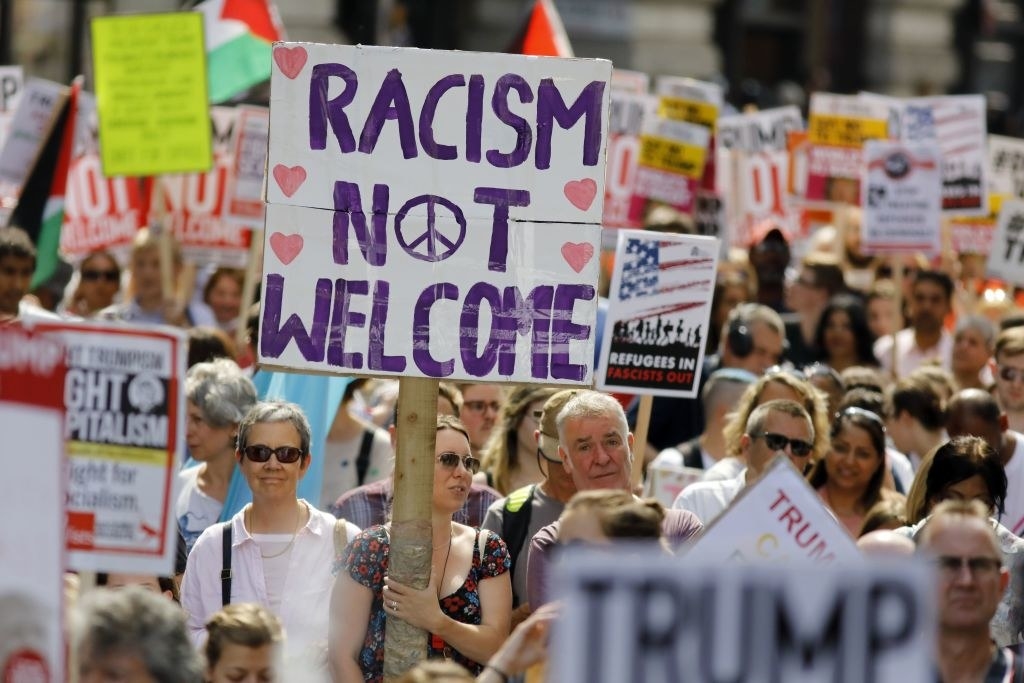 "I think the people of the UK want to have who they want in their country, and I think what's happening all over Europe is very sad," Trump said.
"Who they are, educational levels, work levels, I think it depends on a lot of things. I just see what's happening – the crime is through the roof in some places that have never had crime."
Trump has previously said that crime in Germany increased significantly since the country relaxed immigration rules in 2015 in response to a vast number of people from the Middle East seeking asylum in Europe. (Crime is actually at a 30-year low in Germany according to stats from its federal police.)
Trump said he wasn't going to mention specific countries...before going on to name Hungary, which has been faced criticism from human rights groups for its harsh anti-immigration policies.
"They're not agreeing to do what some of the other countries did," he said. "Now it's a very tough thing, on a humanitarian basis you've got to do something, and yet it is changing Europe. It's seriously changing Europe."
8. Trump said that Twitter makes him feel powerful in his personal crusade against "fake news".
"I like the power of it because it gets the point across," Trump said. "I can combat that fake news because I have so many followers. You can really protect yourself from the lies."

Trump also praises Morgan for his use of Twitter: "You're right up there. You do pretty good!" he said. "I tell you what, and you were doing it before me. I just find it's a modern-day form of communication."
Morgan can often be seen using his account to engage with his many fans.
9. Trump praised North Korean dictator Kim Jong Un. Again.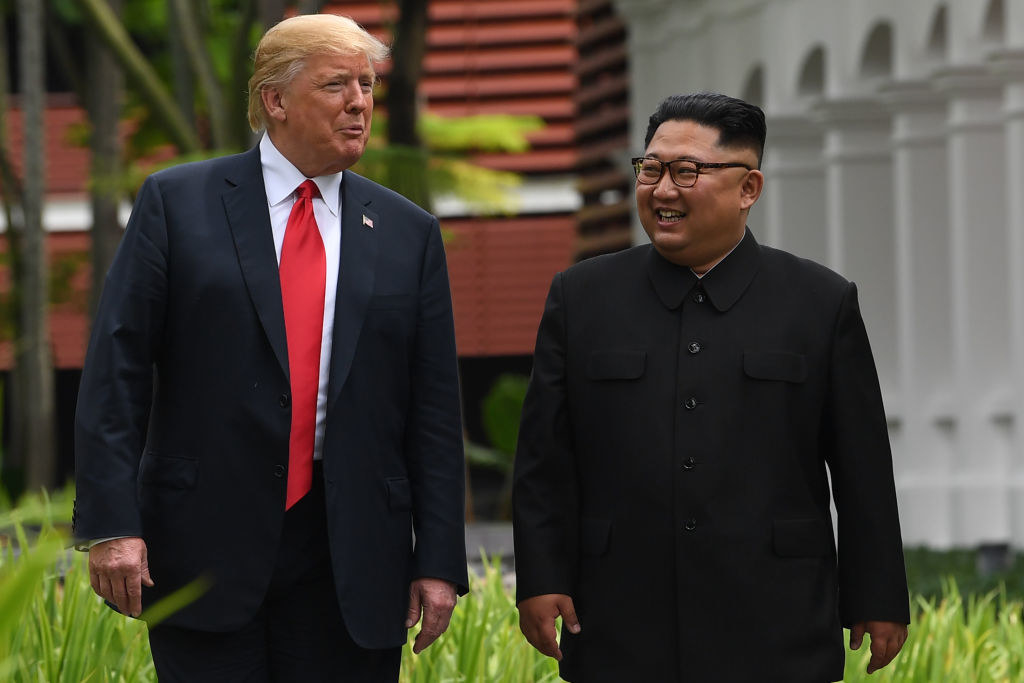 North Korean leader Kim Jong Un is suspected to be guilty of numerous crimes against humanity, including the deliberate starvation of prisoners and forced abortions being carried out by injecting motor oil into the wombs of pregnant women.
When they met in Singapore in June, Trump praised Kim and said he'd achieved a lot for his age.

When asked about the meeting with Kim, Trump said he was "getting rid of wars" and reiterated his praise for the North Korean leader.

"He's very smart, great personality. He's funny and tough. Good negotiator," Trump said. "He's ruthless, but so are others. I mean, I could name plenty of others that we deal with that you don't say the same thing about.

"I mean plenty of the people that I deal with are pretty ruthless people."
10. Morgan called Trump a "tough guy".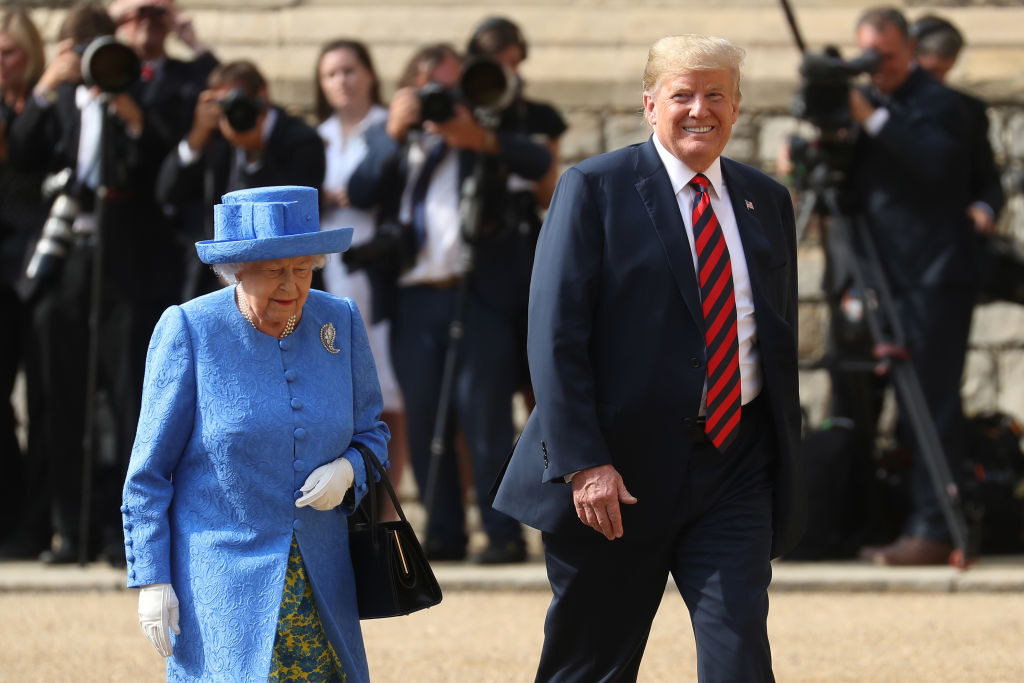 Trump was clearly moved by his meeting with the Queen on Friday, and he said that his mother, who was a "big fan" of hers, would have been incredibly proud of him.
Morgan seemed surprised by Trump's uncharacteristically humble appraisal of his meeting with the monarch.
"It must have been, even for a tough guy like you, quite an emotional thing?" Morgan asked.

11. Morgan also spent an awful lot of time talking about what good friends he and Trump are, and boasting that he is the only British journalist to get a TV interview with Trump as president.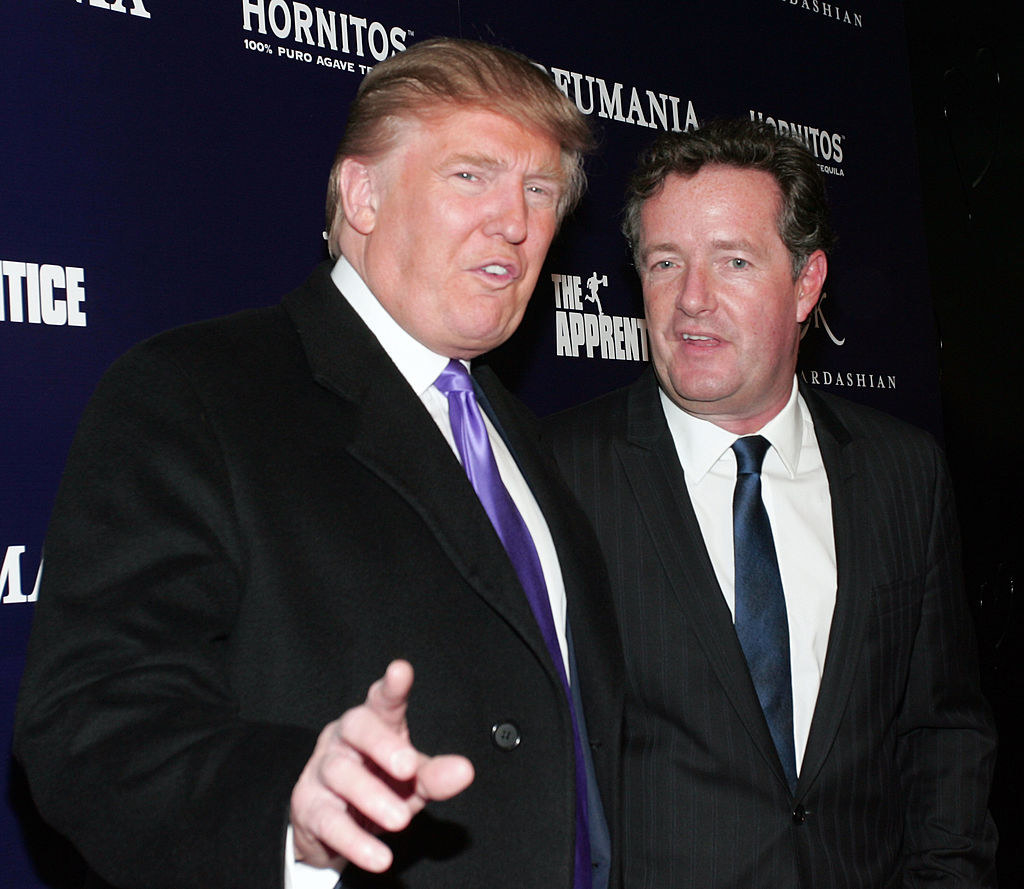 There are more than 1,300 words before we hear anything from Trump in Morgan's lengthy write-up of the interview, at which point we learn that these lads go way back.
"I've known Trump for 12 years now and genuinely like him whilst disagreeing with many of the things he says and does," Morgan writes. "He's a uniquely impulsive and charismatic man, which as we have seen can manifest itself in both a very good and very bad way."
He also talks about his fondness for Trump's wife, Melania: "She's not just a strikingly beautiful woman; she's also genuinely nice and warm, but a tough cookie too."
He tells us that he has interviewed the president 35 times, including twice since Trump became president.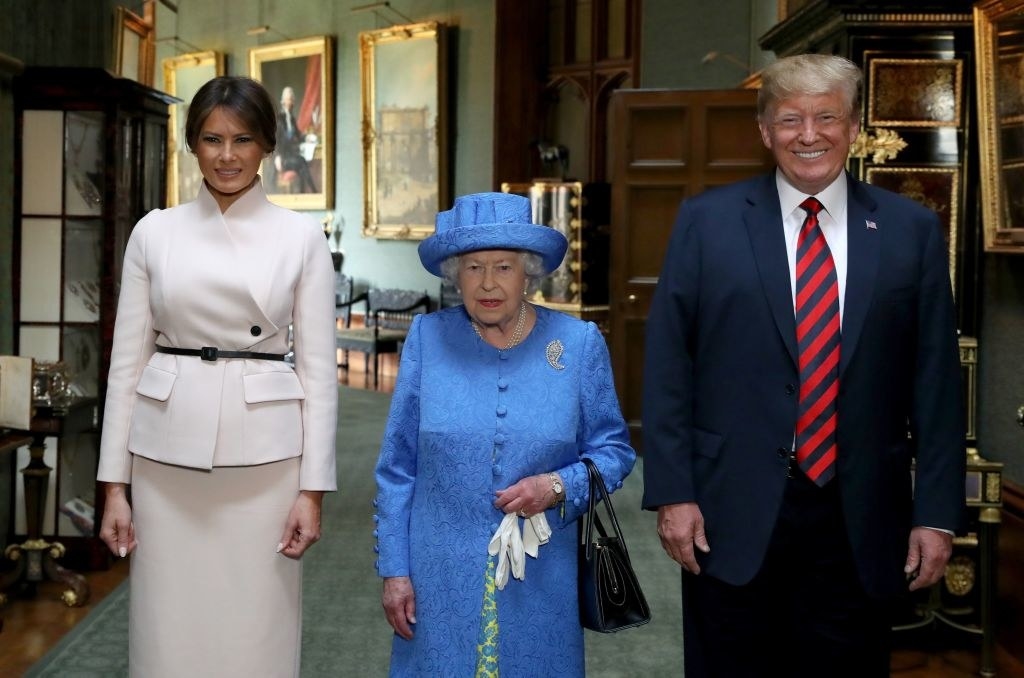 At the end of the interview, he gleefully describes barging past the White House press corps travelling on the plane, knocking their prepacked meals, for which they have to pay, off the table as he goes.
"Some grinned at me in grudging admiration and shouted out 'what did he tell you?'" he said. "Others stared jealousy-ridden daggers. Many just instantly hit their phones to tweet that I was there and had done an interview."
He also described how he showed Trump his gratitude for granting him this exclusive access.
"I presented Trump with a gift – a kilt made from his family's tartan McLeod," Morgan wrote. "He seemed genuinely moved by it."
The full interview will air on ITV's Good Morning Britain on Monday at 6am and will be repeated on ITV at 10:40pm.