"The Time Has Come": Thousands March To Legalise Abortion In Ireland
"I treated a girl who was so desperate, she performed her own abortion with a coat hanger," a retired nurse who attended the protest told BuzzFeed News.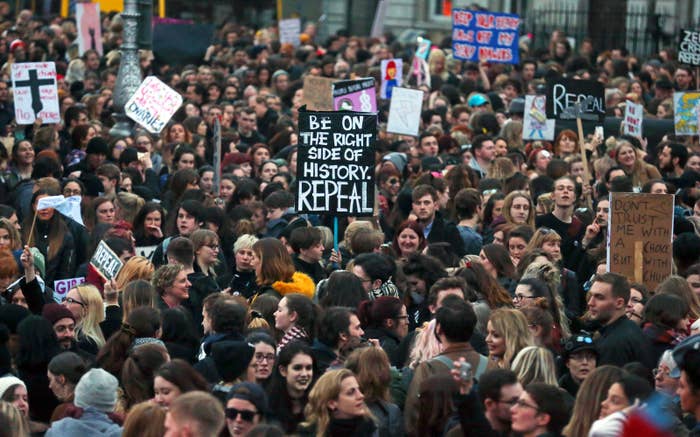 DUBLIN – Thousands of people marched through Ireland's capital on Wednesday evening to demand the government repeals its highly restrictive abortion laws.

The "March4Repeal" was the culmination of a series of actions planned for International Women's Day to protest against the eighth amendment of the Irish constitution, which states that abortion is prohibited except for when a pregnant woman's life is seen to be at immediate risk.
Earlier in the day, students across Ireland walked out of lectures as part of a "Strike4Repeal" in protest against the country's abortion laws, completely blocking the O'Connell Bridge in Dublin's city centre.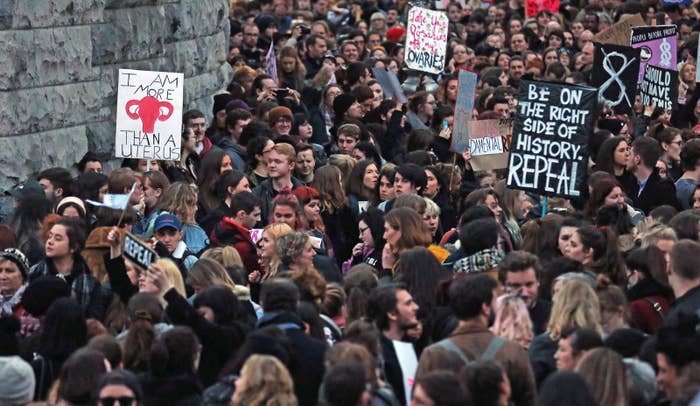 An estimated 10,000 people marched from the Garden of Remembrance in Parnell Square to parliament buildings in Dublin, according to organisers, although local police could not confirm the figures.
"It's really important for women to come out in solidarity and show that we have strength in numbers – we need to say we're not standing for this any more," Ailbhe O'Connor told BuzzFeed News as the march began.
"The 'repeal the eighth' issues are not necessarily just about abortion, it's about choice, so they come together. It's giving choice back to women."
Una Halligan, a retired nurse who had worked in Dublin's hospitals for 45 years, carried a sign depicting a bloodied coat hanger that read "never again".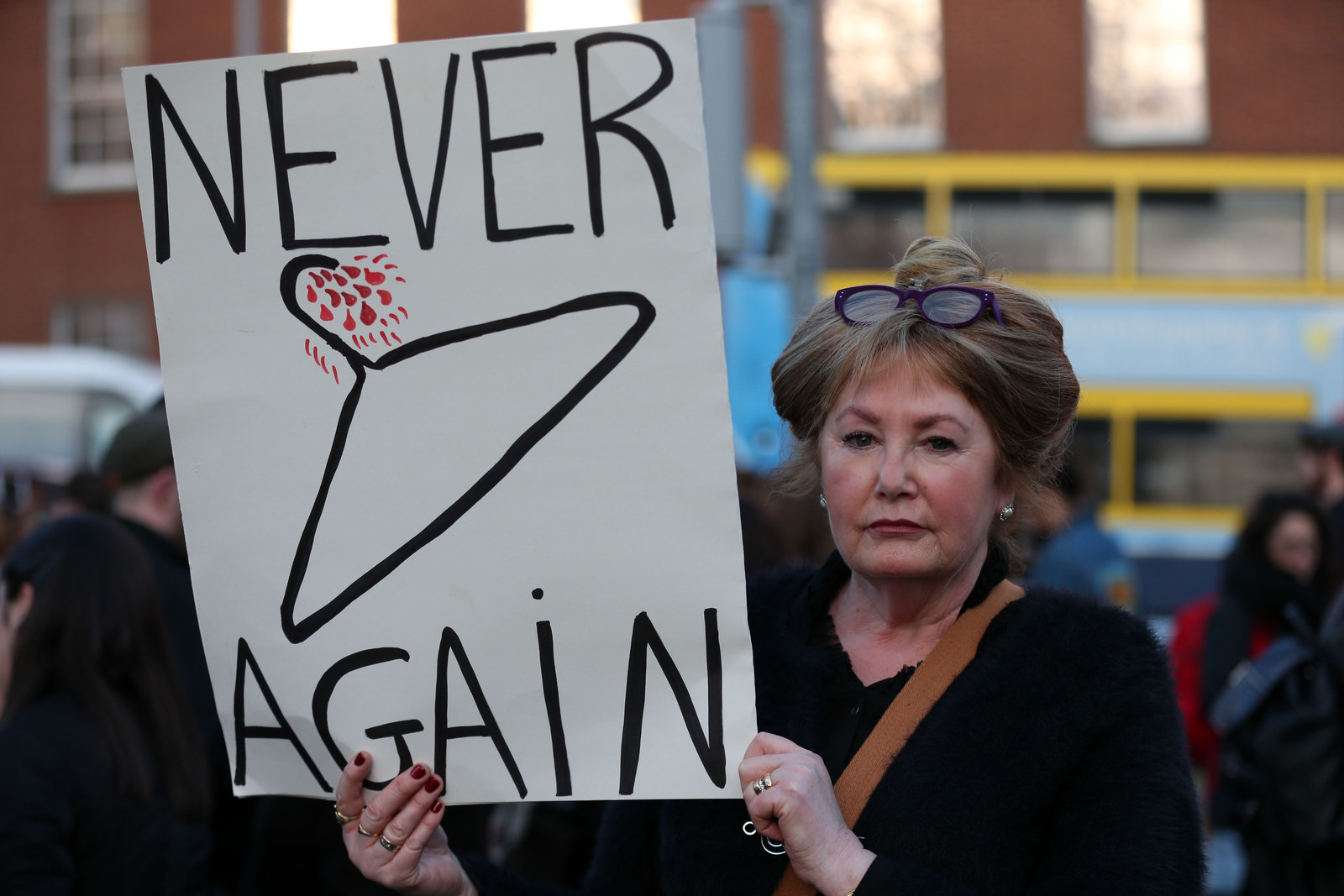 "I nursed a girl who was so desperate, she performed her own abortion with a coat hanger," she told us. "That was the only time I ever saw that, but there were a lot of similar desperations."
Many women she treated simply went ahead and had their babies against their will, Halligan said. "They just didn't know what to do – there was no option in Ireland and it's not much better now."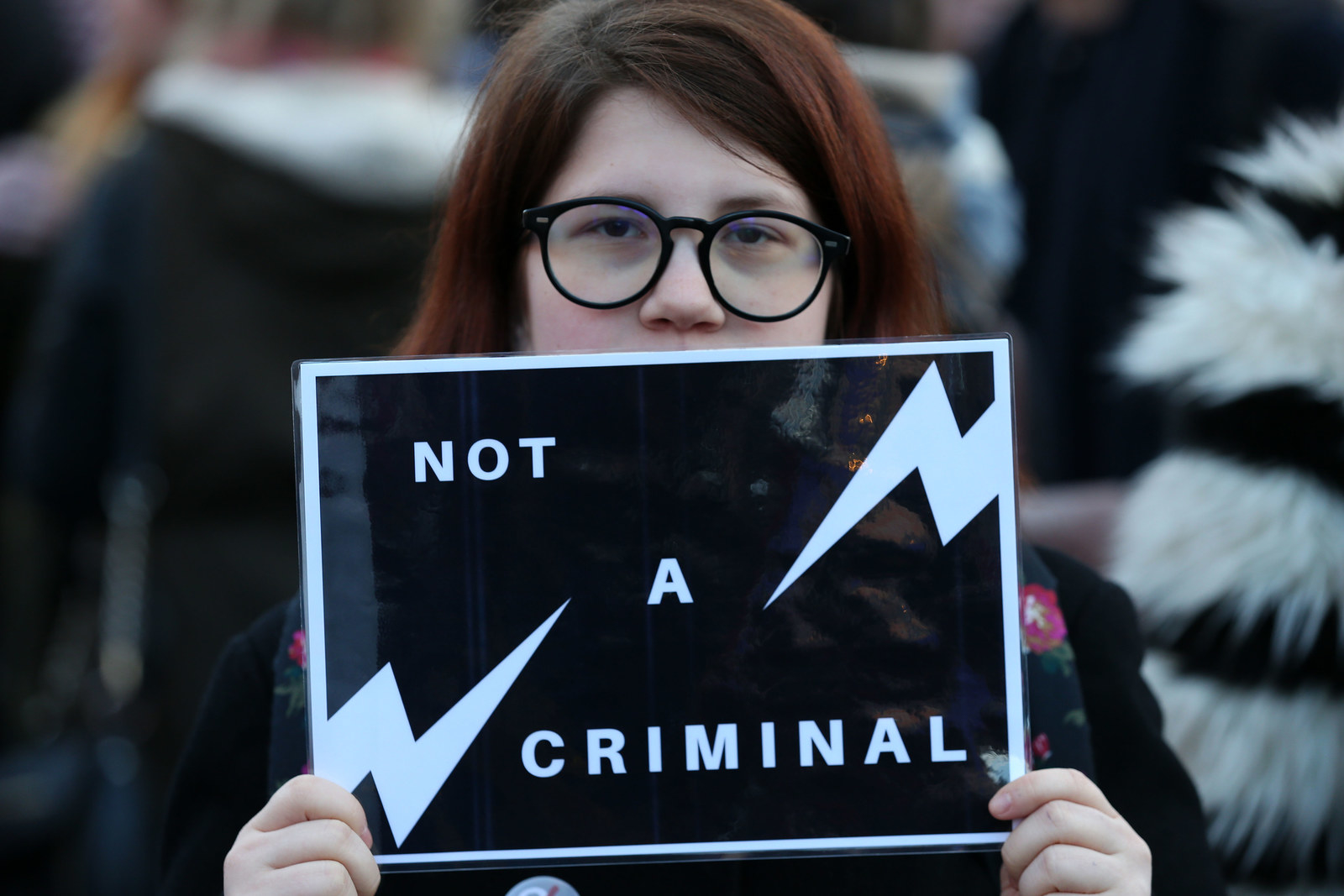 But she remained hopeful that the mass support for Wednesday's march showed Ireland was close to holding a referendum on abortion, saying: "I'm in my late sixties now. I hope we see it."

Stella O'Connor, who was selling "repeal" badges at the march and is also in her sixties, said she had seen a huge shift change in attitudes to abortion.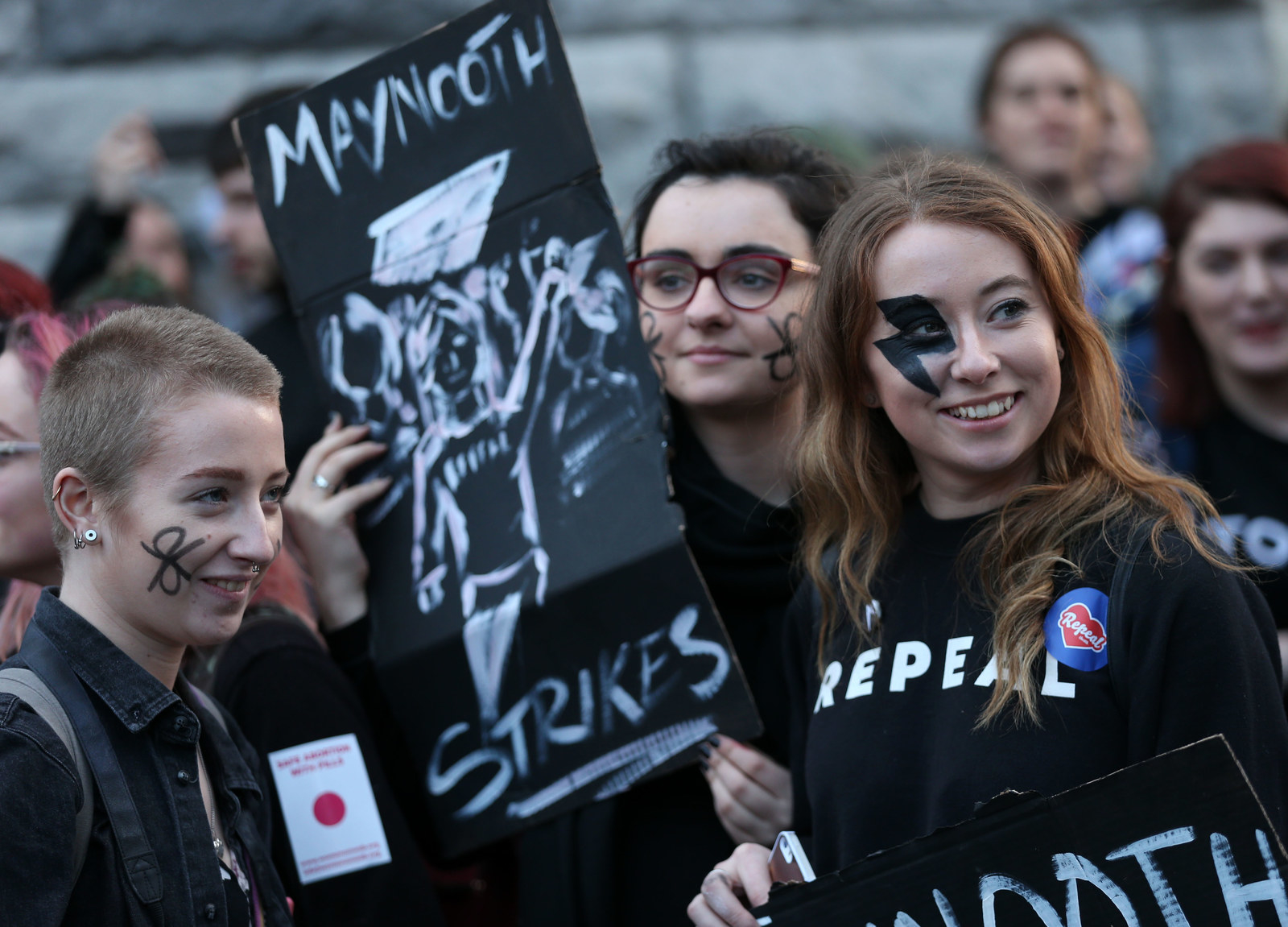 "Twenty-three years ago when I came to Ireland, 'abortion' was a word that people wouldn't even say," she told us. "I am happy about the way things are changing. The time has come."

Her daughter Tara felt that the influence of a growing young population was bringing about that change. "The influence of young people is so much bigger than ever before," she told us. "We're pushing a liberal mindset much more than we were in the '80s and '90s – it's why we've seen so much change over the next 20 years."
Grace, 17, who attended the march wearing her school uniform with the ubiquitous "repeal" jumper told us there was a huge amount of support for abortion rights among her fellow students.

"I think seeing young people, especially young women, getting out on the street and fighting for the pro-choice movement is great," she said. "The eighth amendment was introduced in 1983, so the youngest person who could have voted for it is now 51."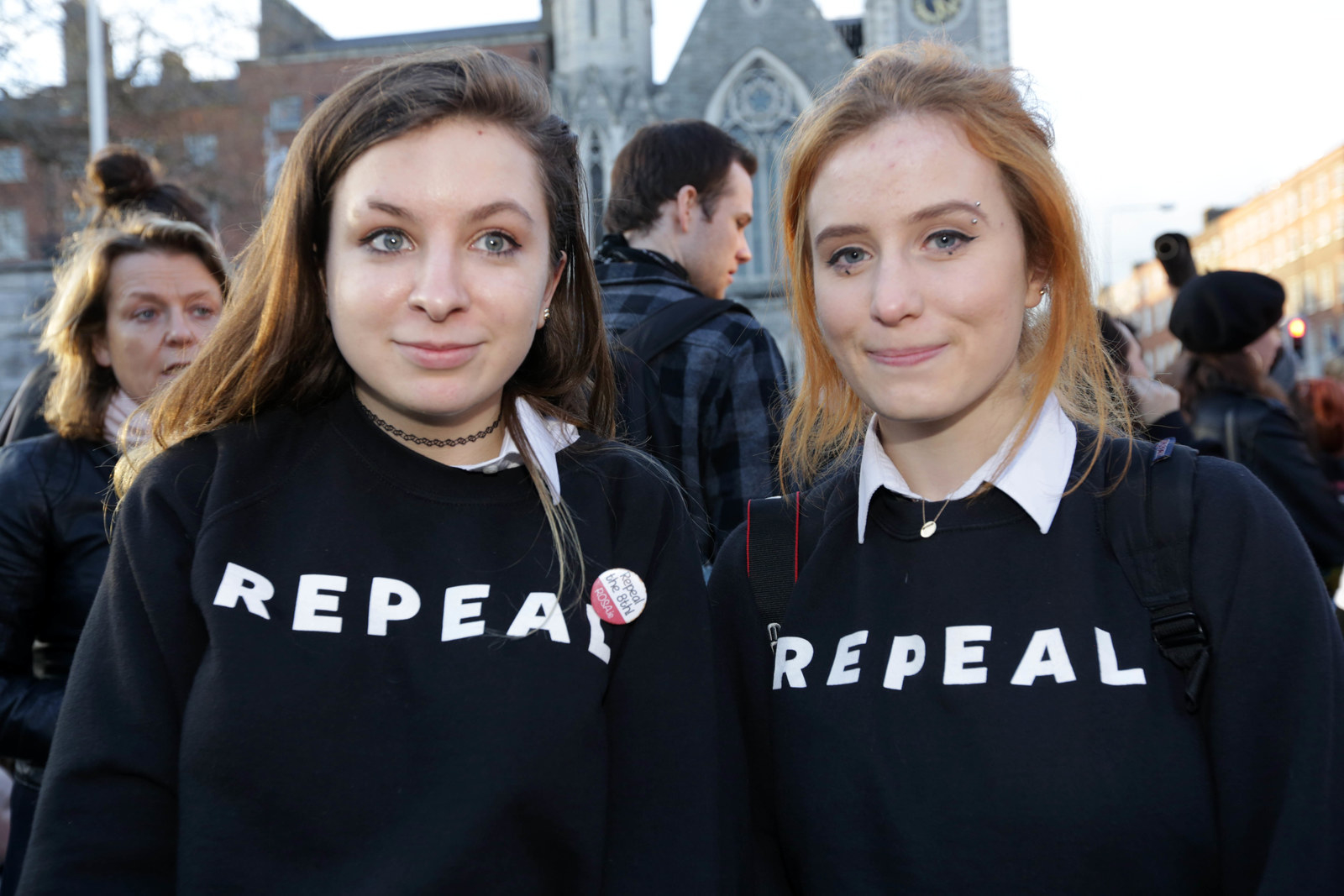 She added: "Nobody of child-bearing age has had a say, so we're here today to say this is a law that affects us, and we're not going to take this ban on abortion any more."
Every day, an estimated 12 women in Ireland travel to England to legally access an abortion, often at a cost of around €500, and up to €1,500 for later terminations, and a further three women purchase illegal abortion medication online.
"I think it's really important that women have a right to choice in their own country, and women who are in a situation where their baby might not survive the pregnancy don't have to travel to England," Erica Rodgers, 22, told us during the march.
"The sort of thing as traumatic as an abortion doesn't need the added trauma of travelling."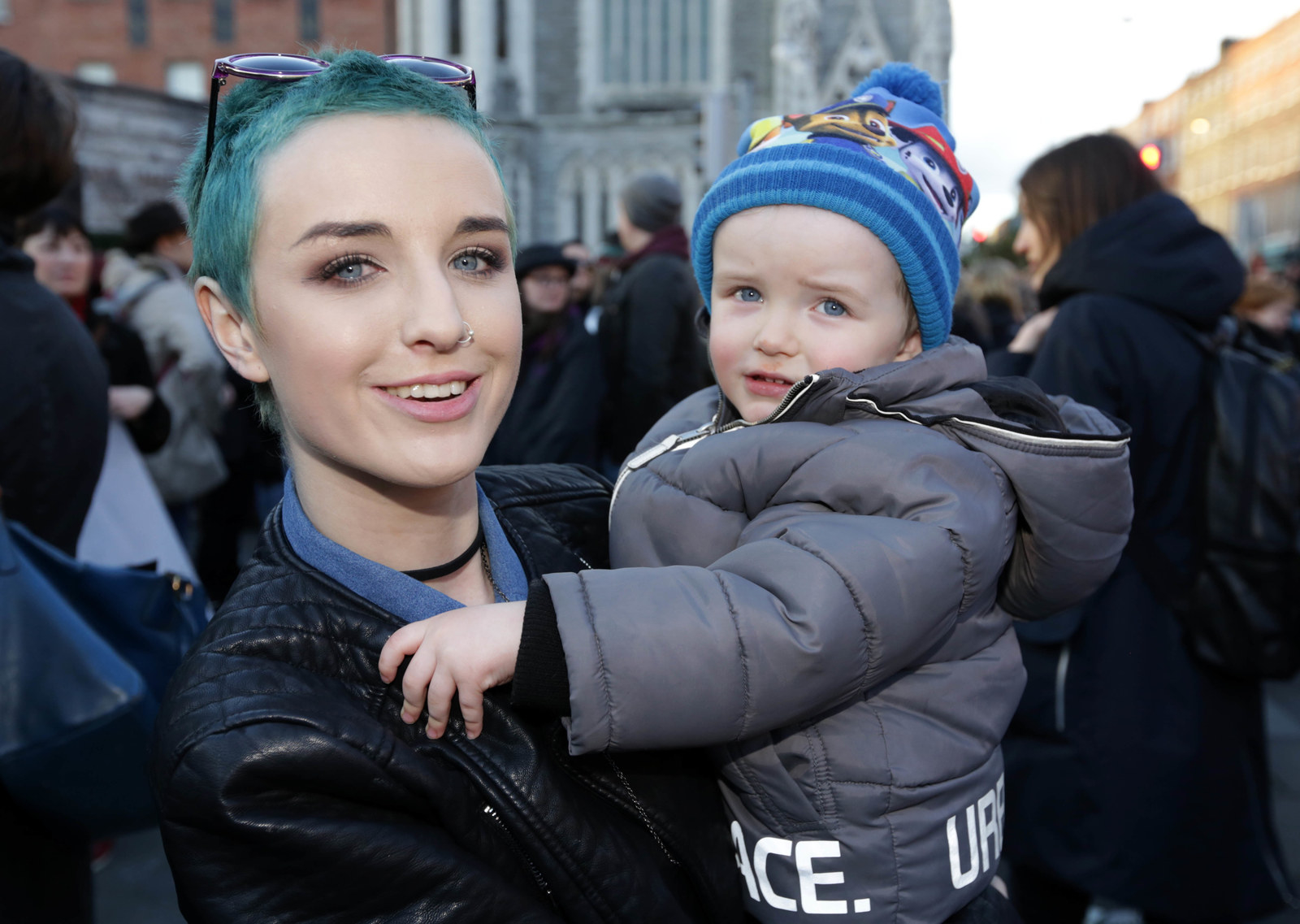 Rodgers was joined on the march by her 3-year-old son Noah, and felt that women with children were just as much in favour of abortion as the many younger protesters on the march.
"You can be a mother for choice, by choice," she said. "If I didn't feel I was able to have a child when I did, I wouldn't have done it. The choice should be there. It doesn't matter if you're already a mother, if you can't do it, you can't do it.
"I don't think I personally could ever go through with an abortion, and I have my son and I love him to pieces, but I don't think every woman feels that way and they shouldn't be forced to have to."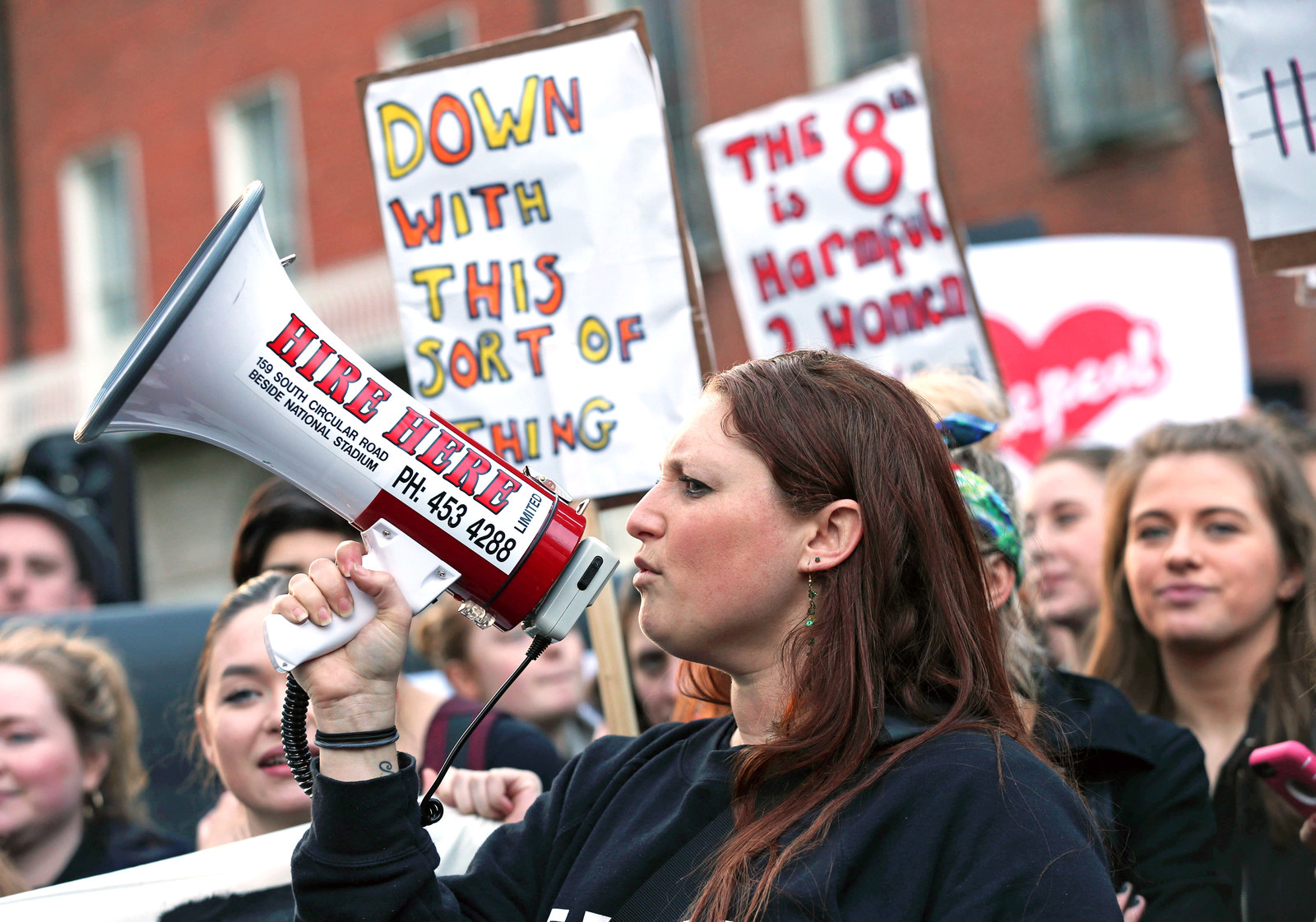 Women across the country and globally also wore black to work or took the day off in solidarity with the "Strike4Repeal". Earlier this week, reproductive rights group ROSA travelled around Ireland on the "Bus4Repeal", holding rallies and distributing information about safe medical abortion.
At both events, as well as at Wednesday's march, activists wore black jumpers with the word "repeal" printed in white text across the chest, an image that has become synonymous with the 'repeal the eighth' movement.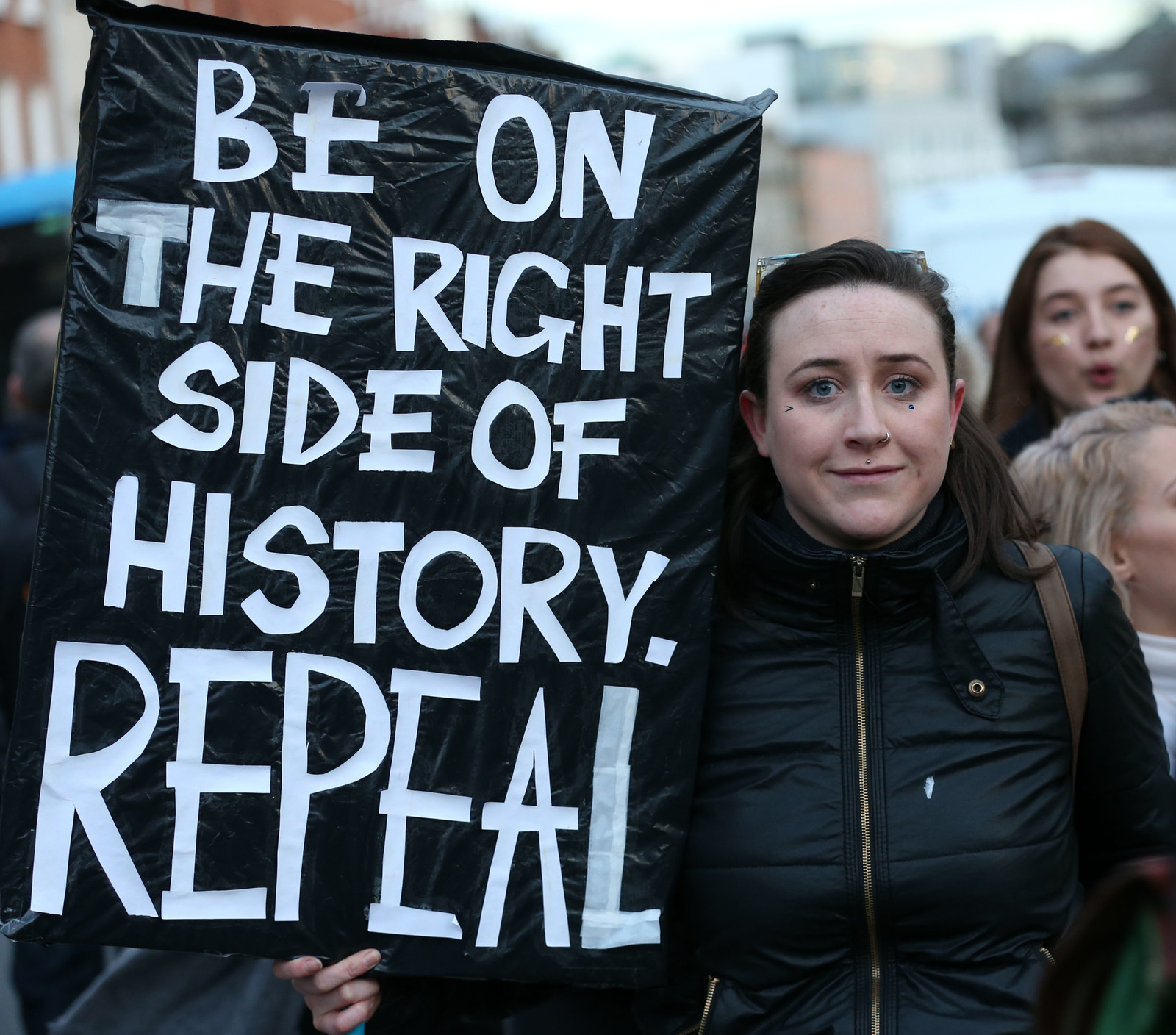 "I wanted to distil the movement into something that people could wear that would act as a stigma-buster for women who they themselves have had abortions," Anna Cosgrave, who designed the jumper, told us on the march.

"It's a unified and solidified growing movement. There are over 80 groups in the coalition to repeal the eighth, so to have this unified image of 'repeal' is really helpful."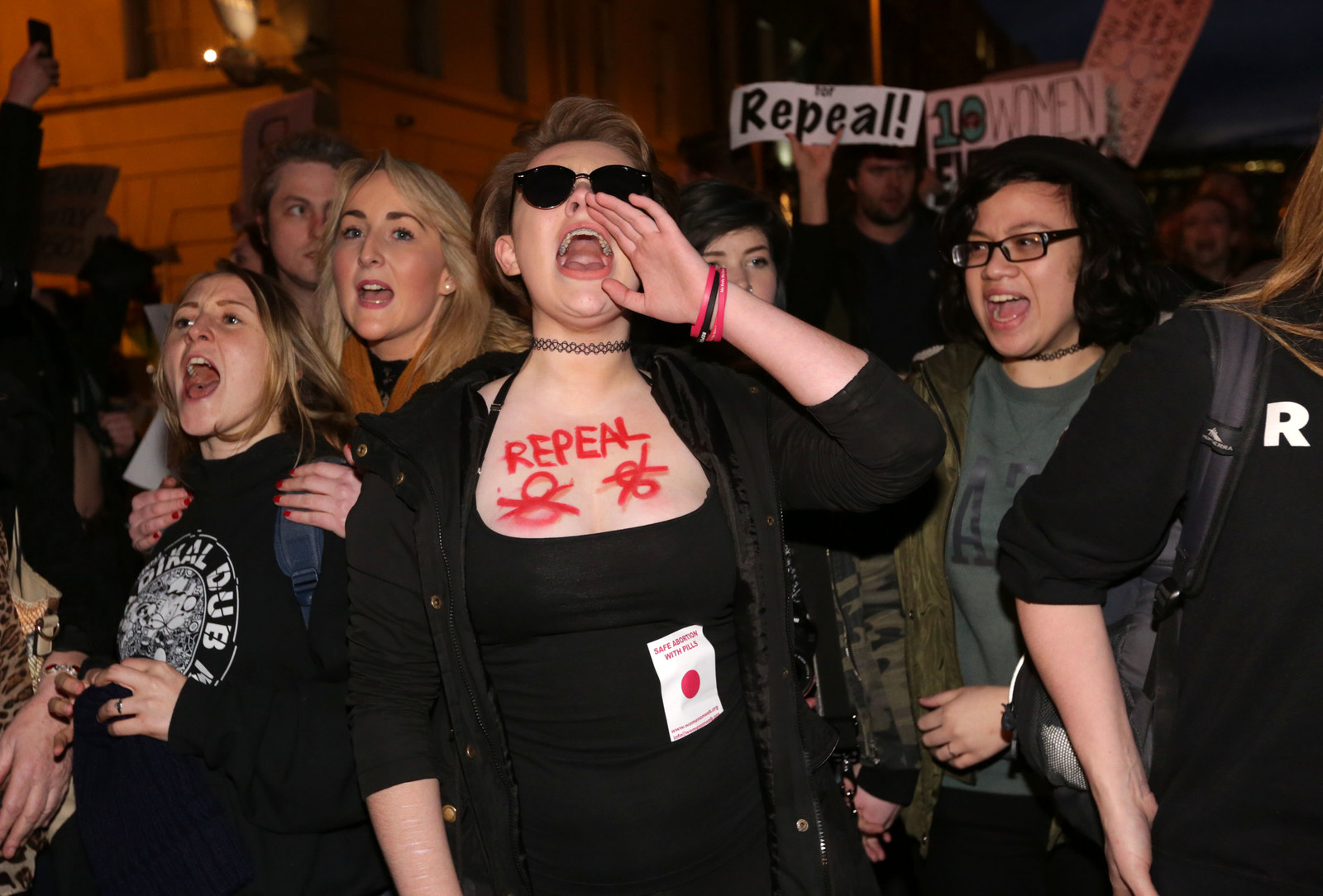 At Leinster House, parliament's main building, protesters were confronted by anti-abortion activists holding graphic banners showing photographic images of aborted foetuses.

As increasingly loud chants of "Our body, our choice!" and "Enda, Enda, where's our referenda?" – a reference to the country's prime minister, Enda Kenny – rang round the streets, it became clear whose voices in Ireland were most likely to be heard.