Fans of metaphors would have been pleased to see Tim Farron bound onto a beach in Somerset this week dressed in a jumpsuit with "Search and Rescue" written on its back, as the Liberal Democrats began the South West leg of their campaign tour.
"We think the people here deserve the final say on the Brexit deal – we should have a champion here who fights your corner," Farron told a modest but enthusiastic crowd of activists, gathered in Burnham-on-Sea to to watch him drive around the beach in a hovercraft with the party's local candidate Tessa Munt.
With Hinkley Point power station looming behind them, the pair climbed aboard – Farron with his thumbs in the air and a grin across his face – as a group of journalists avidly snapped and tweeted around them.
"You wouldn't see Theresa or Corbyn doing this!" one supporter said gleefully as Farron sped across the sand, never quite reaching the sea, while shuffling pensioners passing the beach looked on with little more than curious indifference.
The Lib Dems are trying to grab people's attention in the South West, which not only turned from yellow to blue at the last election, but also registered some of the highest Leave votes in last year's EU referendum.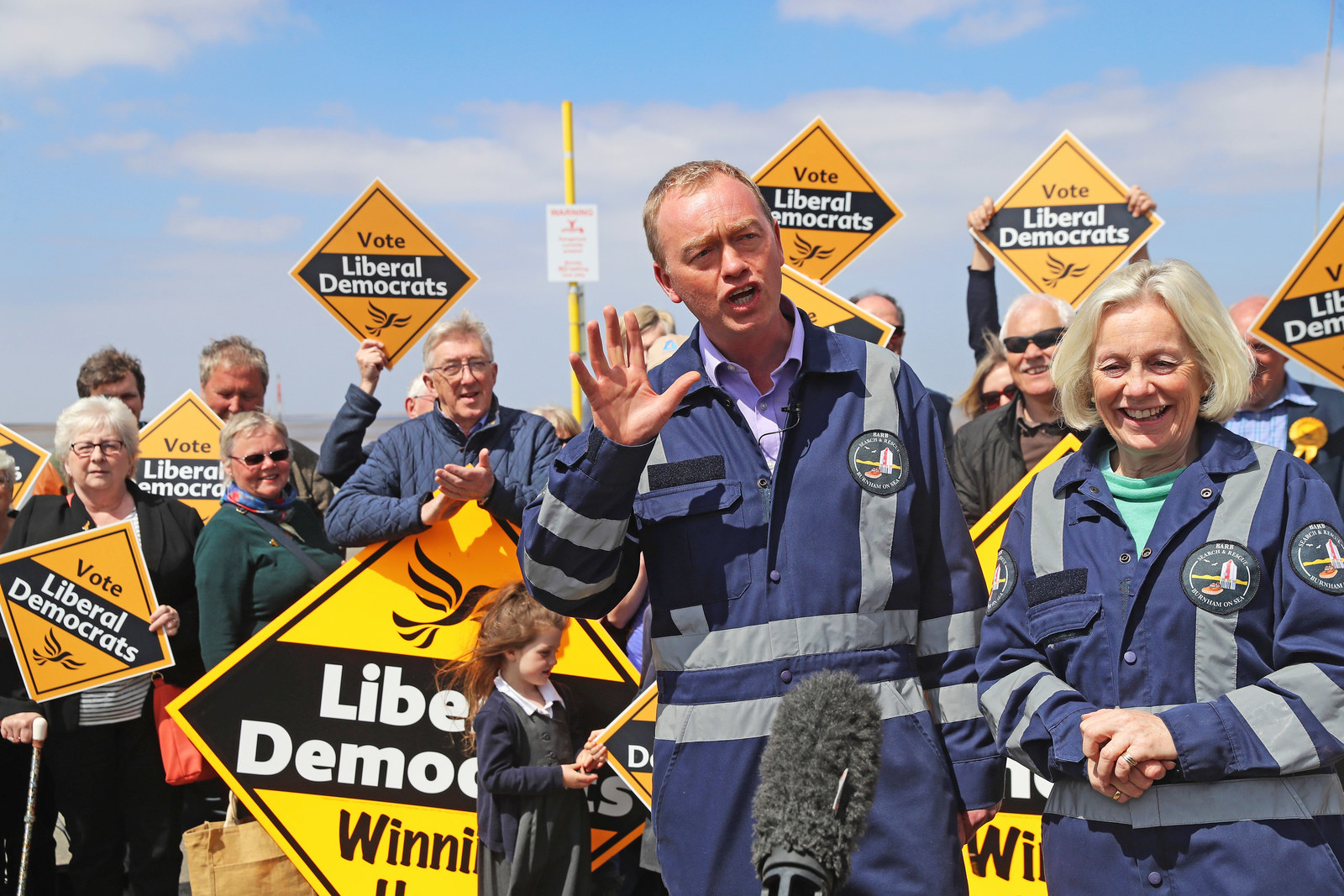 Nevertheless, the party's battlebus rolled into Cornwall and Somerset with a clear mission to retake the former heartlands.
Farron believes the economy in areas like Cornwall, which has received generous EU funding, could fall off a cliff post-Brexit, and as the only party explicitly opposing a "hard Brexit", the Lib Dems are setting out to save those areas, while saving themselves along the way.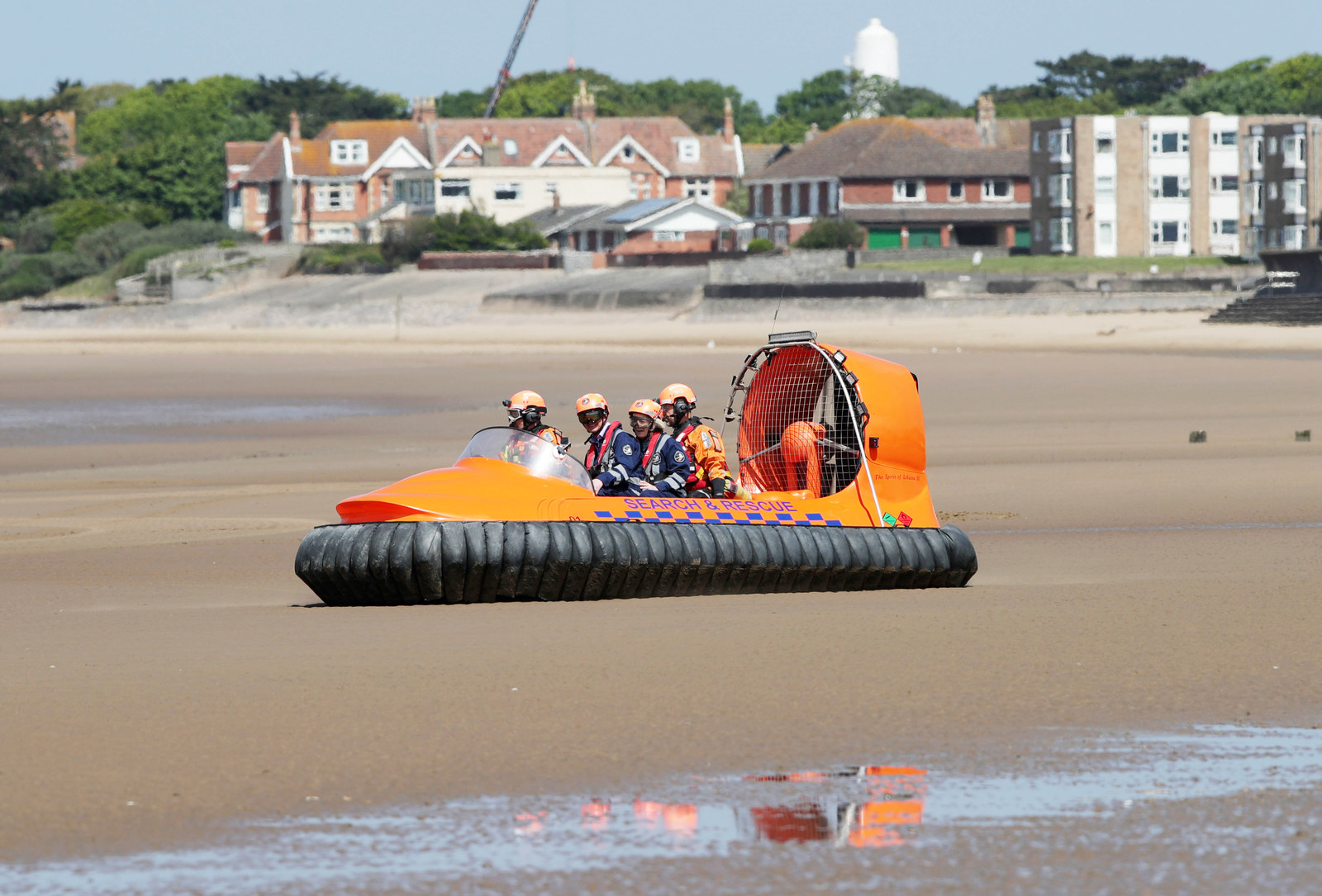 Farron told BuzzFeed News there was a real "buzz" about his party when we joined him on the battlebus after he had finished his hovercraft ride.
He retained the same sunny disposition evident on the beach earlier, joking with journalists and political aides as he made cups of Earl Grey and dipped into a tub of mini-flapjacks before sitting down to talk.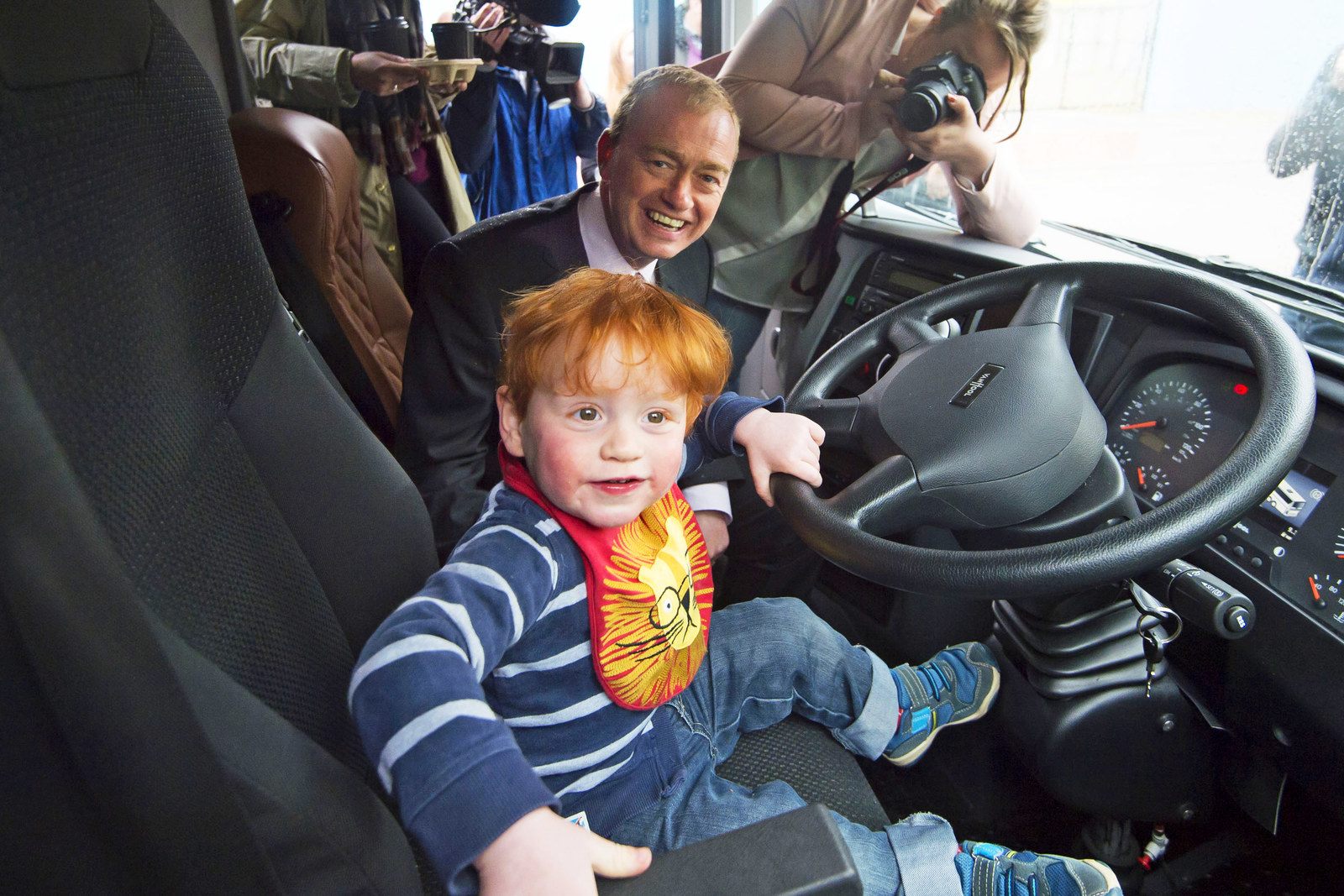 "Given we know who's going to win already, it's a very powerful way of looking at the choices," Farron said. "We have a clarity of purpose and we see a vacancy for the role of opposition that we're determined to fill."
The South West has often felt neglected by Westminster, and the Lib Dems are offering to provide a strong voice in parliament for local industries, including agriculture, fishing, and tourism, in order to soften the impact of Brexit.
For the leader of a party that had just nine MPs before parliament was dissolved, Farron is hugely ambitious. He said he saw success in the region as a barometer of how realistically the party can eventually eclipse Labour as the main opposition, and even, however improbable it currently seems, lead the government.
He dismissed the idea that Cornwall's high Leave vote could prove an insurmountable challenge, pointing to an increased vote share in this month's local elections. "The idea that there's a Remain place or a Leave place or a Brexit place with extreme examples is not so," he said.
Crucially, he does not believe that Brexit supporters backed a deal that was "being stitched up behind closed doors" in Brussels and Westminster.
"Cornwall's facing £277 million of health cuts, and something like £30 million [of] school cuts," he continued, something Conservative MPs who've held seats in Cornwall since 2015 have not generally opposed.
"The simple reality is that Theresa May is going to win with a landslide," he said. "What we're looking at now is whether you use your vote to enable a Conservative MP who will simply toe the line.
"If Cornwall returns a load of conservative MPs again, they'll just be taken for granted."
Leaked audio revealed Lib Dem veteran and candidate for Twickenham Vince Cable urging people to vote Labour where Lib Dems had little chance of winning, to prevent the Tories getting in. May has claimed that a vote for anyone other than herself and her team (aka the Conservative party) could lead to a "coalition of chaos", mirroring the Tory election tactics of two years ago.
While Farron has repeatedly ruled out entering a coalition with any party, he appeared to be pleased that May seemed worried enough to keep floating the possibility.
"It's actually quite encouraging if your opponent's main attack line is weak and implausible," Farron told BuzzFeed News.
"Jeremy Corbyn and Theresa May have found themselves on the same extreme side of the most important issue to face our country for generations.
"It turns out they've got more in common with each other than they have with me."
Farron criticised May for "not spending any time with anyone normal," suggesting she was avoiding situations where she might not know how to respond.
"I don't mean to be harsh, but if you want to lead the people and it doesn't look like you even like the people, why should they vote for you?" he continued.
"If you haven't got it in you to cope with a Malcolm from Oxfordshire, what chance have you got with [president of the European Commission Jean-Claude] Juncker? The Tories are so astonishingly complacent. They're taking everybody for granted."
Last week BuzzFeed News spoke to voters in South Gloucestershire, another target Lib Dem seat, who said they would vote Tory because they felt there was no other option. Farron nodded in dismay when we mentioned this, saying it highlighted the need for a strong opposition.
"If people are persuaded to vote for a party they don't like and don't trust, what does that say about the official opposition?" he said. "There is an enormous vacancy for an opposition."
He believed that taking this realistic approach to politics over the next few years might help the Lib Dems to fill that vacancy. "Let's stop fooling ourselves and start talking about the election as it is rather than what people would like it to be," he said. "That doesn't mean you shouldn't be ambitious, and I am ambitious," Farron continued, adding that he believed liberally minded Brits could orchestrate the same sea change that saw French president-elect Emmanuel Macron's march to victory last week.
At a town hall event at Penwith College in Penzance on Tuesday evening, Farron continued to position himself as a man of the people facing up to a Tory win.

"It might depress me, but it is the reality that the Conservatives will get a landslide – let's not pretend that we are somewhere that we're not," he told the packed-out lecture theatre.
Farron asked the audience to consider how a Tory landslide might impact their families, the NHS, and education in the area. "Just imagine what that might mean for the area here and across the whole of Cornwall," he said.
"[The region's Tory MPs] have not rebelled on a single piece of legislation – every affordable home flogged off, they voted for it, every council cut, they voted for it, every school cut they voted for," he continued.
"You need people who will fight your corner and do it tooth and nail. Theresa May, with a colossal majority, will take you for granted."
In the following Q&A, a fisherman questioned how Farron would help him and his colleagues "take back British waters" amid the party's plans for a softer Brexit.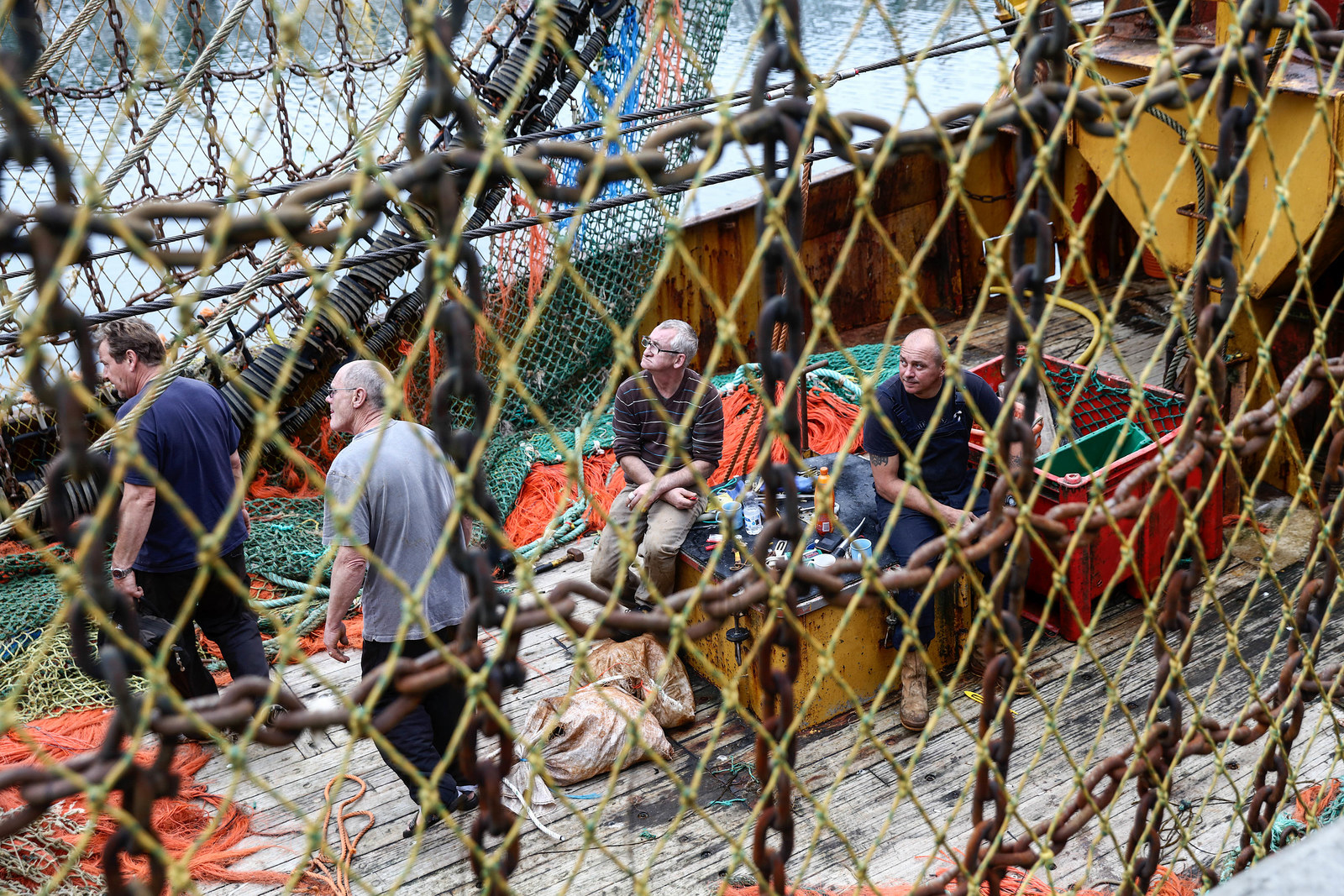 The fishing industry in Cornwall fiercely backed the Leave campaign, swayed by promises that Britain would be able to regain control of its waters and not be bound by the tight quota on fishing dictated by the European Common Fisheries Policy (CFP).
"I've always taken the view that being in the EU doesn't involve being an apologist for the daft things that they do," Farron replied, noting that Brexit secretary David Davis's proposed tariffs of 30% on fish exported to Europe would be far more ruinous for the industry than current CFP restrictions.
The fisherman wasn't satisfied, saying Farron hadn't properly answered his question, prompting an intervention from the Lib Dem candidate for St Ives and Isle of Scilly, Andrew George, who said ownership of waters was a matter for the UN, rather than the EU, and wouldn't be changed by Brexit.
"The fishing industry in the eyes of the Conservative party are little minnows in the negotiations over the future of the EU," George continued. "You need people who are going to believe in it and fight for it".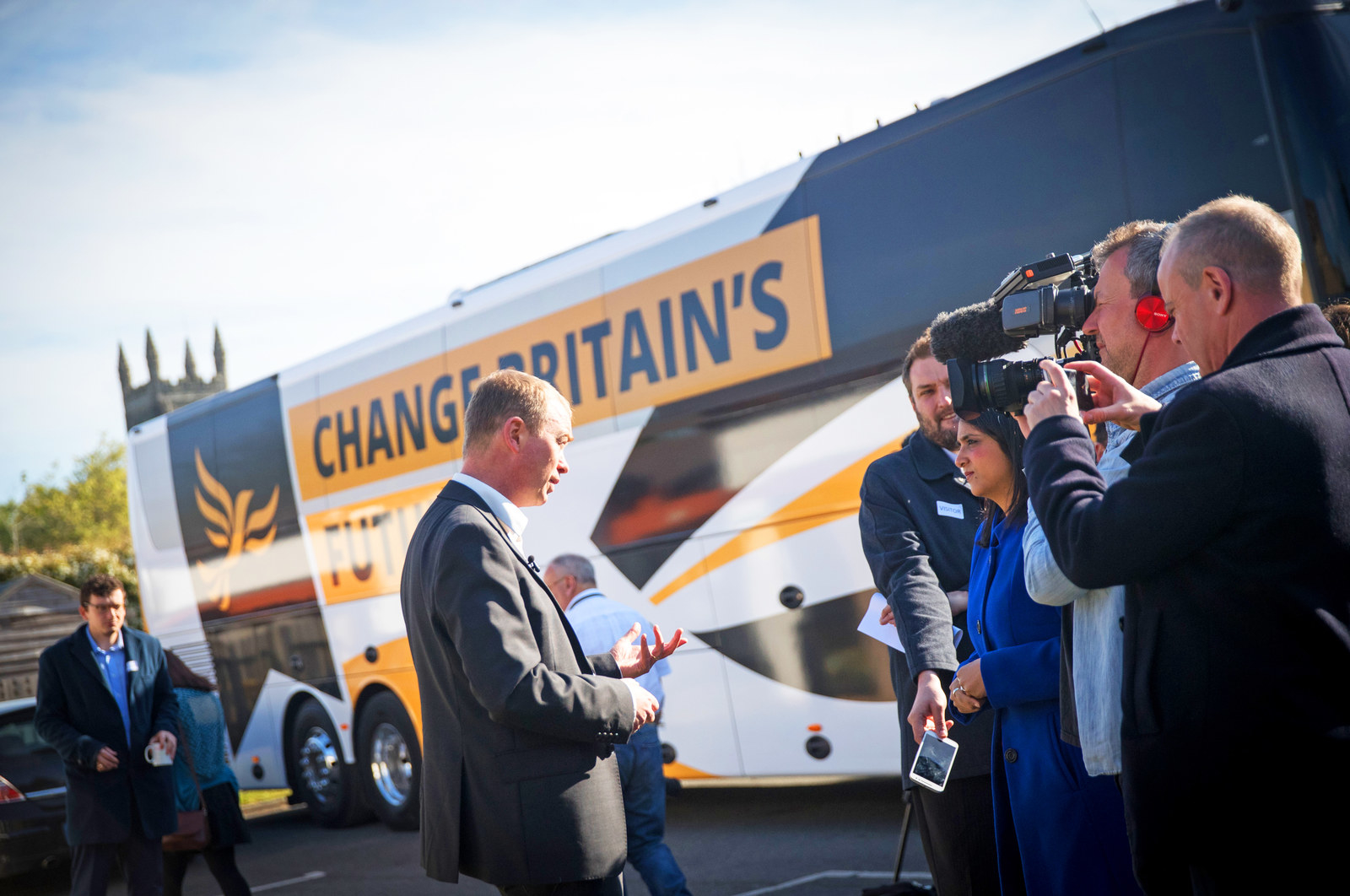 Tory Derek Thomas is seeking re-election to retain the seat he won from George in 2015. Speaking to BuzzFeed News in a café near his harbourside Penzance office, which overlooks the historical site of St Michael's Mount, he claimed his "access to the government in power, which I have – assuming Theresa May wins" was a clear advantage.

"There's a choice between someone who will be very vocal and critical of the way things are going, or someone who is prepared to work with the government to get the investment, get the skills, and open up the opportunities for businesses here to expand their markets," he said.
In contrast to the Lib Dem message, Thomas seemed unconcerned about the loss of EU funding. "We've had a lot of European money but we've also seen it wasted," he said, noting that since 2015 he had already seen more investment in the area from the Treasury than the EU. "If you look at the roads being built and the schools being built, all that is government money."
But the views of locals suggested the Lib Dem claim that the Tories have neglected them may resonate for many. Matthew Thomson, the CEO of Fifteen Cornwall, the charitable restaurant enterprise founded by Jamie Oliver, who also sits on the European Investment board for Cornwall, told BuzzFeed News the board had waited months for assurances from the Treasury that funds would be protected until 2020. After that, there are no assurances.
"The growth fund bid from Cornwall was for £110 million and we got £18 million," he added.
Thomson said Europe's vision of creating "regional parity" had singled out areas like Cornwall to benefit, with the aim of creating a "bigger cultural tapestry".
"I don't think that's an approach that any Westminster government has ever had," he continued.
"I'm glad Derek believes that would all just happen by laws of gravity, but I haven't seen any significant structural funding that looks like it's coming."
Rob Nolan, the Lib Dem mayor of Truro, put it even more bluntly when BuzzFeed News met him for coffee. "I just haven't seen it," he said. "[Thomas has] put a sign on their office door saying it's the Cornish embassy and that's it, job done. It's just gesture politics."
"Brexit is a disaster for Cornwall," he added.
"We've had a bucket-and-spade economy for a long time which we're trying to break out of, and money from Europe has helped us do that," he continued, referring to the highly precarious and largely seasonal tourism economy the region has long relied on.
"It's been a chance to build, and that's now in doubt because the £60 million funding is going to be missing. We need to move on. We can't go back to just being a holiday place."
Nolan said he felt that Cornwall's Tory MPs elected in 2015 had done little to secure replacement funding for the area when the EU funds are no longer available, and it was important that as negotiations unfold there were local voices pushing the government for the "softest of soft Brexits."
"I wouldn't be going out on a limb if I say that I think the Conservatives will win the election," he continued. "Whether [May] has a majority of 50 or 100 doesn't matter, but it will matter in Cornwall if we have a Tory MP who just votes with the government time and time again and doesn't bother to represent us."
The Lib Dems could also capitalise on the numerous other aspects of life in Cornwall that could change for the worse if funding drops. Mark Hatwood, who runs a gallery and online art dealership in Truro town centre, singled out EU investment in superfast broadband, which was instrumental in setting up his business. He said he was "extremely disappointed" with the Brexit result. "Cornwall always ends up being at the dog end of everything and I think it affects us hugely here," he said. "I'm astounded that so many people in Cornwall voted to Leave."
Amplifying doubts about Brexit could be a pivotal strategy for Farron and his party. George, the Lib Dem parliamentary candidate, wants to tell the Brexit-supporting fishing industry that the likes of Nigel Farage played a "cruel hoax" on them by suggesting there would no longer be quotas on the number of fish that could be caught if Britain left the EU, or that foreign boats could be banished from British waters.

"It's the equivalent of putting it on the side of a red campaign bus. It's as honest as that," he added.
Johnny, a fisherman BuzzFeed News met in Padstow who preferred to not give his surname, said he voted Leave but that his perspective could be shifting as he fears the fishing industry had been "sold up the river".
"I think as an industry we thought, Yes, we're going to get our waters back, when in reality we're not going to get our waters back," he said. If current European regulations were replaced with equally restrictive World Trade Organisation regulations, it would leave smaller fleets like his worse off.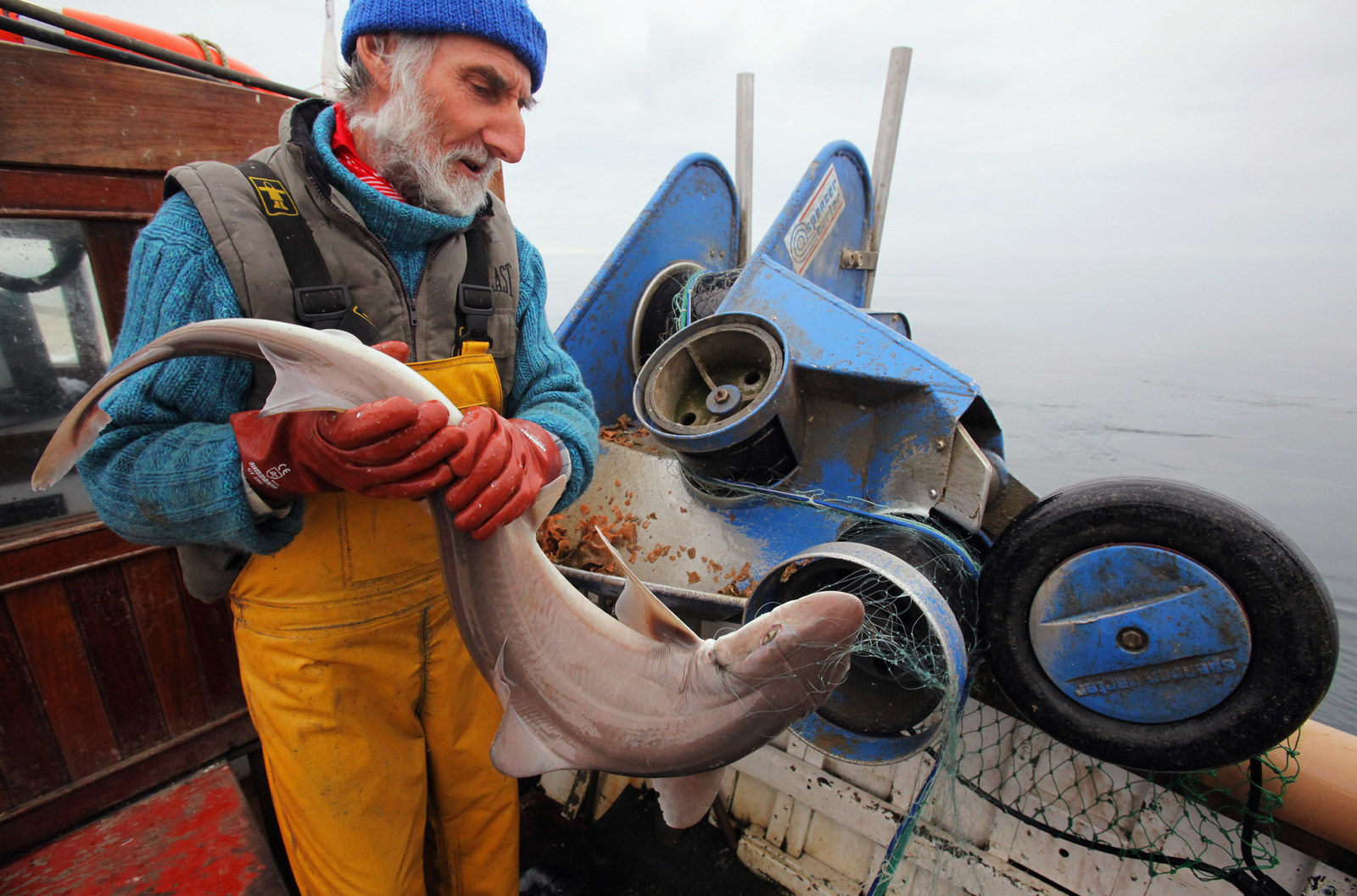 Chris Bean, an older fisherman who was running a stall at Truro's farmers market, said he felt like a lot of the younger generation of fishermen had been "naive" about the Brexit vote. A Remainer who planned to vote Lib Dem, he feared that cutting off relations would stop European countries buying UK fish: "They'll buy it from somewhere else where they don't have to negotiate different prices."
One force that the Lib Dems will have to contend with, in Cornwall as well as nationally, is May's image as a safe pair of hands. Jenny Keeler, an asparagus producer who was selling her farm's "legendary" green spears at the farmers market, voted Remain but trusted May to do a good job of Brexit: "I think she's strong, she's good."
In Penzance, Lorraine Harvey, who runs a small bohemian boutique selling incense and silver jewelry, was sceptical about whether the Lib Dems could, or should, alter the course of Brexit.
"I used to vote [for] them, definitely, but I really don't agree with anything Tim Farron says. I do find him quite a weak leader," she told BuzzFeed News. Harvey, who plans to vote Conservative, said she was sick of parties simply railing against the Tories as a campaign strategy. "If they came out with some proper policies and things, then maybe I might be interested," she said, "but they're not."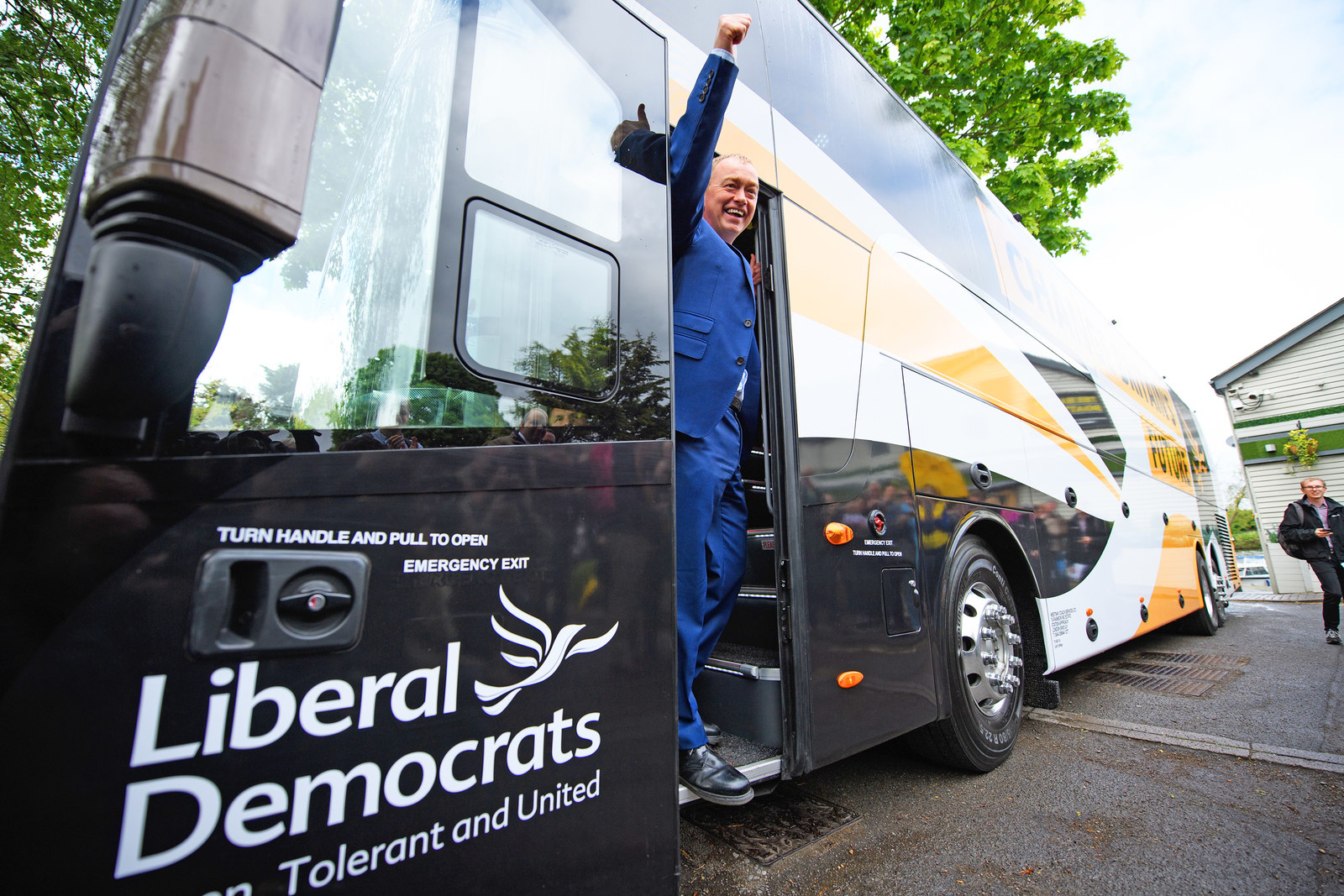 Trust could be the undoing of the Lib Dems' hopes in Cornwall for another reason. The party is still haunted by former leader Nick Clegg's pre-election pledge not to raise university tuition fees, a promise he broke in coalition with the Tories.

Ben, 24, who didn't give his surname, back in his hometown of Padstow after recently completing an English and journalism degree at Exeter, felt he'd been particularly stung by the changes to tuition fees. "If I'd have gone a year earlier I'd have paid £2,500 per year, but I paid £9,000," he said.
Ben planned to vote Labour, despite the fact that the party has very little influence in Cornwall, and said a Lib Dem vote was a "bit of a wildcard".
"I voted Lib Dem in my first-ever election in 2010 and we got the coalition, so my vote pretty much got handed to the Conservative party anyway, which put me off a bit," he said. "It's a shame because a lot of their policies suit me."
A group of Falmouth University students in Truro town centre, aged between 19 and 20, had a similar view. "I think most people's trust left the Lib Dems when they went into coalition," Rachel, aged 19, told us. "With tuition fees they were promising one thing and then the opposite thing happened."
Among the group of six students, four planned to vote Labour and two said they would vote Conservative. None opted for the Lib Dems. "I just don't know how much difference it would make," said Rachel, one of the Labour voters.
Farron's lack of a strong national profile as leader, former Lib Dem MP George said, was another reason the party was struggling to regain the trust of the electorate. Several people BuzzFeed News spoke to were familiar with and positive about George, but most expressed indifference at mentions of Farron's name.
Much of the Conservatives' campaigning nationally has focused on May rather than the party, which George believed was a canny move. "Nothing against Tim, but they do have an advantage with 'Queen Boadicea' on their leaflets," he said, noting that putting his party leader on his campaign materials could even be a hindrance.
It was telling that people's main response to Farron's successful performance at the previous night's town hall event was one of surprise, he said. Despite the leader's enthusiasm, it could be that his message – and its messenger – won't have cut through enough in the Brexit-backing area to make a change at the ballot box in four weeks' time.
"The false and unfair impression is that he's not yet an asset, and that's a great pity," George said.