The Home Office Has Decided Not To Introduce National Abortion Clinic "Buffer Zones"
Home secretary Sajid Javid said that banning protests outside abortion clinics would "not be a proportionate response" to more than 2,000 reports of harassment.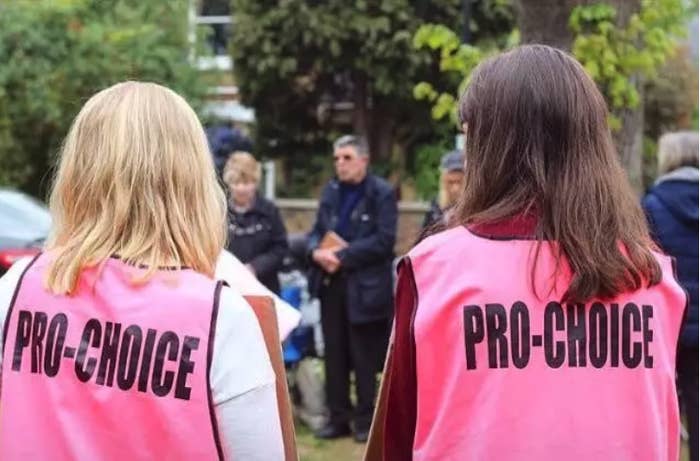 The Home Office will not make plans to introduce "buffer zones" to prevent harassment outside abortion clinics, according to a written statement by home secretary Sajid Javid.

Javid was responding to a review into the impact of anti-abortion groups who hold "prayer vigils" and protests outside abortion clinics across the UK, which was ordered by his predecessor Amber Rudd in January.

The review received more than 2,500 submissions. A submission shared with BuzzFeed News by Marie Stopes, one of the UK's largest abortion providers, described a patient having found the presence of anti-abortion protesters at the clinic distressing. "I feel they made what was already an incredibly difficult experience a great deal worse and more traumatic," she wrote.
But while the review recognised that there was evidence of "upsetting examples of harassment and the damaging impact this behaviour has had on individuals," it concluded that these incidents were not widespread enough to warrant national preventative measures.
"In 2017, there were 363 hospitals and clinics in England and Wales that carried out abortions. Through the review, we found that 36 hospitals and clinics have experienced anti-abortion demonstrations," the review said.
"Having considered the evidence of the review, I have therefore reached the conclusion that introducing national buffer zones would not be a proportionate response, considering the experiences of the majority of hospitals and clinics, and considering that the majority of activities are more passive in nature."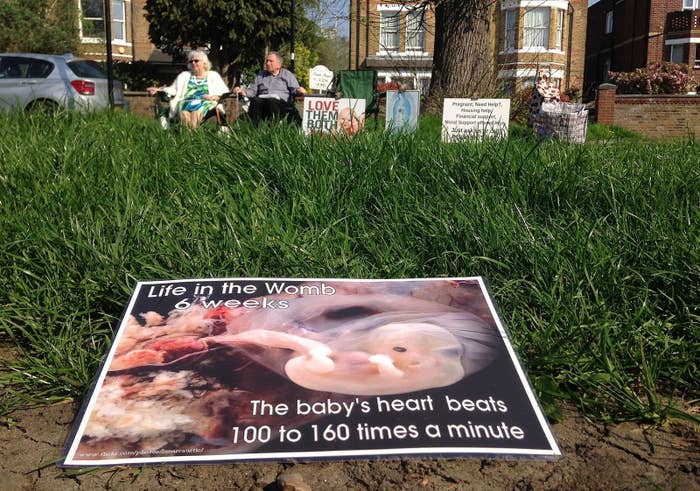 Earlier this year, Ealing council in west London implemented a public space protection order (PSPO) outside a Marie Stopes clinic in the area that has long been a target of anti-abortion protesters. Last month, staff at the clinic told BuzzFeed News the measures had completely transformed the experience of women using their services, who said they no longer felt intimidated or threatened.

But harassment outside abortion clinics remains an issue, particularly in Manchester, Birmingham, and Leeds. In Portsmouth, staff at the British Pregnancy Advisory Service, which also provides a large number of abortions in the UK, have described protesters trying to prevent women from entering the clinic. Last year anti-abortion protesters in Hastings broadcast a demonstration outside a BPAS clinic to Facebook Live, which many were concerned was a breach of patients' privacy.
Labour MP for Ealing Rupa Huq, who has led the call for national buffer zones, said today's announcement was disappointing and vowed to "keep pushing for women's access to healthcare as human right".
"I'm proud of Ealing for taking action but the local authority route is cumbersome and arduous," Huq told BuzzFeed News.

"I reject the argument of proportionality made here – not enough harassment for a blanket ban," she continued.

"No woman should have no endure abuse and intimidation. Are they saying there is a tipping point? There are other ways of giving police powers to protect vulnerable that I feel they have not considered, shoving the burden onto already cash-strapped local authorities is not addressing the problem, it's just passing the buck.

"I will not give up on this and have been promised a meeting with ministers as to ensure vulnerable women cannot be sidelined and that they can access healthcare as is the case with any other procedure."

Speaking in the Commons following the publication of Javid's written statement, Rudd said she supported the conclusions he had drawn but pushed for clarification on how the Home Office would help local councils tackle the issue.

In response, minister for women Victoria Atkins said that councils would be encouraged to continue applying for PSPOs. "But of course we keep this matter very much under review because we want to ensure that people who need to access those services can do so in a safe way," she added.

While other local councils, including Birmingham and Manchester, are in the process of exploring the possibility of implementing measures similar to the PSPO in Ealing, there is concern that this could be a long and costly process that some believe would be better dealt with by national government.

"Local government finances are in a really bad state, so if there's any big costs to implementation I think that's going to cause concern," Rebecca Moore, councillor for Withington in Manchester, near where a Marie Stopes clinic is situated, told BuzzFeed News.

"I don't think that means that it shouldn't be done or wouldn't be done, but it is a concern."

Stella Creasy, Labour MP for Walthamstow in east London, was unimpressed by the announcement. She said: "Asking women to run the gauntlet of protests to get an abortion isn't defending free speech, it's abusing it.
"Today the home secretary acknowledged that 10% of hospitals and clinics have experienced anti-abortion demonstrations — from handing out plastic foetuses, to praying outside of clinics. The government knows that all of these practices have adverse effects on women."

Creasy dismissed the idea that more women would need to experience harassment before a national buffer zone could be justified.

"The idea that more women have to be affected more severely before the home secretary acts because he says it's not proportionate to do so sends all the wrong messages about his commitment to equality," she added.

Labour leader Jeremy Corbyn called on Javid to reconsider the conclusion of the review. "This is a shocking failure to protect women from harassment and intimidation when exercising their right to choose," he tweeted.
Anna Veglio-White, cofounder for Sister Supporter, the group that campaigned for a PSPO in Ealing, said she found Javid's conclusions frustrating.

"Javid states that national buffer zone legislation 'would not be a proportionate response' because the review 'only' identified 36 hospitals and clinics that have experienced anti-abortion demonstrations," she said.

"Presumably the thousands of women affected at 'only 36' hospitals and clinics are acceptable collateral damage to Sajid Javid, who has not offered any other potential solution to this well-documented problem of harassment and intimidation, preferring instead to state that current police powers should suffice."
Clare Murphy, director of external affairs at BPAS, was more upbeat: "For years, the government has refused to acknowledge the distress caused by anti-abortion protests. Finally it has been recognised that these activities can have a profoundly negative impact on women seeking healthcare, and a tenth of abortion clinics and hospitals in England have been affected in this way.

She added: "We hope that the many women and healthcare professionals who submitted evidence to this consultation feel that their voices have been heard."
Murphy said BPAS was "very clear" that if "remedies suggested by the home secretary, including council-led public space protection orders and guidance from police, do not prove effective, we will look again at pursuing the national legislation that we still believe would be the best way to deal with this issue."

Anti-abortion campaigners welcomed the outcome of the review. Alina Dulgheriu, who unsuccessfully launched a legal challenge to Ealing's PSPO, said she was "grateful" that Javid would not be implementing similar measures nationally.

"When I met the group outside the abortion clinic in Ealing, it was the first time that I felt I had a choice," Dulgheriu said.
"If it weren't for the real practical and emotional support that I was given by them, my daughter would not be here today. 'Buffer zones' would only limit the choices available to mothers in my position."
Elizabeth Howard, a spokesperson for the group Be Here for Me, which organises demonstrations outside abortion clinics, also welcomed the decision. "It will mean that people offering this vital support will not be criminalised," she said.