"I feel safe and calm when I'm here," Amina says as she sits at a table in a low-lit, sparsely furnished room, writing down what "home" means to her. "Home is safety," "Home is happiness," "Home is calm," her A4 sheet of paper reads.
Hannah sits alongside Amina, silently sketching out the word "peace" in large letters. Around her wrists are bandages, and a few small cuts can be seen starting to heal on her forearms.
Home for Amina and Hannah right now is Elysian House, a type of mental health facility known as a "recovery house", where they, and ten others recovering from periods of being severely mentally unwell, have their own private rooms.
Amina was referred to the recovery house four weeks earlier after being treated for extreme anxiety in nearby Barnet Hospital's psychiatric ward. "I wasn't scared of going outside," she says, "but in my flat I didn't feel safe and would have horrible panic attacks and palpitations. It was terrifying."
Hannah does not feel up to talking.
A recovery house acts a stepping stone for "not actively suicidal" mental health patients who no longer need to be on a hospital's psychiatric ward but are not considered ready to return to their homes.
Round-the-clock access to therapeutic support and psychiatric services is available, but residents live independently – cooking their own food, maintaining their own rooms, and, most important, coming and going as they please.
Social workers are also on hand to provide assistance to the many residents who find themselves homeless or unemployed as a result of being unwell.
It is hoped that spending time in this halfway house will allow a more meaningful recovery that will prevent a patient from relapsing and returning to hospital later on.
"I saw an 18-year-old girl who'd originally been sent straight home from hospital after faking wellness just to get out, but before long she ended up back there because she wasn't ready," the service manager at Elysian House tells us.
"Without somewhere like this, you end up with a revolving door to the hospital."
Elysian House is one of nine recovery houses in England run by mental health charity ReThink Mental Illness, all of which have up to 20 beds and are supported by local NHS trusts. Three of them, including Elysian House, are in north London.
Several other similar facilities also exist, such as the Mosaic Clubhouse in Brixton, a partnership between South London & Maudsley NHS Foundation Trust and the Lambeth Living Well collaborative; and Tile House, a project providing supported accommodation for people with long-term mental health issues run by Camden & Islington NHS Foundation Trust and One Housing Group.
But because recovery houses are provided by a mixture of the NHS, charities, and the private sector, establishing a national picture of how many are available and where is difficult. The Department of Health, while acknowledging the existence of this kind of mental health facility, says it does not keep central records on how many there are, or the costs.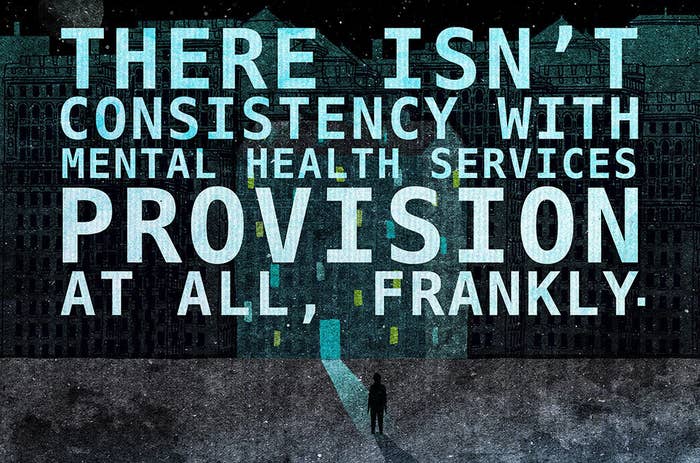 "There isn't consistency with mental health services provision at all, frankly," Brian Dow, director of external affairs at ReThink, tells BuzzFeed News. "Depending on where you are, and the nature of your condition, you could end up with great treatment or nothing."
The patchwork nature of provision also makes recovery houses extremely vulnerable to spending cuts.
Since February 2014, 27 national bodies involved in health, policing, social care, local government, and the voluntary sector have signed the Crisis Care Concordat, a government initiative to ensure the quality and availability of crisis and emergency care, as well as access to pre-crisis and recovery support.
But despite David Cameron's call to create a "parity of care" between mental and physical health, around 40% of mental health trusts saw a cut to their funding in 2013-14, according to a recent study by independent healthcare charity the King's Fund. Such cuts have led to community services such as recovery houses being placed under huge strain.
The merging of crisis-resolution home-treatment teams and early-access psychosis services also meant that many patients in crisis or with severe mental health problems were not being provided with the correct mental health support, the King's Fund found.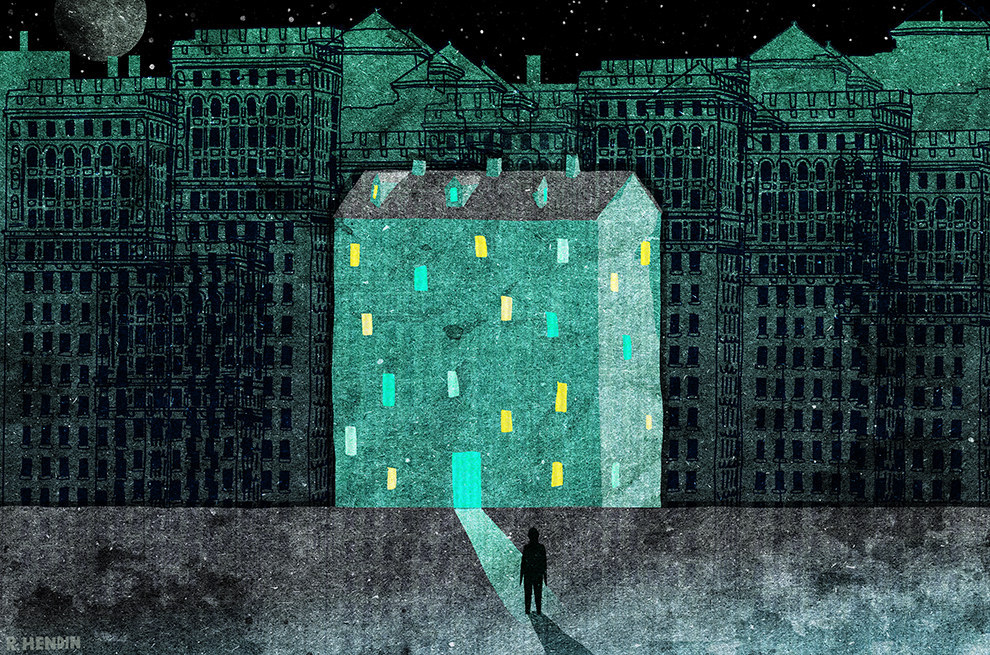 The government pledged to put £600 million back into mental health in its recent spending review, but the sector has seen funding cut by roughly the same amount since 2010, according to ReThink, and it is still not clear how the money will be spent.
A detailed outline of the government's plans for mental health spending over the next five years is expected in early 2016.
"Extra money in the NHS as a whole is obviously welcome," Paul Jenkins, vice chair of the Cavendish Square Group, a collection of London's NHS trusts responsible for mental health, tells us. "But the government is upping support for a system that's under a lot of pressure, so there'll be a lot of things that need funding still."
He expresses concern that this new funding could simply be a "rebadging" of money already promised to mental health services.
At Elysian House, all twelve beds are filled when BuzzFeed News visits, mostly by patients diagnosed with paranoid schizophrenia, schizoaffective disorder, or personality disorders, which the service manager says are the conditions she sees most frequently.
Its contract for NHS funding, which will be decided by the local clinical commissioning group, is up for renewal next year. And while the house is considered to be performing well according to referral and discharge targets, as well as patient feedback, there is no guarantee that it will continue to be supported.
Without NHS funding, the future of Elysian House and the services it provides is unclear.
"It's difficult, because commissioners are quite right to want to make sure they're getting the best value for money, but sometimes complex services like recovery houses really benefit from having a longer contract," ReThink's Brian Dow says.
"It can take time to get the service right, and people need to get continuity of care as well."
Dow tells us that the mark of success for recovery houses will be seeing them provide a consistent level of care throughout the UK, but the disparate availability of this type of service means this is not currently possible.
"Having something that's between a hospital and home that helps people get back on their feet is probably the best chance somebody has of a long-term sustained recovery," he says.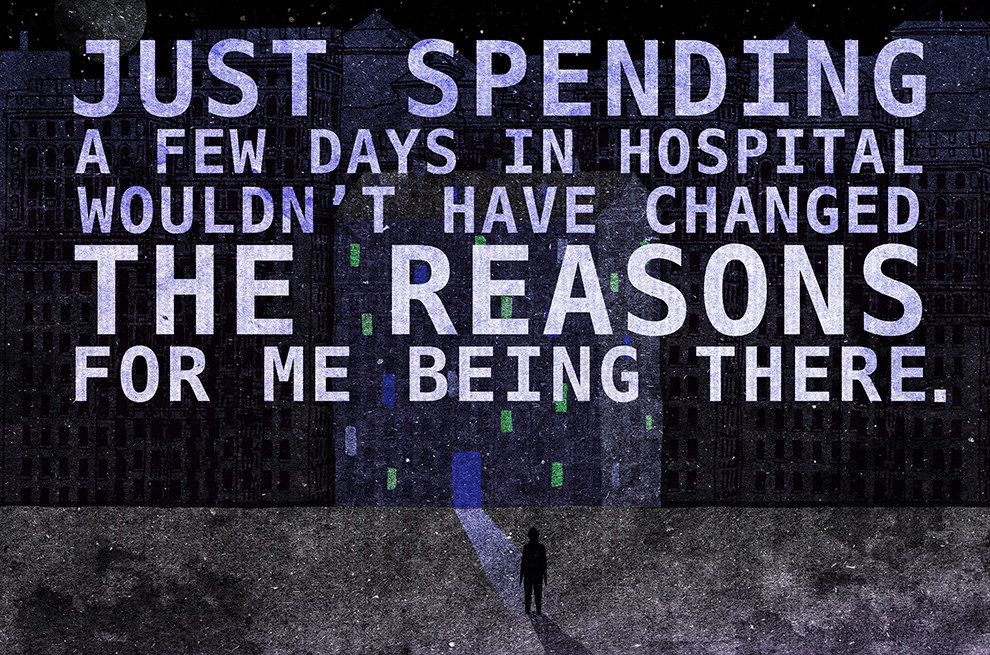 For former Elysian House resident Matthew, spending time there last summer (after a short spell on a psychiatric ward where he'd been admitted for depression) gave him that chance.
"Just spending a few days in hospital wouldn't have changed the reasons for me being there," he says. "Having the opportunity to take some more time at a recovery house to sort more things out and understand more about how I could recover helped me a lot in my process."
During his time there, Matthew met David, who was referred to Elysian House when a difficult period coming off long-term medication for bipolar disorder and suicidal thoughts led him to hospital.
He too found the house's environment far more conducive to recovery than hospital.
"In hospital there's a tremendous amount of stress because of the fact that it's housing anybody with a severe mental health need," David says.
While David and Matthew give huge credit to the staff at Elysian House for the role they played in their recovery, both feel that a greater connection between hospitals and community care afterwards is needed, allowing patients to be treated by the same doctors throughout their illness and recovery, for example.
"You need someone to be able to see you through your entire journey to recovery so that you don't have to keep recounting your story again and again at each stage of treatment," David says.
"By the time I arrived at the recovery house it was probably the fourth time I had had to go through it, and that was very stressful."
He and Matthew agree that having the opportunity to support each other at Elysian House was key to their successful recoveries.
But they count themselves lucky to have ended up together in a house with the kind of communal environment that allowed them to do that. "We could have easily slipped through the net, as a lot of people do," David warns. "A lot of people become lost souls."