The death of 32-year-old Big Brother contestant Rebekah Shelton was widely reported on Friday, but Shelton is very much alive.
"I'm not dead!!!!!! Please stop spreading this news!!!!!" Shelton tweeted shortly after several news outlets, including BBC News, Metro, and MailOnline published stories announcing her death.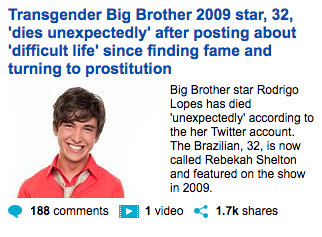 "My lawyer is already working on this and this person who wants to spoil my happiness is going to pay for it!!!!!" she continued.

The reports followed a message posted to her official Twitter account earlier on Friday afternoon which said that she had died.
"We're sorry to inform everyone of the sad news that our wonderful and lovely Rebekah died unexpectedly on Wednesday night," the announcement read.


"We ask that you respect the family's privacy at this time."
However, in a video rebuttal to reports of her death, Shelton said: "I've been through hell today because someone used my Twitter account to write that stupid status about me."
Fellow reality star Rylan Clark-Neal, who now presents the Celebrity Big Brother spinoff show, Celebrity Big Brother's Bit on the Side, shared his tribute to Shelton on Twitter before swiftly correcting his mistake.

"Glad you're well @MissRShelton," Clark-Neal wrote.
MTV presenter Gerry Stergiopoulos also tweeted a tribute to Shelton. "Hope I will wake up soon and this was all just a bad dream," he wrote prior to the false reports being corrected.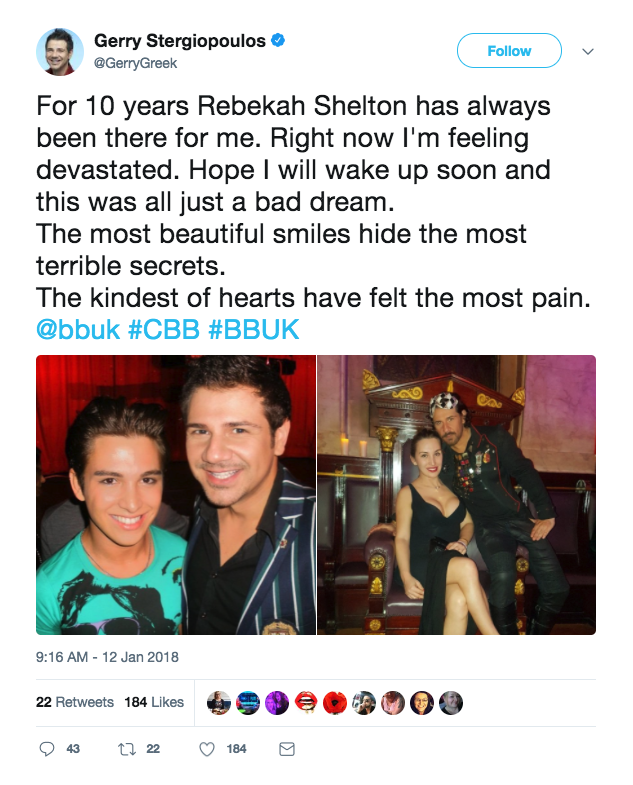 Shelton, who is transgender, appeared on Big Brother in 2009 before transitioning in 2012.

Brian Belo, who was a contestant in 2007 and wrote a column for Heat magazine about the show's 10th series, in which Shelton appeared, also tweeted of his dismay at the news of her death.
"Rebekah was a lovely person," he wrote. Belo is yet to publicly acknowledge the news that she is actually alive.
Shelton believes her account was hacked by someone who was jealous of her finding happiness as a woman.

"This person can't accept the fact that I'm happy, that I overcame all my problems and that I'm finally living my life happy," she continued in Friday's video.

"I am on holiday. I am in Arabia and I am not dead."
A spokesperson for Twitter said they were unable to comment on the activity of individual accounts for privacy reasons.