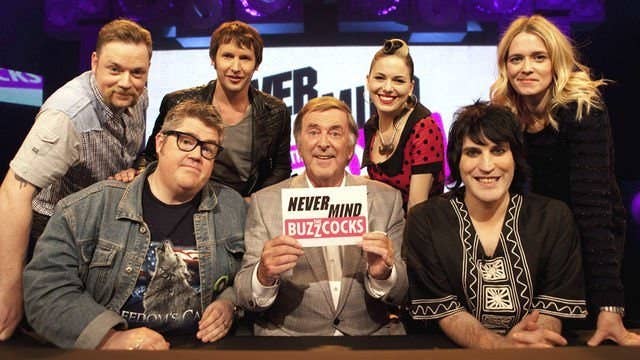 In 2010, Wogan took the reins of the weekly music quiz show in what is widely considered to be one of its best ever episodes.
When longtime Buzzcocks host Mark Lamarr quit the show in 2006, a rotation of weekly guest presenters filled his seat. While comedian Simon Amstell then took over as a regular host, after his departure in 2008, the show returned to the guest presenter format.
A Facebook appreciation group, When Terry Wogan Presented Never Mind the Buzzcocks, was set up after Wogan's legendary episode aired.
"I want to put myself through one of the most degenerating and debasing experiences of them all," Wogan said as he opened the show, joking he'd chosen to appear on it over Strictly Come Dancing and I'm a Celebrity, Get Me Out of Here.
Following Wogan's death, the episode's producer, Stu Mather tweeted that he was "one of the warmest, funniest people I've ever had the privilege of working with".
The episode was recorded in just an hour with no rehearsal Mather said.
Wogan "just turned up, tweaked the jokes and completely smashed the show," Mather recalled, adding that it was the only time the studio audience had ever given a standing ovation.
When the Buzzcocks team recorded promos for the show at the end of the series, Wogan made a cameo appearance, "for a laugh," according to Mather.
Mather described Terry's Buzzcocks appearance as the proudest episode he'd worked on.
RECOMMENDED: Skip to Wogan's Louis Walsh impression at 16:30mins.