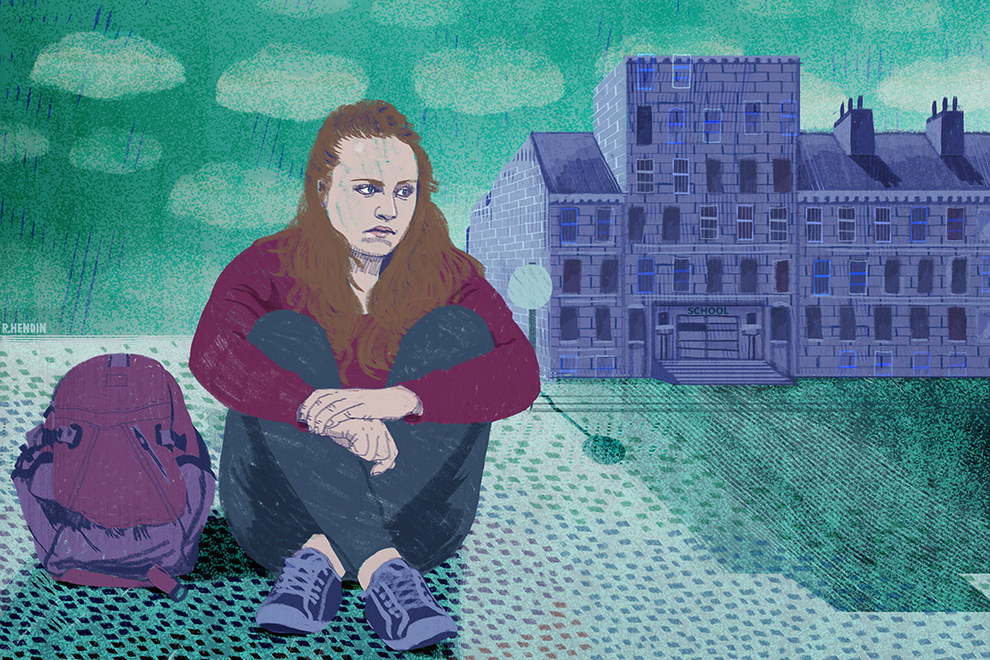 "How are you feeling?" could be one of the most important questions we should be asking children and teenagers.
A damning report on the state of England's mental health services by an independent task force recently highlighted that half of all mental illness diagnoses are made by the age of 15, and 75% by the age of 24.
"Too often, children and young people's emotional wellbeing and mental health is not given the attention it needs," Norman Lamb MP, then minister of state for care and support, said in a foreword to the 2015 Future in Mind report.
"Some don't get any care at all, and their problems escalate to a crisis point," Lamb continued.
The government claims it is implementing the taskforce's recommendation to spend £1.4 billion by 2020 to help an extra 70,000 children and young people access high-quality mental health care.
As well as highlighting the dire state of overall mental health care in the UK – among young people and the population as a whole – the taskforce report also found that the number of people killing themselves had begun to increase after many years of decline.
Teaching young people to become more attuned to their emotional wellbeing, allowing them to recognise and address early signs of mental illness, could prevent "young people falling into crisis and avoid expensive and longer-term interventions in adulthood," Lamb said.
"Mental health problems creep up on you over time," Natasha Devon, an independent adviser to the government for mental health in schools, tells BuzzFeed.
"It's not like one day you wake up and you're an alcoholic, or you're suddenly so depressed that you can't get out of bed."
Devon is currently compiling recommendations for the Department of Health on what mental health support within education should look like. She agrees that promoting emotional wellbeing in children early on would go a long way in preventing a lot of mental illnesses.
"Just as if you exercise and get fresh air you know you'll have good physical wellbeing, if you develop habits to promote emotional wellbeing early on, you're far less likely to become mentally ill," she says.
Devon points out that, of course, many mental illnesses can't be prevented "just like all cancers can't be prevented, but I think a good chunk of them could be if people weren't only being treated when they have already reached crisis point."
She believes hearing from people who have experienced mental illness themselves could be hugely beneficial for young people.
"The ideal is that the conversation is kickstarted at least by someone who is not a teacher," she says, placing value on the knowledge of people who've experienced mental illnesses and their ability to share how they got there.
There are plenty of charities already proving the value of this approach in schools, including The Resilience Programme, a drug and alcohol awareness scheme run by the Amy Winehouse Foundation in partnership with the addiction support charity Addaction.
Young people suffering from mental illness – in particular conduct disorder, where children and teenagers display violent or disruptive behaviour – are 20 times more likely to develop drug addictions, according to the task force report.
The Resilience programme's director, Dominic Ruffy, explains the scheme is about helping young people understand and engage with the kind of emotional struggle that can escalate into more severe mental health problems and subsequent complications such as addiction.
"Emotional wellbeing is absolutely critical. If you can't get that right, problems can spiral," he says. "Our aim is to enable students to feel much more open to asking themselves, 'Do I feel good about myself, do I feel worthy?'"
Volunteers do this by sharing their experiences of substance misuse, and the emotional issues that led to it, as a way of illustrating the importance of addressing those issues early on.
During a session BuzzFeed News attended with a group of sixth-formers in north London, Sally, a former drug addict, asks students what low self-esteem means to them.
"No confidence", "acting shy or seeming sad", "feeling like you've done everything wrong", they reply. Sally then reveals she felt all of those things as a teenager, and explains how that led her to depression and then addiction.
"It's not about the drugs, it's about the issues underneath," she tells the class.
Dave, another Resilience volunteer who spent 20 years masking his mental health issues with drug addiction, says his workshops often encourage students to speak out about how they feel when they've previously not felt able to: "If I talk about my experiences, that can make a young person think, OK, this is relevant to me, and then have that trust to open up."
Jonny Benjamin, who attempted suicide after experiencing psychosis when he was 24, wishes he'd been better educated about dealing with his emotions when he was at school.
"I really just don't think I'd have got to that stage if someone had just come and told me it was OK to get help," he says.
In January, Benjamin launched the Thinkwell workshop – an initiative that works with schools, using a mixture of film and conversation, to inspire young people to talk openly about mental health.
Since starting the programme, Benjamin says he's encountered children as young as 10 saying they felt anxious about school tests or body image, but didn't feel they could raise those concerns in the same way they might complain about a stomach ache, for example.
In providing this platform for conversation, he's found "young people are keen for this".
"It's not that they don't want to talk, they just don't always have the right opportunity," he says. "The earlier we promote a culture of openness and lack of shame around talking about mental wellbeing, the better."
Schools themselves can play a huge part in keeping those conversations going, although Helen Duncan, a teacher at Our Lady's RC High School in north Manchester, feels that far more guidance is still needed for them to do that well.
"We have a lot of training on recognising signs of abuse but little to none on mental and emotional wellbeing," she tells BuzzFeed News.
Benjamin says the Thinkwell team are always willing to return to a school for follow-up sessions, but claims the biggest obstacle he's encountered is not having anywhere to refer students who needed further mental health support.
The waiting time for talking therapies currently stands at around 32 weeks, and while Benjamin said the programme strives to direct people to several organisations, many are also under a huge strain.
"A lot of teachers I speak to refer students on to Child and Adolescent Mental Health Services, but their waiting lists are so long that they're still not always able to get help," he says.
Around 40% of mental health trusts in England saw a cut to their funding in 2013-14, according to a recent study by independent healthcare charity the King's Fund.
And while the government has said it is committed to investing in the improvement of mental health care, the task force report highlighted that there are many services, in addition to those dedicated to young people, in desperate need of repair.
"In the last couple of months that I've been in schools, so many of them have had to get rid of their counsellors because of cuts to funding," says Benjamin. "It's so frustrating. Young people open up, but then that's it."
He welcomes the government's commitment to creating a "parity of esteem" between mental and physical health over the next five years, but is sceptical that enough is being done at a great enough speed.
"There are currently so many mental health services closing down and so many people are struggling to get help," Benjamin tells us. "What are we going to do for these people right now?"
CORRECTION
The £1.4 billion investment is aimed at helping an extra 70,000 children and young people access high-quality mental health care. An earlier version of this article said it was 700,000.