Protesters Slam The Ripper Museum For Offering Selfies With Dead Women On Halloween
"It's unbelievable the lengths they go to to promote themselves," one protester told BuzzFeed News.
Women protested outside London's Jack the Ripper Museum on Saturday after it offered Halloween "selfies" with models of his victims and a man dressed as the Ripper.
"How about a picture with Jack in Mitre Square together with the body of Catherine Eddowes?" the museum's website boasted.
"If a woman was killed by a violent ex just last week it wouldn't be OK to take a picture with her," Su Fei Lu, a member of the feminist activist group, Fourth Wave, that arranged the protest, told BuzzFeed News.
"It's not OK to pose with the body of Catherine Eddowes just because she's a woman from the past. She's still a real woman, still a person."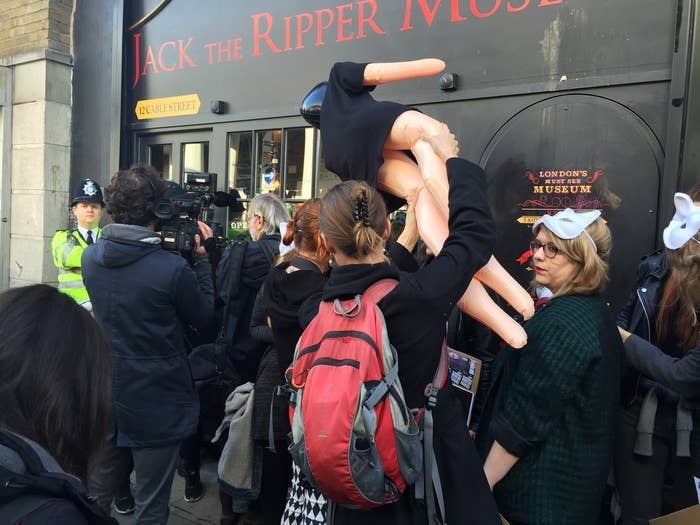 Lu said the protest "gives us a chance to highlight the fact that domestic violence and violence against women is still an issue".
In response to founder Mark Palmer-Edgcumbe's decision to dress as the Ripper and pose for selfies with museum visitors, women outside posed for selfies with a blow-up doll that had a picture of his face pinned on to it.
"There was lots of piss-taking and chanting," cultural historian Fern Riddell, who consulted on the TV series Ripper Street and attended the protest, told BuzzFeed News.
"The few people that actually managed to get to the museum were booed and had 'shame on you' shouted at them."
Riddell said that they did not get a response to the protest from Palmer-Edgcumbe. "He put his head around the door once to speak to a policeman but he just seemed cross that they weren't stopping us."
She added that police were on hand but at no point needed to intervene with the protest.
Lu agreed that the small museum wouldn't be receiving so much media attention without its controversial behaviour and the resulting protests, but, she said, "this isn't going to reflect well on them.
"If anything it will wake people up to the fact that the way they're exploiting women is wrong."
She added that "hardly anyone came in and out of the museum while we were there", and hoped that the negative publicity has meant that most people would be ashamed to be seen there.