Members of the public expressed their support for junior doctors on Tuesday as the doctors took their first industrial action in 40 years.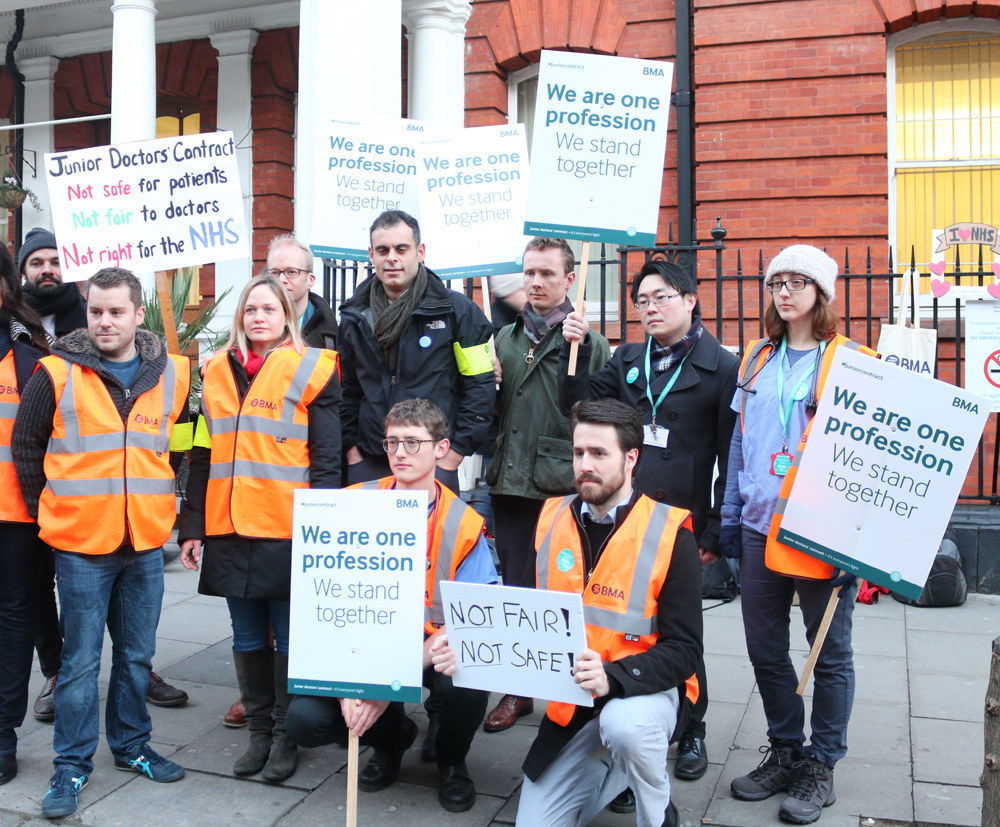 Doctors began the 24-hour industrial action at 8am following a row over the government's proposed new contracts and pay conditions, which are designed to ensure better cover at hospitals on weekends.
Ministers had offered an 11% pay rise to compensate for the extra hours, but the British Medical Association said it represented a bad deal for junior doctors, claiming some could receive a real-term pay cut and that safeguards on excessive hours were being eroded.
Speaking to the BBC on Tuesday afternoon, health secretary Jeremy Hunt called the industrial action a "wholly unnecessary pursuit".
"I definitely support the doctors today, they do a great job," Chris Clements, whose son Frankie was at London's Great Ormond Street Hospital for his fourth round of immunotherapy, told BuzzFeed News.
"[David] Cameron needs to get his finger out of his bottom and give them what they deserve," Clements added.
Throughout his son's treatment, the hospital had seemed short-staffed, he said.
"Some of the doctors have seemed very frustrated and overworked without a doubt," he said, "and I appreciate everything they've done for us under the circumstances."
"How can we not be out here supporting them?" said Paula Peters, a disability discrimination campaigner who said she suffered from a number of chronic illnesses.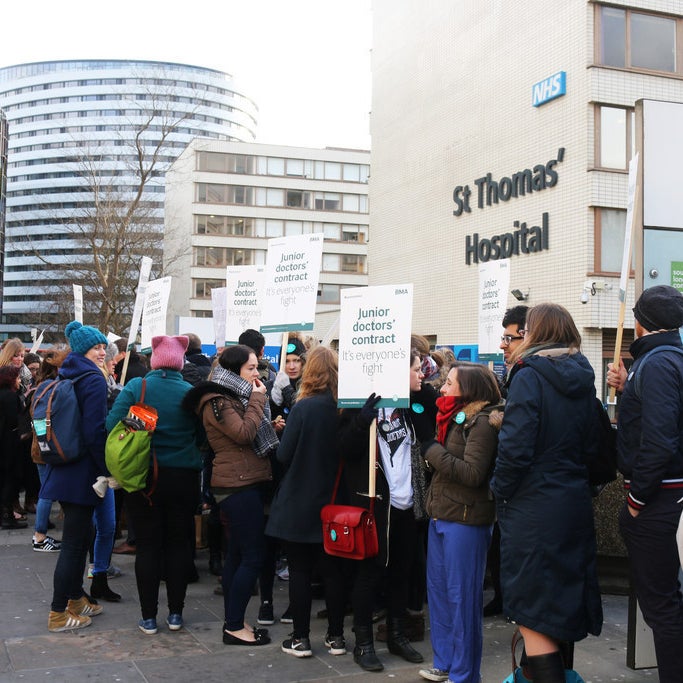 "If it wasn't for the great doctors and nurses I wouldn't be here today," she said. "I think every man, woman, and child should be out here today supporting them."
Peters agreed with junior doctors that the newly proposed contract is "unsafe and unfair".
"They work incredibly long hours with very little support and they're exhausted all the time," she said. "If you tell them to work excessive hours, that puts their mental health at risk, and that puts patients at risk.
"They're doing it to make sure patient safety is protected."
A group of "future, former, and current patients of the NHS" on bikes staged what one participant, Emily, called a "flying picket", delivering food and support to doctors around London.
"I'm a parent so I use the NHS all the time, and I love it," Emily told us.
"I grew up in the USA where we don't have any public healthcare system, and there's no doubt in my mind that the NHS is one of the greatest institutions that this country has.
"We have to do everything we can to protect it."
Nia, another of the cyclists, said: "We're here to show our support for doctors who are leading the fight to save the NHS. They're saving our lives every day."
Fellow member Ellie agreed: "The doctors are there for us in our darkest and most terrible moments. It's up to us to all stand up for the NHS."
She added: "Jeremy Hunt and the government are holding a gun to the head of the NHS. It's not acceptable – it's there for everyone and it's something we should all treasure and be fighting for."
Green party MP Caroline Lucas, who joined the picket at St Thomas' Hospital in Westminster, told BuzzFeed News she had heard resounding support for junior doctors from her constituency.
"By taking a stand this morning," she said, "doctors are saying to the government that they should stop trying to impose a contract that's unsafe and unfair for doctors and, crucially, for patients, too.
"People know that doctors are doing this because they feel driven to stand up for the future of our NHS."
Picketers from University College London Hospital (UCLH) decamped to Euston station to host a Meet the Doctors event.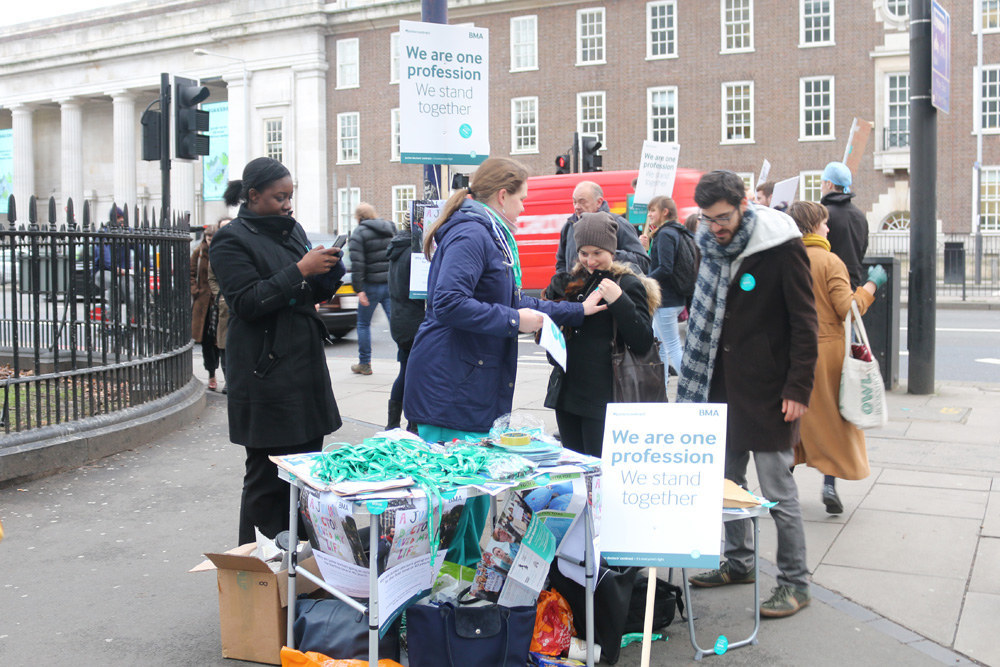 "It feels good to be able to speak directly to patients," said Cat Canton, a junior doctor at UCLH. "All week in clinics, patients have been really supportive – the response has been really positive."
A couple and their teenage daughter from Birmingham, passing through the station after travelling to UCLH so the teenager could receive specialist treatment, said they fully supported industrial action by junior doctors.
"The NHS is very important to us," the mother said. "Without it we wouldn't have got the specialist referrals my daughter needs.
"It's bad that it should come to this extreme when a fair contract should already be in place and patients shouldn't be put in danger.
"Doctors should never have been put in that position in the first place."
"We have had members of the public bring us hot drinks to stay warm, homemade cakes, and even thank-you cards!" junior doctor Sumeet Hindocha told BuzzFeed News from the picket line at West Middlesex Hospital in Isleworth.
Hindocha said it was a sad day for the NHS that doctors felt they had no option but to strike, and offered his apologies to patients affected by today's industrial action.
It is estimated that around 4,000 operations have been cancelled as a result.
But he said it has been "overwhelming" to receive so much public support.
"It is reassuring to know they understand we are fighting against a contract that is not safe for patients and not fair for doctors," he said.
"The key reason we are picketing and running Meet the Doctors events around the country is to engage the public and explain what this new unsafe contract would mean for patients.
"We believe they deserve better!"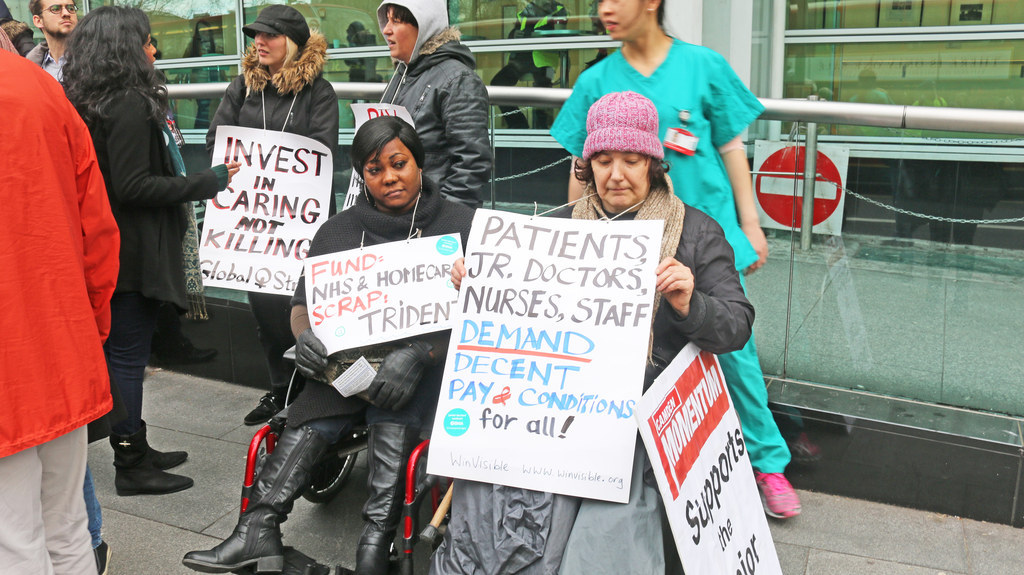 A spokesperson for the Department of Health defended Hunt's initial absence, saying he had gone on the record a number of times to make his position on junior doctors contracts clear.
"Today is about the strike and making sure patients are kept safe," they told BuzzFeed News. "That's why NHS England are out there with operational updates. Clearly we'll keep the situation under review, we're not ruling anything out."
Hunt was later interviewed on Radio 4's World at One programme.
"We want all NHS patients to have the confidence that they will get the same high-quality care every day of the week," he said.