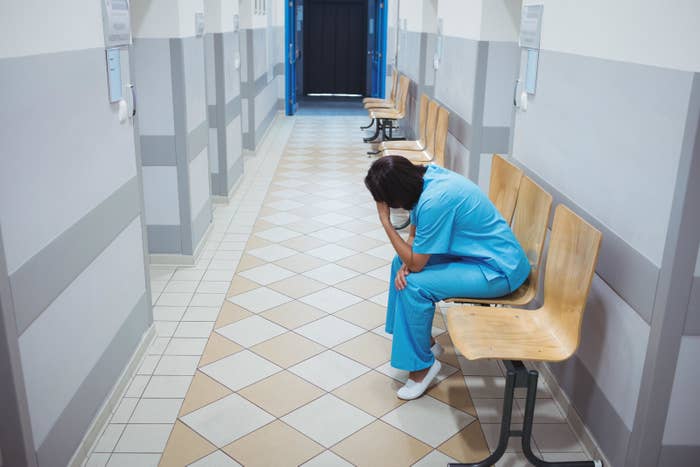 Mounting financial pressure is leading nurses to take on additional work or leave the profession entirely, according to the Royal College of Nursing's latest employment survey.
In the annual survey, which polled over 7,000 members, almost a quarter (23%) said they had to do extra paid work on top of their full-time hours to make ends meet, while a similar proportion said they were thinking of leaving the job because of money worries.
Holly Waterman, a 28-year-old nurse and RCN member working in the South East, told BuzzFeed News an unexpected bill for car repairs meant she recently had to take on extra shifts. As well as taking on agency work, nurses can register with their trust to pick up additional hours known as "bank" shifts, which are used to plug gaps in full-time rotas, according to demand.
"I've just had to pay £400 for my car to go through its MOT, which I didn't think I was going to have to spend," Waterman said. "So now I'm going to have to work two shifts to cover that."
Waterman, who qualified four years ago and earns an average of £25,206 a year, said the extra shifts can be tough on top of an already full-on rota, especially in winter when there is usually a higher intake of patients.
"We do long 12 and a half hour shifts where I work – so 7.30am to 8pm – and you do three or four of them a week," she said. "If you want to do any extra overtime you have to slot it around that but not compromise your work."
After paying for essential living costs such as accommodation and travel, Waterman, whose salary is around £2,000 below the national average, only has money for other things if she is able to work overtime, and finds herself "rationing" time with friends according to the extra shifts she can pick up.
"I tend to only socialise and go out using overtime pay," she said, explaining that weekends are worth more money because of antisocial-hours pay. "You often can't go to a particular person's birthday party because either you're working or you can't afford to have the weekend off because you need the money from the overtime hours."
When additional expenses do come up, "you find yourself working five long shifts in a row just to make sure you have enough to cover what's coming up," Waterman said.
The increase of living costs in relation to wages seemed to be a major contributing factor to financial hardship for Waterman and nurses polled by the RCN. In the survey, which has been conducted every year since 1986, 70% said they felt worse off than they did five years ago.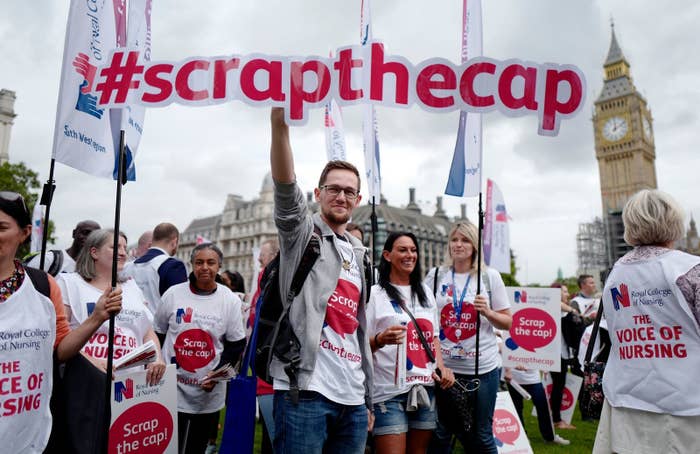 Pay was frozen for NHS staff in 2010 as part of the government's austerity measures; since 2013, salary increases have been limited to 1%. The RCN estimates that this amounts to a 14% pay cut for an NHS staff nurse in real terms when inflation is taken into account.
As well as seeing a rise in her food bills, Waterman said she's noticed a substantial increase in travel and accommodation costs. Because the hospital where she works is classed as outer London, she said a one-bedroom flat would cost around £1,300 a month in rent, so instead she drives 200 miles per week to work and back, to allow her to buy a home with her partner with much lower mortgage costs.
Waterman said that like most nurses she never went into the job for the money, and couldn't imagine doing anything else. "I have a complete passion for caring for people – making sure that their rights are heard and that they get the dignified and respectful care that everyone deserves," she said.
But she also felt that if nurses didn't get a pay rise that was at least in line with living costs in the government's spending review next week, she might have to reconsider her employment options, and she also worried that more and more people might be put off going into nursing.
"It makes me feel quite angry and like we're not appreciated enough," she said. "If I'd chosen to do something else like computer science at university I'd get a minimum of £28,000 on a graduate scheme, but I don't because I chose to do a vocational course where I'm helping people every day."
Others surveyed by the RCN also felt their pay was inadequate for the type work they did.
"The all-consuming nature of caring for patients now seems at odds with the level of pay and work pressures that many nurses face: I have a lot of responsibility caring for end-of-life patients, and meeting all of the family and other loved ones needs," one nurse, who didn't give their name, said. "An important job, for rubbish money."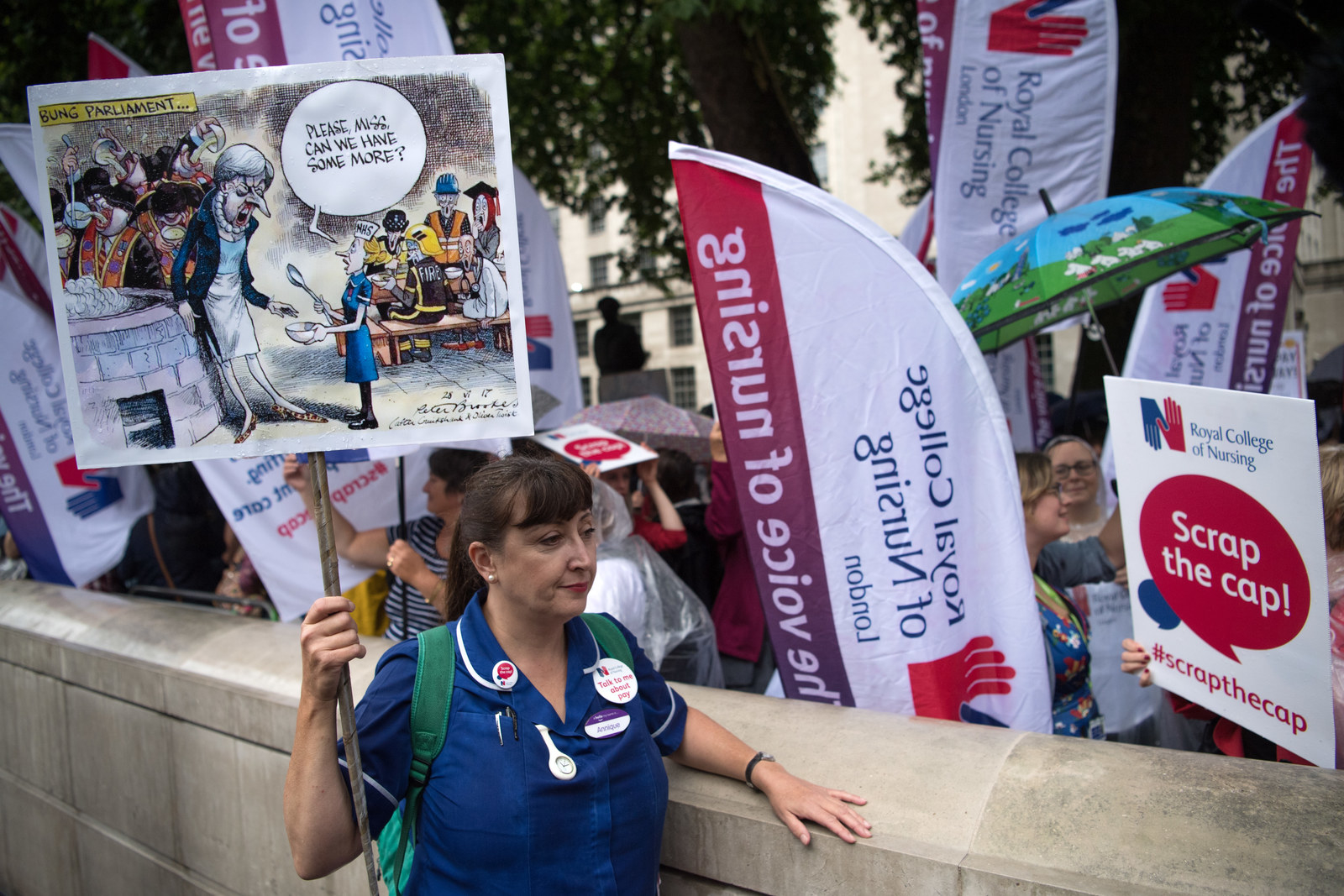 Another felt nurse's pay was not sufficient compensation for "the hours and things we have to see and deal with, whether that be rude public, clinical conditions, death."
Janet Davies, the chief executive and general secretary of the RCN, said the survey's findings showed the "shocking" severity of the financial pressures faced by nurses.
"It is ludicrous that the health service is losing valuable highly trained staff simply because they can't pay the bills at the end of the month," she said.
Health secretary Jeremy Hunt has indicated that the 1% cap on NHS pay rises will be lifted in next week's Budget, but has not given details of how much pay will be increased by, and there have been hints that changes could be made to extra overtime pay in an exchange for an overall pay rise.
Davies urged the government to ensure any extra pay offered to NHS staff would have a genuine impact on their daily finances.
"The chancellor must therefore give a clear signal in the Budget next week that the government will award an above-inflation pay rise to hard-pressed nursing staff in the NHS," she said.